As vegetarian and vegan diets continue to grow in popularity, the demand for dairy alternative milks is growing.
According to Food Navigator- USA (1), sales of commercial almond milk have gone up 250% in the past 5 years while sales of dairy have gone down.  There are many types of dairy alternative milks available and the options continue to grow.
Soy, rice, coconut and almond milks are popular alternatives, but oat, flax and hemp based dairy alternatives are also becoming more available across the US.
Dairy milk still is the main seller in this category and almond milk accounts for about 5% of milk or milk alternative sales.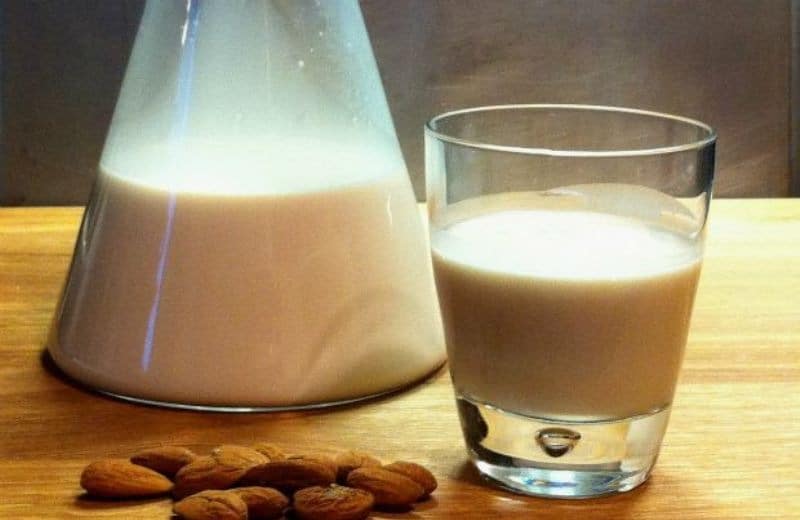 Most if not all commercially made almond milks have calcium and vitamin D added to provide similar amount comparable to milk.
Therefore, substituting almond milk in place of dairy milk can still provide a source of bone building nutrients.
However, almond milk is lower in protein compared to dairy milk.  Almond milk can be part of a healthy diet.
Should you drink almond milk? 
A 2016 TIME article (2) suggests 4 out of 5 experts say yes.  If you choose to drink almond milk, or any dairy or dairy alternative, it is important you consume it as part of a balanced, nutrient dense diet.
What is almond milk?
Almond milk is made from almonds, but the nutritional content of almond milk is vastly different than almonds.
The reason for this is because commercially made almond milks can contain as little as 2% of almonds (3).  Almond milk is made from soaking almonds in water.
The water is drained, then the soaked almonds are blended together with new water which is then put through cheese cloth.
Commercially made almond milk can contain thickeners, preservatives or flavorings as well.
Should you make your own almond milk?
If you want to save money and control what is in your almond milk, you can make your own fairly easily.
You will need to soak almonds over night up to a few days.  The longer they are soaked, the creamier the milk will be.
Note: in general, making your own nut milk is usually only good for a few days refrigerated.  Therefore, making small batches for what you need for a few days is recommended.
Making your own nut milk is relatively simple, so making it fairly regularly shouldn't be that burdensome.
Almond milk health benefits
One cup of commercially made almond milk provides about 50-60 calories, 2.5 grams of fat (3% DV), less than a gram of fiber and about 1 gram of protein.
Almond milk is fortified to also provide calcium, vitamin D, vitamin A, vitamin E and provides trace amounts of magnesium.
Almond milk can be considered a low calorie beverage, but be wary of sweetened or flavored almond milk.  These varieties can be much higher in calories and sugar content.
Almonds, compared to almond milk, are higher in fiber, protein, natural vitamin E, magnesium and heart healthy fats.
Almond Milk Vs Dairy Milk
Compared to dairy milk, almond milk is generally lower in fat and protein.  If it is a sweetened kind of almond milk, it can be higher in sugars compared to dairy milk.
Almond milk is naturally lactose and gluten free, so anyone with these food intolerances/allergies can consume most almond milks.
Always check labels to ensure there is no cross contamination risk for allergens.  People with tree nut allergies should avoid almond milk or speak with your healthcare team before consuming.
Homemade almond milk may have varied nutrition compared to commercially prepared almond milk.  It may be higher or lower in some vitamins and minerals.
How to use almond milk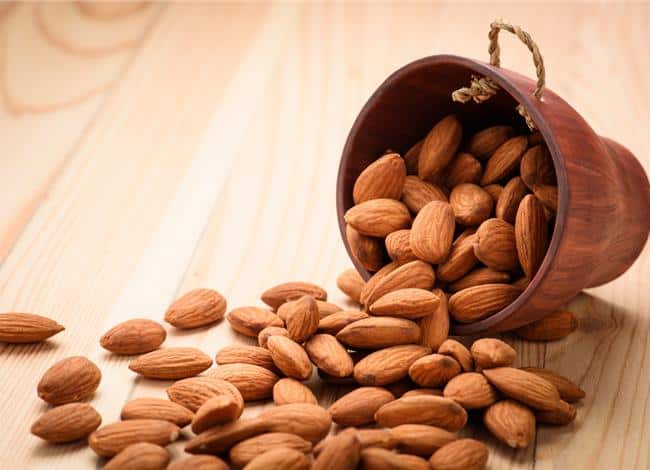 Almond milk can be used in place of dairy milk for any application for drinking, baking, etc.
Note: Commercially made almond milk may have a thinner consistency than dairy milk and a different flavor.
Is almond milk healthy to drink?
Almond milk is considered a healthy drink for most people.  However, use caution giving almond milk to infants.
The nutritional profile of almond and other dairy alternatives may not support the growing needs of infants.
A 2014 study (4) found giving milk alternatives, like almond milk, to infants can increase risk for severe nutritional deficiencies and growth complications.
Speak with your pediatrician if you have questions about giving dairy alternatives to an infant.
For people looking for a lactose free alternative, almond milk can be a good substitute.  It is important to note almond milk will not be a significant protein contributor in the diet in contrast to dairy milk.
Another concern with almond milk and other dairy alternatives is the use of the ingredient carrageenan.
Carrageenan is used as a stabilizer for some commercially produced dairy alternative milk.  There is some research to suggest carrageenan may have carcinogenic properties, and a 2001 review (5) suggests the widespread use of carrgeenan in the Western diet should be reconsidered.
Some health experts suggest carrageenan is inflammatory and can be harmful to the digestive tract.  Due to growing concern over carrageenan, more companies are switching to carrageenan free products.
However, if you want to avoid carrageenan, you should check labels on commercially produced almond milk first.
Making your own almond milk will also help you avoid carrageenan in almond milk since it is added as a stabilizer and not a natural component of almonds.
Conclusion: Is almond milk good for you to drink?
Almond milk can be part of a healthy diet.  Make sure you are choosing unsweetened almond milk and one that is fortified with vitamins and minerals.
Note that almond milk is not a significant source of protein.  Therefore, consuming other foods that are higher in protein is important for a balanced diet.
If avoiding carrageenan is a concern, check labels before buying commercially made almond milk.
If you are consuming almond milk to get the nutritional benefits of almonds, you're better off eating almonds.
Most commercially made almond milk contains very little actual almonds.  Consuming almonds will be higher in fiber, protein, heart healthy fats and antioxidants compared with almond milk.
Making your own almond milk can increase the ratio of almonds in almond milk and can eliminate the preservatives, stabilizers and sweeteners found in other almond milks.