All types of typical dairy milk you can get at the store from whole to skim provide equal amounts of vitamin D, calcium and protein.  The main difference between dairy milks is mainly the amount of fat.  Whole milk provides 8 grams of fat per cup, with 5grams being saturated fat.  Skim milk provides under 1 gram of fat per cup serving.
The main health message for many years in the past has been choose low fat or non-fat over full fat dairy products.
The thought was lower fat options were lower in calories and could offer heart health benefits compared to full fat dairy options.
However, recent research studies have called this health message into question.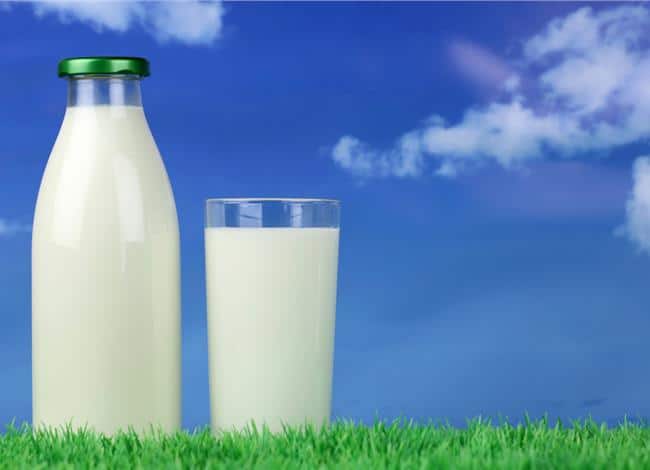 Some recent research results have found when people ingest full fat dairy products, like whole milk, there wasn't an increased risk for weight gain.
In fact, some research suggests consuming full fat dairy over low fat dairy may even help lower risk for weight gain and diabetes risk.
So, with these research studies in mind, health experts are now questioning whether to continue to advocate for low/non fat dairy over full fat dairy.
The bottom line is more research is needed for guidelines for consumption.
All types of dairy can fit into a healthy diet.  While full fat dairy doesn't need to be feared, health experts are still emphasizing caution before drastically increasing your intake of full fat dairy products.
Diabetes risk
There appears to be an association between dairy intake and diabetes risk, although researchers are still clarifying the relationship between the two.
For example, a 2013 review (1) looking at 14 research study results concluded a modest increase in dairy products may contribute to prevention of type 2 diabetes risk.
A 2014 article (2) in Metabolism Clinical and Experimental suggests there may be several reasons for dairy impacting type 2 diabetes risk.
Leucine or other dairy derivatives could impact mitochondrial function, affect gut bacteria or lower certain inflammatory markers.
Differences between whole and skim milk and type 2 diabetes risk are still being studied.
According to a 2016 TIME article (3), research results from over 3,000 adults over 15 years found those with higher blood levels of 3 different by-products from whole milk had a lower risk for type 2 diabetes compared to those who had lower levels of these by-products from whole milk.
This suggests full fat dairy may offer additional protection from type 2 diabetes.
If eating lower fat food (like skim milk) increases the intake of sugary foods, this could negatively affect risk for type 2 diabetes or weight gain.
Replacing higher fat foods with foods higher in simple sugars is not recommended.
Full fat, skim milk and weight gain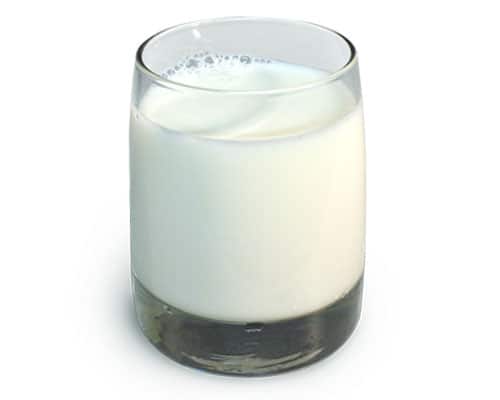 Whole milk is higher in calories and fat, so in theory choosing the lower calorie skim milk is thought to help with weight loss.
However, this may not be the case.
Data from over 18,000 adults from the Women's Health Study (4) found those who consumed the most full fat dairy products actually had a lower risk of being overweight or obese.
Being overweight or obese increases risk for developing the metabolic syndrome.
Metabolic syndrome can include risk factors such as: high blood sugar, high blood pressure, high waist circumference, high blood triglycerides or high blood cholesterol.
A 2016 study (5) investigated the association between dairy intake, types of dairy consumed and risk for metabolic syndrome.
Researchers found an inverse association between full fat dairy intake and metabolic syndrome risk.
This association was not found with low fat dairy.  Researchers concluded from this study that recommendations to avoid full fat dairy were not supported from this data.
The reason for full fat dairy possibly lowering risk for weight gain needs more study.
One rationale for why this may be is because eating higher fat foods, like nuts or avocados, can leave you feeling more satisfied and lower the need to eat more food.
However, if you eat mostly foods lower in fat, you could be compensating by eating more foods higher in sugar.
The take away message is we should not just focus on one nutrient, i.e. saturated fat content.
Foods are not just single nutrients, and we shouldn't look at them as only single nutrients.
Lowering just saturated fat content may be helpful for some medical conditions, but if you replace it with higher amounts of refined carbohydrates it is not helping your health.
Health benefit of organic dairy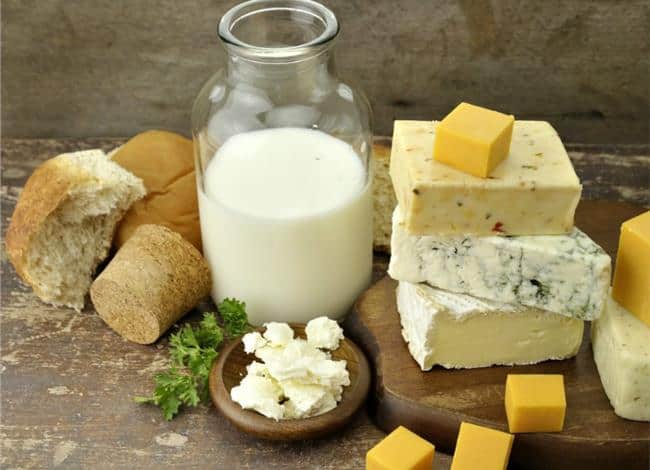 Besides fat and calorie content for milk, another consideration for health benefits of dairy is if it is conventional or organic.
Some research (6) suggests organic milk has higher in heart healthy omega 3 levels and slightly higher iron and vitamin E levels.
Total fat content is the same between conventional and organic dairy.
Should you drink whole or skim milk?
According to recent research studies, recommendation to consume low or non-fat milk in place of full fat milk is waning in support from studies.
See Also: What is the healthiest milk to drink
There is some evidence to suggest consuming full fat dairy may offer some benefit for helping lower risk for type 2 diabetes, metabolic syndrome and weight gain.
Consuming full fat dairy over non-fat could help send stronger satiety signals to the brain to indicate fullness, but researchers are still investigating the differences between whole and skim milk's impact on overall health.
If you have been advised by your health care team to consume non-fat dairy, stick with this recommendation.
If you prefer lower fat dairy over full fat, that is fine.
Just remember if you are adding extra simple carbohydrates for the skimped fat, it may not be the best for your health.
It's important to look at food and diet as a whole, not just focus on single nutrients like saturated fat.
Either full or low fat dairy can fit into a healthy, balanced diet.
However, based on current research there may be some benefit from full fat dairy.  More research is needed.
Besides fat content, another consideration for dairy products is organic or conventional.
Organic milk can be higher in heart healthy omega 3 fatty acids.