Fish is high in protein, low in saturated fat, a source of vitamin D and omega 3 fatty acids.  It is recommended to eat as least 2 servings of fatty fish per week to get the recommended levels of omega 3's.
Omega 3's help lower inflammation, decrease risk for heart arrhythmias and lower triglycerides (1).
Even though fish can offer nutritional benefits, the way you cook the fish can have a major role on the nutritional profile.
In general, it is recommended to use cooking methods that do not add a lot of oil such as poaching, baking, stir frying.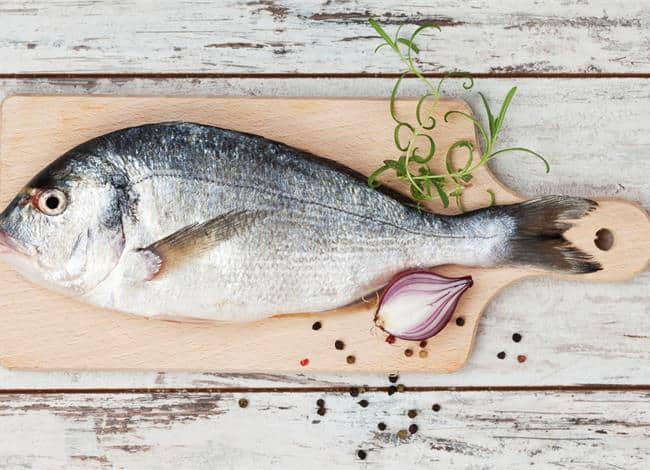 Limiting frying fish is recommended because fried fish does not have the same benefit as other cooking methods.
See also: The best fish to eat for weight loss
Heart health and fried fish
A 2003 study (2) looking at data from more than 3,000 people over age 65 years concluded eating modest consumption of fish was associated with a lower risk for heart disease.
However, eating fried fish did not lower risk for heart disease.  A 2005 study (3) found similar results: fried fish was not associated with a lowered risk of congestive heart failure, but eating broiled or baked fish was associated with a lowered risk.
The region of the US between the Carolinas, Arkansas and Louisiana has the nickname "stroke belt" because this region has the highest amount of strokes in the nation (4).
Interestingly, in this region of the country, people are more likely to eat fried fish and less likely to eat fish prepared in non-fried ways.
Harvard researchers also found that eating fried fish was associated with increasing risk for stroke (5).  While there may be other factors that lead to an increased risk of stroke, these results suggest eating fried fish does not lower heart disease or stroke risk and may even increase it.
Decreased nutritional benefit from the fish
One problem with frying fish is it changes the nutritional profile of the fish.  For example, frying salmon, which is rich in omega 3's, can actually replace the heart healthy omega 3's with the cooking oil (6).
By replacing the omega 3's, you lose the majority of health benefit.
Another concern with fried fish is the type of fish used.  Usually fried fish is made from lower omega 3 content fish like cod or other white fish.
The preparation of fried fish can also change the nutritional profile.  The breading and the fish can absorb oil which can really increase the calorie amount.
Tips for making fried fish healthier
Remember that the frequency of eating fried fish is important.  Enjoying an occasional fried piece of fish may be fine, the focus is on not making fried fish a normal habit.
Also, the overall quality of your diet and exercise patterns are important to consider.  With some data, (7) researchers found that women who ate fried fish more ate fewer fruits and vegetables and were less physically active.
These factors can also contribute to chronic disease risk.  So, if you do eat fried fish, make sure to pair it with lots of fruits and vegetables instead of heavy sides.
The good news is there are ways you can make fried fish healthier.  Try pan frying your fish with a smaller amount of oil and batter than you would use for deep frying.
If you use deep frying, make sure to use minimal coating or butter.  The more butter you use, the higher the calorie content and more likely the fish will absorb oil.
When you eat out at a restaurant, it is hard to know how often they change the oil.  When you fry fish at home, make sure you change your frying oil every time.  Using old oil could increase the risk for producing some harmful substances from the old oil.
Use a proper cooking oil that has a high smoking point.  Examples can include: sunflower, some olive oils, peanut oil and safflower oil.
Lastly, know where your fish is coming from.  Look into buying sustainably raised fish and wild caught options.  Research what types of fish are being over harvested and try to buy locally caught fish if possible.
Conclusion
Eating fish twice a week can help you get the recommended amount of omega 3's especially if you are eating fatty fish.
However, frying fish can change the nutritional makeup of the fish and actually lower omega 3 levels.  Research has shown fried fish does not lower risk of heart disease like non-fried fish.
Fried fish is higher in calories and fat, especially if it has a lot of breading.  The type of oil you use for frying is important, and you should use fresh oil every time you do fry fish.
For healthier options, pan fry with less oil and less breading.  Switch to baking, grilling or poaching fish for healthier cooking methods.