Fish is not the popular protein source for most Americans.  Less than one on five Americans eats the recommended amount of fish per week. Salmon is considered a fatty fish and a good source of omega 3 fatty acids.
Eating fatty fish like salmon, herring, mackerel or sardines may help lower the risk for heart disease.  A high intake of omega 3 may also help lower triglycerides and lower inflammation in the body.
In order to get health benefits from fatty fish, you do not need to eat it every day.
In fact, eating a serving of salmon or other fatty fish 1-2 times per week is the amount that is associated with health benefits.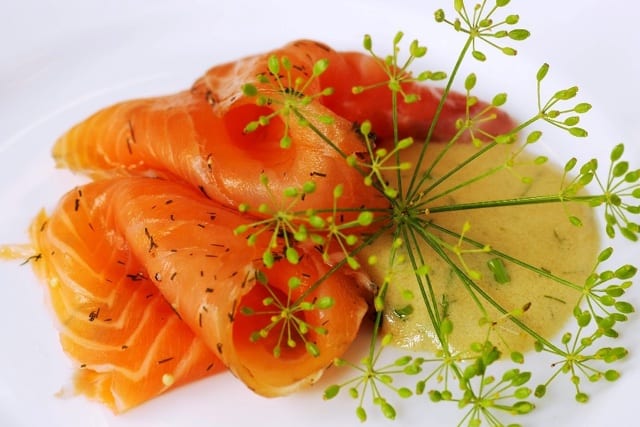 Does this mean eating salmon every day will translate into even more health benefit? 
Health experts are unsure about the answer to this according to a 2016 article from TODAY (1).
While there are health benefits with eating fatty fish, there could be some potential concerns for eating too much.
Current recommendations for fish intake
Some countries that line bodies of water naturally have a high fish intake in their diet. However, countries following a typical Western diet have a very low intake of fish.
Current recommendations suggest eating about 3 ounces of fatty fish 1-2 times per week.
Most Americans do not reach the recommended intake of fatty fish.  Limited access to fish, dislike of taste, cost or concerns about mercury are some of the reasons Americans have a hard time meeting the recommended intake of fish.
Studies showing a benefit from eating fish are usually with eating fish 1-2 times per week.
There aren't many, if any, studies looking at health benefits of eating fish everyday compared to 1-2 times per week.
Therefore, there is no current evidence to support a daily intake of fish is more advantageous than eating it 1-2 times per week.
Health benefits of salmon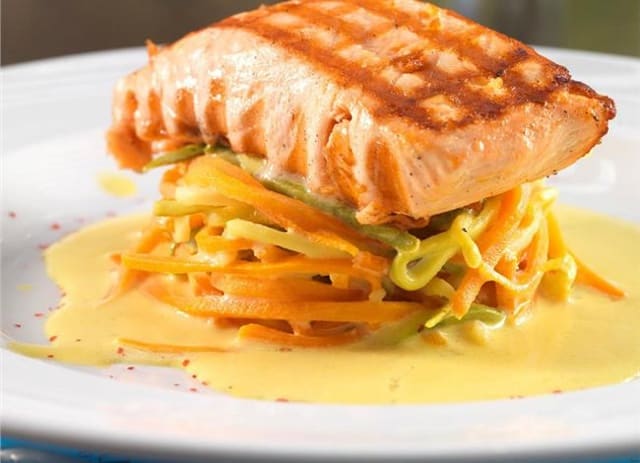 Salmon is a good source of omega 3 fatty acids.
Omega 3 fatty acids are anti-inflammatory and can have a positive effect on cardiovascular health.
Some studies have shown omega 3 from fish can help protect against irregular heart rhythms, protect blood vessels from damage and help lower blood pressure (2).
Salmon like all other meats are a high in protein.  Eating foods high in protein can increase satiety from a meal.
Pairing salmon with source fiber like fruits, vegetables, whole grains and legumes can provide a nutrient dense, satisfying meal.
Besides being a source of protein and omega 3, salmon is also a source of B vitamins, vitamin D and selenium.
Selenium is important for healthy thyroid function and acts like an antioxidant in protecting cells from damage.
Potential health concerns from salmon
So why wouldn't you automatically try to eat as much salmon as you can if it is so good for you?
The controversy with eating higher levels of fatty fish is the concern for contaminants like mercury or polychlorinated biphenyls (PCBs).
Pollutants from soil, water or air can seep into food you eat.  Fish can pick up contaminants in the water, and there is concern eating fish can then contaminate humans.
Studies suggest in general eating fish health benefits outweigh potential concerns for contamination.
In general, the larger the fish, the higher the risk there is for contamination.
Smaller fish generally have a lower risk for mercury or PCB contamination.
Salmon is considered to be a fish with a lower risk for mercury contamination.
Therefore, eating fish in the recommended amounts has been shown to provide health benefits that outweigh concerns for contamination risk.
However, eating more than the recommended serving may increase risk for getting too much mercury or other harmful substances.  This is a controversial subject amongst health experts.
It is recommended to get a variety of seafood and not eat just one kind of fish all the time.
Is there a difference between farm raised and wild caught salmon?
Another consideration for fish consumption is the concern of over fishing.
Some experts estimate by 2050 the seas could be empty of fish if people increase their consumption of fish.
Because of this, fish farming is increasing to meet the demands for higher fish consumption worldwide.
Farmed fish may or may not be as healthy as wild caught fish depending on the type of fish and how it is raised.
According to Cleveland Clinic (3), farmed salmon may have higher amounts of omega 3 compared to wild salmon, but it can also be higher in saturated fat.
Farmed salmon can also have higher levels of pollutants compared to wild salmon, and farmed salmon can also have higher use of antibiotics.
There are also differences of opinion for pros and cons of eating farmed versus wild caught salmon.
As demand for fish increases, farmed fish may be a viable resource, but farming practices could alter the nutritional profile of fish.
Conclusion: Should you eat salmon every day?
Salmon is a nutrient dense food; it is rich in heart healthy omega 3, protein and various minerals and vitamins.
Current guidelines suggest eating 1-2 servings of fish per week, but most Americans do not reach that recommendation.
A concern for eating fish is contamination from pollutants.  In general, salmon is considered low for mercury contamination risk.
Is it ok to eat salmon every day?  Health experts can have mixed opinions.
Most research studies showing health benefit from eating fish are with the 1-2 servings per week not from consuming it every day.
So, there isn't support from research that increasing fish intake to daily has considerable health benefits.
Current recommendations also suggest eating a variety of seafood instead of eating the same seafood.
Therefore, if you do eat salmon every day, it could be beneficial to add in some other sources of seafood.