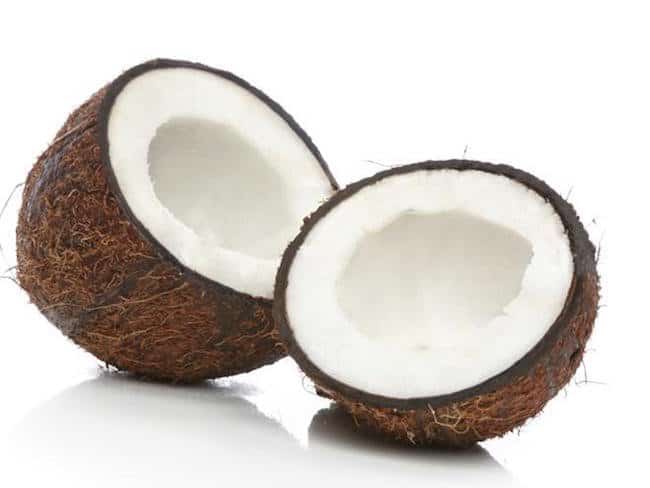 Coconut oil is a saturated fat, and as such should be limited to very small quantities.  Whilst a little coconut oil may be a viable alternative to other saturated fats such as butter, there is no evidence that it should replace unsaturated fats such as olive oil.
Is it a superfood?
Coconut oil is being heralded as the latest super food, with claims that it has benefits to those suffering from diabetes to irritable bowel disease and a whole host of diseases in between.
Not only this but advocates for this type of oil claim it helps to reduce weight and lower dietary cholesterol.
Is there any evidence behind these claims, or are they simply the latest money-making scheme from producers of the product?
Coconut oil is high in saturated fat, and thus has in the past been deemed negative for heart health.  However, the tables have turned and coconut oil has recently been thrown into the nutrition hot seat as a super food.
One of the reasons for the switch on coconut oil is that South Pacific countries have consumed a high amount of coconut oil for centuries, yet they have low rates of heart disease and obesity.
The type of fat in coconut oil is different than other saturated fats, and this is one of the main reasons that sets coconut oil apart.
Before slathering coconut oil on everything, take notice of the research and possible benefits and contraindications.
Why do people choose coconut oil?
Not only is coconut oil being marketed as a miracle fat, it is also attractive to vegans as a source of saturated fat being plant rather than animal based.
It can be used with good results in baking and has a high smoke point, meaning it is also suited to frying.
What type of fat is coconut oil?
Extra virgin coconut oil is over 90% saturated fat.  This is the same type of fat that is found in meat, dairy and butter; however, coconut oil is oil at room temperature rather than solid oil, as it is usually the case for saturated fats.
Pure coconut oil contains no hydrogenated fats, although hydrogenated forms may be found in processed foods.
Coconut oil differs from other types of saturated fats in the type of fatty acids that are present.
In this type of fat, there is a mix of short and medium chain fatty acids, the majority of which are lauric acid (around 44%) and acid (around 16.8%).
Coconut oil contains the same amount of calories per gram as all other fat.
One tablespoon of coconut oil provides around 117 calories and 14 grams of total fat, of which 12g is saturated.
Is coconut oil healthier than other fats?
Coconut oil may be better for overall health than some types of fat, for example trans fats and possibly some animal fats, due to its unusual combination of fatty acids.
However, there is no evidence that coconut oil is any more beneficial to health than oils containing mainly unsaturated fats such as canola, soya and olive oils.
While there is some evidence that coconut oil component myristic acid may increase levels of 'good' HDL cholesterol, studies evaluating this have also seen an increase in 'bad' LDL cholesterol.
This increase of LDL is a concern, as this is the one of the most important factors in heart disease prevention.
It is recommended that saturated fat make up 10% of less of your total daily calorie intake, so very small amounts of coconut oil in the diet in place of other saturated fats will probably do no harm.
However it is important to note that there is not definitive evidence to say it is a healthier option than other fats.
Unsaturated fats such as olive oil have strong evidence of their health benefits behind them and are therefore a more reliable choice when choosing a healthy fat.
Coconut oil and heart health
The main saturated fat in coconut oil is lauric acid.  This type of saturated fat (SF) is shorter in length than other saturated fats.
Lauric acid can be considered a medium chain triglyceride (MCT) which acts differently in the body than longer SF.
Lauric acid has been shown in research trials to increase HDL cholesterol (the good cholesterol) and slightly increase LDL cholesterol (bad cholesterol).
Lauric acid improves the total cholesterol to HDL ratio more than other SF, according to a review article in 2011 article in Journal of Clinical Lipidology.
Does coconut oil help to relieve symptoms of or prevent chronic disease?
Advocates of the coconut oil swear by its use in prevention and treatment of diseases such as diabetes, chronic fatigue, irritable bowel syndrome and hyperthyroidism, in addition to high cholesterol and weight loss.
However, it should be noted that although people who use coconut oil for these purposes are often those who believe in the effectiveness of natural and alternative medicines.
The Natural Medicines Database states that there is insufficient evidence available to say if there is any truth behind these reported effects.
Does coconut oil promote weight loss?
MCT's are absorbed quickly from the small intestine are sent to the liver to be used for energy.
MCT's are less likely to be stored as fat and are more likely to be used for energy.  Longer SF can aid in transporting cholesterol, be used for energy or stored in fat cells.
MCT's have gotten a reputation for being able to help with weight loss because they are used for energy and not stored.
A 2010 review from Pharmacological Research suggests MCT could help prevent fat accumulation.
A 2003 study from International Journal of Obesity also suggests MCT can help stimulate fat oxidation and lower fat accumulation.
However, not all research studies have shown a benefit with MCT and weight loss and/or decreased fat accumulation.
In the 2003 study, research participants who had a higher body weight did not see as much benefit with MCT and lowered fat accumulation.
This association was strongest for participants that had a lower body weight.
More research needs to be done to clarify MCT in weight loss, and if they aid in weight loss how much is needed.
Instead of adding coconut oil to your diet, try using coconut oil in place of other saturated fats like butter.
Coconut oil is very energy dense
As with any fat, coconut oil contains a large amount of calories per gram and is therefore very energy dense. This means that excessive consumption is likely to lead to weight gain.
It has been theorized that the medium chain fatty acids found in coconut oil are more easily burnt than longer fatty acids, but there is no evidence to support the claim that this can aid weight loss or enhance fat burning in the body.
One small study did find that supplementation with coconut oil rather than alternative fats resulted in a modest reduction in waist circumference, but no effects were seen on BMI or fat mass.
Many studies into the effect of medium chain fatty acids have been extrapolated to coconut oil, despite significant difference in composition.
Further investigation is required to find out exactly how the combination of fats in coconut oil behaves in the human body.
Does coconut oil lower cholesterol levels?
Studies in the area have conflicting results, with some animal models showing lower LDL and higher HDL with coconut oil and others finding that it contributes to hypercholesteremia.
Based on this evidence, the claim that coconut oil lowers cholesterol is not convincing, however it may be a viable alternative to other saturated fat sources if it does not contribute to raised cholesterol levels.
See also: Foods to lower your cholesterol
Further research in humans is required is required to determine this definitely.
Coconut oil and type 2 diabetes
Some research suggests MCT may help preserve insulin sensitivity in people with type 2 diabetes.
Coconut oil and immune health
Coconut oil has been associated with increasing immune health because lauric acid is proposed to be antiviral.
Coconut oil and skin
Besides ingesting coconut oil, it can be used topically as a treatment for various skin conditions.  It can be used to help treat dry, flaky skin or used as a diaper cream.
Types of coconut oil
Virgin coconut oil is unrefined and has the greatest health benefits.  Steer clear of hydrogenated coconut oils, as they contain harmful trans-fats and may alter the components of coconut oil.
How to use it
Coconut oil can be used in place of shortening, butter or other cooking oils in baking or cooking.  It has a coconut, nutty rich flavor.  It can also be used for roasting vegetables, spread on toast, stir fries or in desserts.
If you have a history of heart disease or have been told by a health professional to keep saturated fat to a minimum, talk to a health professional before increasing intake of coconut oil.
Coconut oil is not the evil fat it once was thought to be, but it may not be the ultimate super food either some make it out to be.
Some research suggests it may have beneficial health effects, but most research studies are small or have had mixed results.
Use coconut oil in place of other saturated fats for potential health benefit.  Coconut oil has a shorter type of SF that acts differently in the body compared to longer SF.
The Dietary Guidelines recommends no more than 10% of calories to come from saturated fat.
Conclusion
There is very little evidence that supports the perpetrated benefits of coconut oil in terms of health.  Further research and long term studies are required to investigate these claims before coconut oil can be considered a healthy alternative to other fats.
Coconut oil is a saturated fat, and as such should be limited to very small quantities.  Whilst a little coconut oil may be a viable alternative to other saturated fats such as butter, there is no evidence that it should replace unsaturated fats such as olive oil, which has well substantiated research into the benefits associated with its intake.
The benefits of coconut oil on weight loss have had mixed results, and coconut oil may have beneficial effects on immune health, insulin levels and skin health.
Remember one of the golden rules in nutrition: One food is never the "ultimate" food.  A balanced, varied diet is best for health.