10 Natural ways to curb your hunger
Starting a diet to lose weight is a step towards the right direction but in many cases the theory is different than reality. You can calculate how many calories you should eat per day in order to lose weight but your gut may have a different opinion. Does this mean that you doomed to fail? Of course not, there are simple ways to suppress your appetite naturally (that is without pills) and still follow your diet plan. Once you read our 10 suggestions below I am sure that you can think of many other ways to 'trick' your hunger and stay within your daily calorie range.
1. Eat a healthy breakfast
The best way to suppress your hunger is to start your day with a rich breakfast high in protein and fibre and low in fat and sugars. The importance of breakfast for weight loss is well known and documented but research has also shown that people who consume a high protein breakfast eat fewer calories throughout the day.
2. Eat fibre rich foods
Fibre foods can keep you full for longer. The recommended daily intake of fibre is 14 grams for every 1000 calories consumed.  In general men should consume 35-38 grams of fibre per day and women 21 to 25 grams. This is equivalent to 5 medium apples for women and 8 for men. See our list of 10 fibre rich foods for more food ideas.
3. Drink a glass of water every hour
One of the benefits of drinking water is better appetite control. On average men should drink 3.7 liters of water per day and women 2.7 liters.  See also water for weight loss for more benefits and tips for drinking more water per day.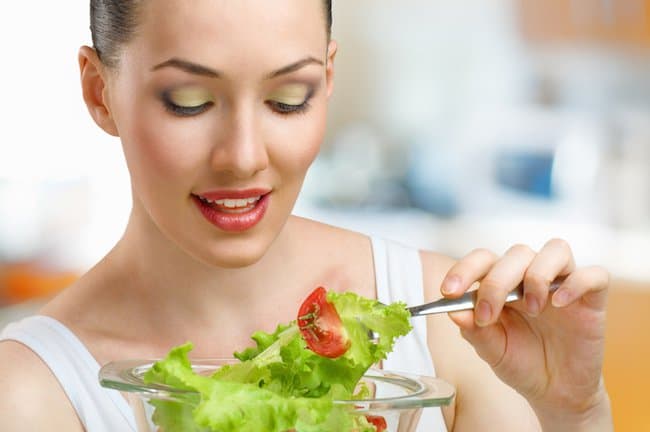 4. Drink green tea and other healthy drinks
Green tea, water, vegetable juices and low fat smoothies can provide you with protein and fibre with minimum sugar and fats. They are great appetite suppressants and can be taken with your meals or as afternoon drinks and replace sugar soft drinks.
5. Perform high Intensity cardio
We explained before how high intensity exercise can increase the calories you burn when at rest. What is more interesting is the finding of a study by the American Journal of Physiology suggesting that high intensity cardio can reduce your appetite for as long as 2 hours after your workout. During high intensity exercise the body releases appetite suppressing hormones that keep hunger away for longer periods.
6. Drink black coffee (in moderation)
Coffee is a short term appetite suppressant provided that you drink in moderation and without adding sugar, cream or full fat milk. 2-3 cups of black coffee per day can give you the extra energy you need without any adverse effects. If you want to find out more about the role of coffee in your diet read "does coffee or caffeine help you lose weight?"
7. Brush your teeth or use mouthwash
Brushing your teeth or using a mouthwash can give a different taste to your mouth keeping hunger away for at least a short time. It is not certainly the best way to suppress your appetite but it's a trick that works for some people. Try it out to find out if it works for you!
8. Eat sugarless chewing gum
Having something in your mouth may keep hunger away. Sugarless chewing gum is a good choice if you like chewing gums. Other good choices include carrots (chopped into small pieces with lemon and salt) and popcorn (they are low in calories and high in fibre).
9. Foods that fight hunger
Make sure that you include these foods in your diet: apples, oatmeal, pine nuts, flaxseed, soups, salads, dark chocolate, fish, fruits and vegetables, eggs, popcorn. In general solid foods can help you feel full for longer compared to liquid foods. This is because water found in liquids does not stay for long in the stomach while solid foods stay for longer until they are fully digested and absorbed by the body.  For example if you have a choice of drinking a low fat smoothie or eating an apple, then go for the apple.
10. Sleep more
It is a scientific finding that lack of sleep can increase hunger and negatively affect metabolism. This is related to the level of cortisol (a hormone related to stress) which is increased even when you are full. Sleeping at least 7 hours at night can also give you more energy during the day and also increase the levels of growth hormone which is responsible for controlling the proportion of fat and muscles in the body.
What is your favorite way for suppressing your appetite? What do you normally do when you are hungry and it's not time to eat?