There are many reasons why eating a variety of fruits and vegetables is beneficial for your health.  The different colored fruits and vegetables provide a source for unique phytochemicals that can protect cells from damage and may help lower risk for some chronic diseases.  Adults should consume 1.5 – 2 cups of fruit per day and 2-3 cups of vegetables per day.
Unfortunately, according to data from 2007-2010 about 75% of American adults do not get the recommended fruit servings per day and just under 90% do not get the recommended daily vegetable intake (1).
Guavas are a low calorie, high fiber, nutrient dense fruit grown in tropical regions of the world.  For people living in more temperate climates, guavas can still be a lesser known and eaten fruit.
Guavas can be found at most major supermarkets, but some may still be hesitant to incorporate guavas into a typical eating routine.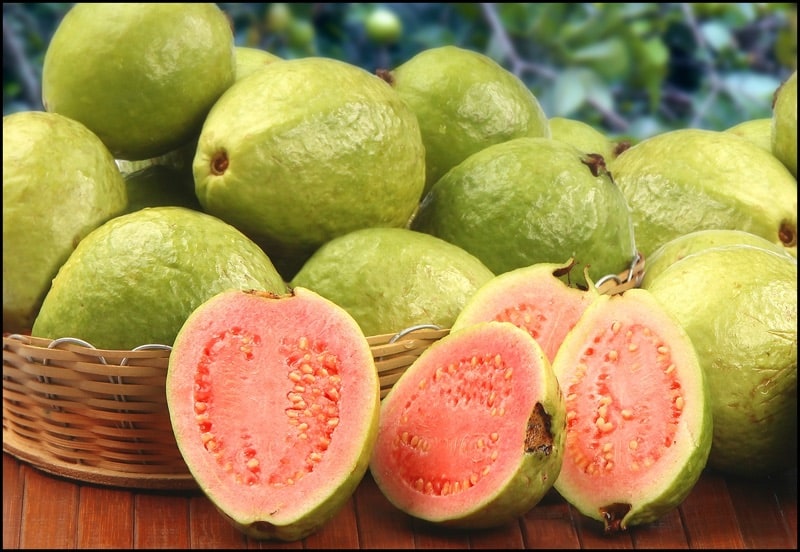 Like other fruits grown in tropical climates, guavas usually have to travel far to reach supermarkets around the world.
Guavas are usually under ripe at the supermarket and may need to set out so the fruit gives when pushed.  The outside color should also be more yellow than green.
Carotenoids
The carotenoids are a type of antioxidant found in fruits and vegetables.  Orange fruits and vegetables like carrots, sweet potatoes, cantaloupe and guavas are rich sources of carotenoids.
The specific carotenoid beta carotene is also considered a form of vitamin A.
One guava provides about 6% DV of vitamin A. Getting adequate vitamin A from food is important for eye health, immune support and for healthy skin (2).
When we eat foods high in beta carotene like guavas, the body will convert beta carotene to vitamin A the body can use based on how much the body needs.  It is recommended to get carotenoids from foods, like guavas, instead of supplements.
Vitamin C
Many fruits and vegetables are a good source of vitamin C, but guavas may have one of the highest amounts of vitamin C per serving.
Just one guava provides about 209% DV of vitamin C.  Like vitamin A, vitamin C acts as a powerful antioxidant in the body and can help protect cells from damage associated with various chronic diseases.
Vitamin C is also needed to for the layer under the skin which is called collagen.  Collagen is also needed for healthy gums and to form other connective tissues in the body.
According to Dr. Brian Dixon in an August 2015 Live Science article (3), about 40% of adult men and women are deficient in vitamin C.
This does not mean 40% of adults have full blown vitamin C deficiency, which is rare in developed countries.  It means 40% of adults are consistently not getting the adequate amount of vitamin C which could contribute to less severe symptoms than full blown deficiency.
The reason so many people are not getting adequate intake of vitamin C is probably due to the fact that many adults do not get the recommended intake of fruits and vegetables.
Eating more foods like guavas can help you get the recommended vitamin C intake.
Fiber
Good sources of fiber include: fruits, vegetables, legumes, nuts, seeds and whole grains.  Eating a variety of these foods should give you adequate fiber from your diet.
Unfortunately, it is estimated less than 10% of Americans get the recommended intake for daily fiber (4).  Not getting enough fiber in the diet may increase risk for constipation, cardiovascular disease and certain cancers.
Eating more fruits and vegetables in general is a good place to start to get more fiber in your diet.  Eating just one guava can provide about 3 grams of fiber.
The daily recommended intake for most women is 25 grams of fiber per day and 38 grams of fiber per day for men.
Potassium
Less than 10% of American adults get the recommended intake of vegetables and get the recommended amount of fiber in the diet.  Less than 15% of Americans eat the daily recommended servings of fruit per day.
Here is another sobering health statistic: only about 2% of American adults get the recommended daily intake of potassium of 4,700 mg (5).
Eating more fruits like guavas can help you increase your potassium intake.  Potassium is one the nutrients important for balancing fluids in the body and helping with nerve and muscle signaling.
One guava provides about 230 mg of potassium per day which is about 6% DV.  Increasing your intake to a cup of guava provides about 20% DV of potassium. 
Eating guavas and a variety of other fruits and vegetables can help you reach the recommended 4,700 mg per day of potassium.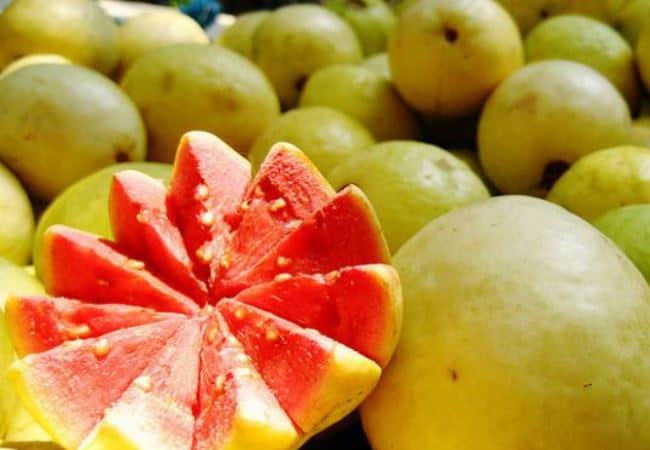 Folate
Besides vitamins A and C, fruits are a good source of B vitamins.  One cup of guava provides about 20% DV for folate.  The body needs folate to form new cells, DNA and RNA.
Not getting enough folate can increase risk for megaloblastic anemia, sores in the mouth and affect the health of skin, hair and nails (6).
Certain groups that may want to get extra dietary folate include: women in childbearing years, people with absorption disorders in the digestive tract, people with alcoholism and non-Hispanic black women.
Side effects from eating guavas
There are no known negative side effects for consuming guavas for healthy people.  One concern whenever you drastically increase your fiber intake could be the increase in fiber can cause some temporary digestive side effects such as: bloating, gas or change in bowel movements.
Any time you increase your fiber intake, make sure you also increase your fluid intake.
If you have a health condition that warrants a lowered intake of potassium or fiber, speak with your doctor before adding guavas to your diet.