After giving birth, many women find it hard to lose those last ten pounds of pregnancy weight. However, it is not impossible. Through both diet and exercise, women can get their pre-baby body back!
Start in the Kitchen
It may seem like that last ten pounds of baby weight will not leave your body, but with the right combination of diet and exercise, you can lose the weight. The first step is diet. Did you know that 70% of weight loss happens in the kitchen? That's right.
Even if you workout daily, without making the correct changes to your eating habits, the weight will not come off. Basically, "clean eating" is your friend. What is clean eating? Read on to find out:
Avoid Processed Foods
Clean eating means to eat foods that are healthy1. In other words, you want to eat only non-processed foods. These are foods that come in their 'natural' form, such as meats, vegetables, eggs and so forth. It does not mean that you cannot make your own foods, from fresh ingredients.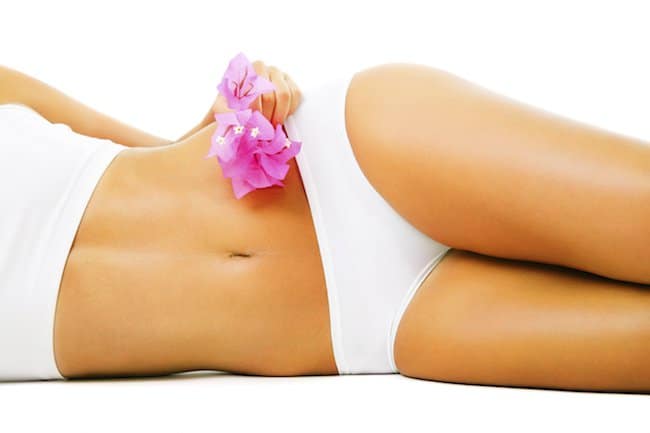 Flex your cooking elbow–learn to make your own main dishes, your own desserts, your own breads and pasta sauces. If you look at the ingredients on processed foods, you will typically come across scores of items that you cannot pronounce or identify. If you make your own foods, that is not the case.
Also, clean eating means choosing foods that are chemical-free, such as organics (Is Organic Food better for you?). Remember that with clean eating, spices are your friends! Add them to your meals to make 'plain' foods tasty.
Shop the Perimeter
In order to eat clean, shop the perimeter of the store. This will keep you away from the majority of processed foods. Stick to fresh vegetables and fresh meats, but add frozen items to your cart to keep your pantry stocked! You don't want to run out of vegetables and fruits, and often frozen choices are as healthy as the fresh varieties.
These items are considered 'whole' foods, foods you can eat as is. But while sugar is a 'whole' food, do try to avoid it (see also: How to remove sugar from your diet). If at all possible, sweeten with Stevia, an all-natural, calorie-free sweetener that is 100 times sweeter than sugar2.
Another excellent choice is coconut palm sugar, which helps to prevent the dreaded 'sugar crash', as it has a lower glycemic index than regular sugar3. Or, opt for monk fruit extract which is very sweet (4 times the sweetness of sugar) and typically sold in a natural state.
Should You Give Up Dairy and Wheat?
Dairy
There are several schools of thought out there on both dairy and wheat (sometimes confused for going 'gluten free'). In nature, humans are the only mammals who continue to drink milk into adulthood. Many doctors, and nutritionists, think that this is not only unnecessary but harmful to our health.
Both doctors and nutritionists believe that eating dairy can actually cause weight gain, heartburn, high cholesterol, joint pain and irritable bowel syndrome. It has also been proven to manufacture extra mucous in the throat and deplete our body's energy.
If getting rid of dairy altogether seems impossible, start slow. Say no to cheese on your salad at lunch, opt for almond milk in your coffee or protein shake, and ditch the ice cream as dessert (find a healthier option, like dark chocolate squares topped with natural peanut butter!).
Wheat-Free?
Gluten has been in the headlines a lot lately, and for good reason. However, knowing what you are giving up, and how to do it the right way, goes a long way towards good health.
Recently, a book has been sweeping the nation and shaking up bread makers. The book, a national bestseller, is 'Wheat Belly' by Dr. William Davis. In his book, he explains how wheat has changed throughout the generations, and how the wheat we see today doesn't resemble 'original' wheat in the slightest.
In his book, Dr. Davis, a cardiologist, presents case study after case study, showing how giving up wheat has not only led to drastic wheat loss in his patients, and readers, but also helped them kick diabetes, IBS, joint pain, and much more.
Giving up wheat, which in many people's minds equals gluten, is a great way to cut calories and lose those last ten pounds, because you will be cutting carbohydrates from your diet.
However, a caveat is not to simply shop for 'gluten free' variations of your favorite foods, because often when manufacturers remove gluten, they add more preservatives, salt and sugar to make the product taste just as good as it did before. Not good for your body or your weight loss.
Exercise
Of course, there is no substitution for exercise. A good diet can only get you so far, you have to work out that body! The best way to lose those last ten pounds is by combining diet with a program of cardio and weight training.
Weight Training
Why weight train? Many women worry that lifting weights will bulk them up, but it is actually quite the opposite. Adding muscle to your frame will increase your metabolism all day long, meaning you will burn more calories even while you are sitting on the couch, watching television.
A good goal is to lift weights for 20 to 30 minutes, 3 times a week. You want to lift heavy, but not too heavy. Use a heavy enough weight that you can complete 12 to 16 repetitions, but no more. This way, you are building muscle, and not just increasing your endurance.
Must read: 10 benefits of strength training for women
Cardio
In addition to weight training, add 2 to 3 days of cardiovascular workouts to your regimen. This can be as simple as a 30 minute jog, an hour walk, or 45 minutes on the elliptical. Or, have fun in a group exercise class at your gym.
Look for spinning (which is an indoor cycling class), Zumba (if you love to dance) or even a cardio kickbox class. The most important thing is to choose a form of cardio that you enjoy, or you will quit before the benefits kick in!
Home Workout DVDs
One of the best ways to get in shape with minimum expense, is at home. Look online for some great workout DVDs (it's always good to read user reviews before purchasing). Companies like Beach Body design full workout programs on DVD, telling you which workout to do on what day.
It's like purchasing a personal trainer. Another fitness expert who offers this type of program is Cathe Friedrich. She offers a variety of workouts, from step to kickboxing to weight training, and sells sets which come with a workout booklet.
So, those last ten pounds will come off! Just watch what you eat and exercise. With a new baby, things can look hopeless, but just taking time for you can make all the difference! With as little as 30 minutes 6 days a week, and some extra time in the kitchen, you can have that pre-baby body back!
References used in this article