Stevia is one of so many sweeteners to hit the shelves as an alternative to sugar with less calories.  Whilst many artificial sweeteners are unnatural chemicals, stevia is promoted as a natural alternative, however, the question remains as to how safe it is and if the advertised benefits are well supported by science.
What is Stevia?
Stevia is obtained from the native South American Shrub Stevia rebaudiana.  It is naturally very sweet, over 200 times more than common sugar, however contains very few calories, making it an attractive option for those trying to lose weight.  Although it is very sweet, many stevia products also have a bitter taste. See also: How to remove sugar from your diet
Stevia has been used in countries such as the native South America to sweeten beverages for centuries and in Japan for many years to treat diabetes, however, it was only recently approved for use in food and drink products by the FDA in 2008. Before this it was sold only as a dietary supplement due to safety concerns.
There is still some controversy over the safety of highly refined versions of this product, with the European Food Safety Authority carrying out studies that suggested no toxicity of these types of products.  However the Center for Science and Public Interest still maintain that more testing needs to be carried out.  Although the plant itself is a natural product, sweeteners produced using this product are highly processed and refined.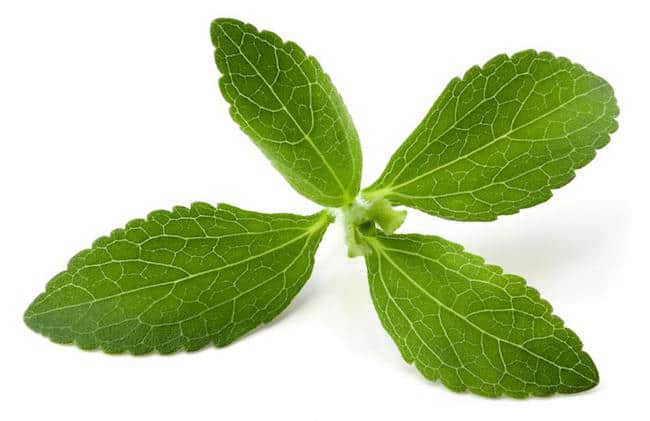 What are the benefits of Stevia?
Evidence regarding the health benefits and therapeutic uses of stevia is not well established and there is insufficient evidence to support its use in many of the areas that it is commonly promoted for.  There is some early evidence that stevia may have an effect of reducing blood pressure, however there is also conflicting research that suggests it has no effect.
Stevia is also advertised as a tool for diabetes management and has been said to reduce blood sugar levels after a meal, perhaps by increasing insulin sensitivity.  Once again however, there is conflicting evidence that suggests it has no effect on blood sugar control in either type 1 or type 2 diabetes.
Stevia is also promoted as a contraceptive, to prevent heartburn, for weight loss, to reduce water retention and to treat heart problems along with other conditions.  However, there is no conclusive to support its use in these conditions.
As a sweetener and alternative to sugar, it has the benefit of containing zero calories, and therefore may be a useful tool to reduce overall calorie intake and promote weight loss.  As it is even sweeter than sugar, only a small amount of the product is required and it can be used in a wide variety of ways from table sugar to baking with good results, although some find that a bitter aftertaste often present makes it a less desirable alternative.
Although highly refined when in the form used to sweeten food and beverages, stevia has a possible advantage in that it is at least originally from a natural source that has been used for many centuries when compared with other more artificial sweeteners.
Are there any health risks?
Although stevia in its refined forms, Rebaudioside A and stevioside, are generally considered safe, although there has been a lack of controlled testing of different forms of stevia, so caution should be exercised when using in different forms.
Some studies in the past linked stevia to fertility problems and genetic mutations, however these were far from conclusive.  No research has been done into the safety of stevia for pregnant women and should be avoided by this group due to its unknown effects.
Side effects of taking stevia are usually fairly mild, including symptoms such as bloating or nausea, although dizziness and numbness have also been reported.  Some individuals may also experience an allergic reaction, particularly those who are allergic to similar plants such as marigolds and daisies.
For diabetics, the use of stevia should be monitored closely and discussed with a health professional.  As there is some as yet inconclusive evidence that stevia may help with blood glucose control, caution should be exercised as there is a possibility that if stevia does have this effect, medications and blood glucose management plans may need to be altered.
Due to the small amount of evidence that stevia can assist in lowering blood pressure, those who suffer from low blood pressure should seek the advice of their doctor before taking stevia as it may cause blood pressure to drop to an unsafe level.
Is Stevia healthy?
There is still some controversy surrounding the perpetrated health benefits of stevia and further research is needed to establish if these believes are founded.  Whether or not it is giving you any particular benefits may be debatable, but at least it does not appear to have too many undesirable side effects that are often associated with artificial sweeteners such as diarrhoea, cravings and craving for sweet foods.
Consumers should note that there is always the possibility that further evidence will unearth unsafe effects of stevia, however, at present it is considered a safe alternative for those wishing to reduce their calorie content to lose weight.
References used in this article