Buying organic foods has become a lot more common in recent years.  More grocery stores are starting to add organic food sections for the more 'health conscious' people.  You will see organic produce, dairy products, boxed products, and even meat.  Some people say that organic food tastes better and it may offer several other benefits.  Organic products can be a lot more expensive than conventional foods, and may not last as long.  Are they worth the extra money, and are they better for you?
What are organic foods?
Organic foods are produced according to certain standards.  They are produced without the use of chemicals such as pesticides.  In order for a food to state that it is organic, it must not contain any food additives, and can't be processed using chemical ripening, food irradiation or contain genetically modified ingredients.  Organic meat and dairy products don't allow the animals to be given any hormones.
Organic products in the United States can carry the USDA Organic seal on their packaging.  Products that contain a minimum of 70% organic ingredients can state that they are made with organic products, but can't use the USDA Organic seal.
What is the difference between conventional and organic foods?
Conventional foods use chemical fertilizers to promote plant growth and organic foods use natural fertilizers such as manure instead.  Conventional foods are sprayed with insecticides to reduce pests and organic foods use insects and birds to reduce the pests.  Herbicides are used on conventional foods to manage weeds and the crops are rotated and weeded to manage the weeds.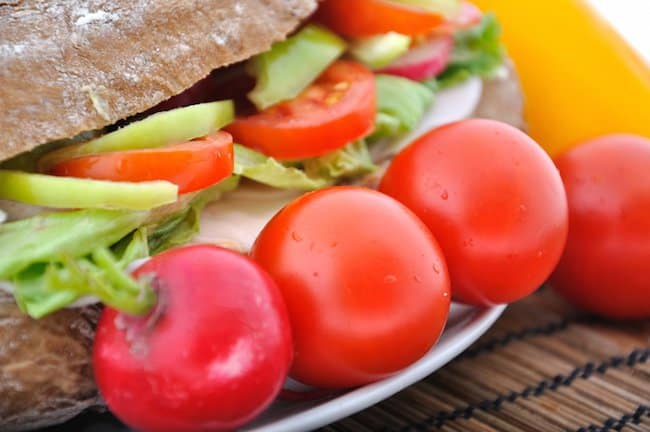 The animals raised to produce conventional animal products, are given antibiotics, growth hormones and medications to prevent disease.  On the other hand, animals raised for organic animal products are fed organic feed and are allowed to go outside.
Is organic food more nutritious?
An article, published in The American Journal of Clinical Nutrition, reviewed studies that compared organic and conventional foods.  Based on the studies that were reviewed, there was no evidence that organic foods are more nutritious, and it found that organic and conventionally produced foods are comparable in their nutrient content.  The article stated that it is unlikely that consuming organic foods rather than conventional foods will provide any health benefit.
What are the benefits or eating organic foods?
While the nutrient content may not be different between conventional and organic foods, the fertilizers, pesticides and antibiotics used to produce conventional foods can get into the food, and when you eat it, can get into your body.  Organic farming is also better for the environment.  It reduces pollution and uses better quality soil.  Some people choose to eat organic foods for environmental reasons.
What foods should you choose to eat organically?
So, as it is more expensive to include all organic foods in your diet, there are certain foods that can contain more pesticides than others, making them more hazardous to eat.  The foods that contain the most pesticides are called the "Dirty Dozen", and include:
–          Apples
–          Celery
–          Bell peppers
–          Peaches
–          Strawberries
–          Imported nectarines
–          Grapes
–          Spinach
–          Lettuce
–          Cucumbers
–          Blueberries
–          Potatoes
So, if you are going to eat any food s organically, you should try to buy the above foods.  The foods that contain the least pesticides are called the "Clean 15." These are the foods that aren't as harmful if you choose to eat non-organic versions.  They include:
–          Onions
–          Sweet corn
–          Pineapples
–          Avocado
–          Cabbage
–          Sweet Peas
–          Asparagus
–          Mangoes
–          Eggplant
–          Kiwi
–          Cantaloupe
–          Sweet potatoes
–          Grapefruit
–          Watermelon
–          Mushrooms
What are the negatives to eating organic foods?
One of the main downsides to eating organic foods is the cost.  Depending on what the food is and what time of year it is, there can be a huge difference in the cost between organic and non-organic foods.  That is when you can decide which foods you are going to choose to buy organically.
Another downside is that since they don't have all of the preservatives in them, they will often spoil more quickly.  Organic dairy products, however, are processed using ultra-high temperatures (UHT) in order to prolong the shelf life.
So, is organic food better for you?
Although there is no evidence stating that organic food isn't more nutritious, eating organic foods does offer many other benefits and, according to some people, tastes better.  Also, with the amount of pesticides and antibiotics used in conventional foods, there is no telling what kind of damage they are doing.
The chemicals and other artificial ingredients haven't been used long enough to tell what kind of effects ingesting them can have on our bodies.  So, while it may be safer to choose to eat organic foods rather than conventional foods, if cost is an issue, choosing to eat organic foods off the "Dirty Dozen" list may be a good start.
References used in this article