According to The United States Healthful Food Council, an average American eats out almost 6 times per week, and almost one third of children in the US eat fast food on any given day.  While more Americans may be trying to eat healthier and watch their food intake because of increasing obesity rates, eating meals out is a normal part of life for many.
More restaurants are starting to offer healthier food options, but in general restaurant meals are still usually higher in fat, calories, sodium and/or sugar than meals made at home.
According to a 2015 article from Reuters Health (1), a study looking at food intake from about 18,000 people found participants who visited fast food restaurants ate almost 200 calories more per day compared to people who ate at home.
Surprisingly, people who ate at full service restaurants also had an intake of about 200 calories more per day than people who ate at home.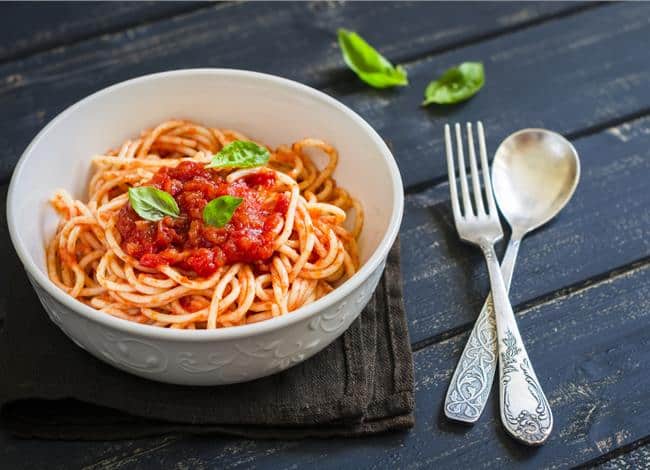 If you are trying to eat healthy, it is possible to find a meal at a restaurant that won't wreck your diet.
It can be possible to eat healthy meals at restaurants as long as you pay attention to these important tips.
Look for keywords on preparation: boiled, grilled, roasted or steamed
The way a meal is prepared can have a big impact on the calorie and fat quality of a meal.  Some keys words on the meal description can give you a clue on how heavy a meal might be.
For example, something that is broiled or grilled should be lighter compared to something that is fried or with a cream sauce.
Salad dressings or soups with a cream base are notorious for being high in calories and saturated fat.
Stick with oil based dressings and use modestly, and choose broth and vegetable based soups over creamy options.
Roasted or steamed cooking methods also usually mean a lighter meal preparation that might include minimal fat added for cooking.
You should be able to ask the service staff how a meal is prepared.  Something like a stir fry can be sound like a healthier option that is heavier on veggies.
However, sauces can add a lot of extra sugar, sodium and preservatives.  Ask if something is cooked with a sauce and ask for the sauce on the side if possible.
Order a half portion or an appetizer
One reason restaurant meals are higher in calories compared to home cooking is because portion sizes are usually larger at restaurants.
A simple way to make restaurant meals healthier is to split the meal with someone.  This can be a helpful option if you want a splurge item.
You could still enjoy a guilty pleasure, but by splitting a meal you are cutting down the energy you get from it.
If you are eating alone, ask the server to box up half the meal ahead of time and only serve you half the portion.  This can help if you'd be tempted to eat the whole meal.
If you are getting a meal from a quicker service restaurant, opt for ordering something smaller, like an appetizer at a sit down meal, and pair with some fruit if available or a salad.
If you are ordering something like a wrap, save half for another meal.  Many restaurants that serve burrito or wrap meals have the option to have the wrap as optional.
This can also cut out a lot of empty calories from a meal.
Another option is to order a smaller portioned meal like an appetizer.  Order an appetizer that is cooked in the healthiest option possible.  If you want more volume to your meal, you could order an appetizer with a healthy soup or salad.
Ordering a couple sides instead of an entrée could also be a healthier alternative.  The meal doesn't have to be an entrée; you can get creative with putting different things together.
Don't assume salad is always the best solution
Salads are usually a default option for people trying to eat smart at a restaurant.  They can be a healthy option if they offer a variety of vegetables (or fruits), a protein item and a healthy dressing choice.
However, salads can easily be high in calories and can hide hidden ingredients especially in dressings.
If a salad has fried toppings, a lot of cheese, bacon, croutons and heavy cream dressing, it is probably not the best choice on the menu.
Scan the menu for options that are grilled, roasted, broiled and offer a variety of vegetables.  It may be a salad option, but maybe not.
Ask for substitutions if available
If you find an entrée that comes with a side of fries or onion rings, opt out and see if you can get some sautéed vegetables, a salad or broth based soup instead.
This can be an easy switch to make a meal lighter.  If a meal is fried, see if you can get is grilled or broiled.  If you want a vegetarian meal, see what they can substitute for an entrée to make it lighter.
These days, restaurants are more accommodating for people substituting menu items.  There are exceptions, but with the rise of food allergies and change of preferences for diners, most restaurants are willing to accommodate substitutions.
Don't go into the meal starving
Having a light snack like an apple, a smoothie or a yogurt before eating a restaurant meal could help you make better choices at the restaurant.
If you go into the restaurant really hungry, chances are you will want something heavy and large portion.  If you ate something light already, you may feel more empowered to make a healthy meal choice.
Conclusion: Have a plan
Do your research before eating out.  Research the menu online.  There are also some apps you can use to help you find the healthiest meal options closest to your personal location.
This can be helpful if you are visiting a new location.  If a restaurant has more than 20 locations, the FDA requires the establishment to provide calorie information (2).
Try to make eating out a special occasion instead of the norm.  Choose restaurants that offer local, fresh food that emphasize healthy cooking methods as often as possible.
When you eat out, try to choose meals with the healthiest cooking methods.  If you are unsure how something is cooked, ask your server.
Get sauces on the side, and feel free to think outside the box for a meal.  Pair an appetizer with a salad or soup or even combine different side items to make a full meal.