Making recipes healthier can be easy to do, and you can do it without sacrificing flavor.  Many traditional, high calorie recipes can be made healthier so they can still be part of a balanced, healthy diet.  Making recipes healthier can mean a lot of things.  Here are some categories and solutions for making recipes healthier. See also: 10 easy ways to cut calories from any recipe
Cutting down the fat content
Some recipes call for a lot of oil, butter and dairy.  There are some easy substitutions for these ingredients that can lower fat content without sacrificing flavor.  You can swap unsweetened applesauce for oil in baked goods like sweet breads or muffins.
Swap ½ to the full amount of the oil content for applesauce in a recipe.  It may take some experimenting to determine the right amount for each recipe.  When swapping applesauce for oil, you can also cut down on the sugar amount since the applesauce is giving some extra sweetness.
Another example of cutting down the fat in a recipe is swapping mashed, ripe bananas for oil.  Use the same ratios for the applesauce when using mashed bananas in place of oil.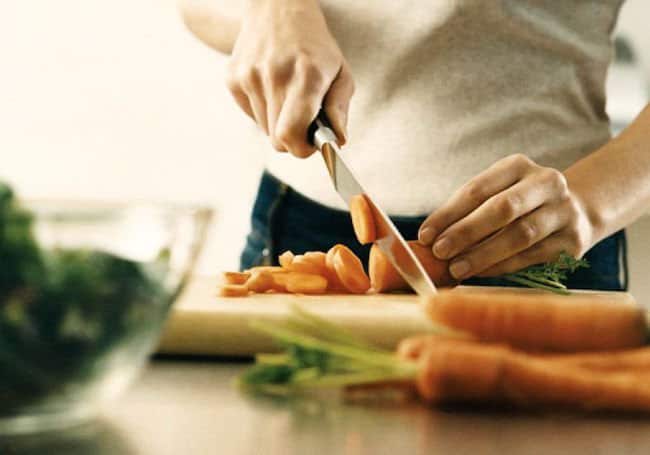 When a recipe requires sour cream or mayonnaise, replace these ingredients with plain non-fat Greek yogurt.  Substitute low/nonfat dairy products for the full fat version; no one will know.
Increasing fiber
Switching whole wheat flour for white flour is an easy recipe substitution that will increase fiber content in baked goods.  Whole wheat flour is denser than regular flour, so some baking recipes may need to be ½ regular flour ½ whole wheat.
Using applesauce or mashed bananas, as listed above, in place of oils will also increase fiber content.  For chocolate baked goods like chocolate cake or brownies, you can substitute the butter with a prune puree.
Prune puree can be made by blending together ¾ c of prunes with ¼ cup of hot water.  Prunes are naturally high in fiber, and are a common remedy for constipation.  Use with caution and watch portion sizes in baked goods with prunes: it can have a laxative effect in high doses!
Flax meal or chia seeds mixed with water can be a replacement for eggs.  This can help turn baked good recipes that call for eggs into a vegan alternative.  This will also increase fiber content of the recipe because flax and chia seeds are high in fiber.
The ratios for replacing 1 egg are:
-Combine 1 tbsp of flax meal (ground flaxseeds) with 3 tbsp of water.
-Combine 1 tbsp of chia seeds in 1 cup of hot water; let sit for 15-20 minutes until a gel like consistency forms.
For any savory dish, increase fiber content by adding in vegetables.  Be creative with how you can add in some veggies.  For example, add in butternut squash puree to the cheese sauce for macaroni and cheese.  Add in frozen vegetables to pasta the last few minutes of cooking.
Increasing protein
Replacing sour cream or mayonnaise with plain Greek yogurt will increase protein content for recipes, as Greek yogurt is high in protein.  Use egg whites in place of eggs in any baked good recipe that calls for eggs.
Egg whites are a concentrated source of protein, and using 2 egg whites in place of 1 egg will increase protein amount.  Instead of making traditional brownies, make black bean brownies; no one will be able to tell the difference!  In general, this can work by replacing 1 cup of flour for 1 cup of rinsed, canned black beans.
Beans are high in fiber and protein, so replacing beans gets two birds with one stone.
See also: How to cook healthier meals
Gluten Free
If you have a gluten sensitivity or allergy, changing your favorite homemade recipes into gluten free (GF) can seem daunting.  For baking it is now a little easier, as there are many GF baking mixes available at most stores.  Other GF flours that can be used as a replacement for regular flour include coconut and almond flour. (See also: How to eat gluten free)
If a recipe calls for soy sauce, use something instead like liquid aminos.  Soy sauce is a common gluten source, but liquid aminos usually aren't and have the same flavor as soy sauce.  This can be a handy substitution for your favorite Asian flavored recipes. (See also: Is Soy healthy?)
Make gluten free breadcrumbs from your own gluten free bread, or make your own alternative from gluten free oats.  Place GF oats in a food processor and blend until oats are ground up.
Using GF rolled oats will also increase fiber content, and they are naturally low in sodium and preservatives, unlike other packaged bread crumbs.
Conclusion
There are many easy ways to make your favorite comfort food recipes healthier.  When baking, using substitutions like bananas, applesauce or prunes can cut down the fat.  You will also not have to use as much other sweeteners which also makes the recipe healthier.
Switching whole grain flour for regular, using flax meal or chia seeds for eggs, or using fruit mashes as an oil substitute will all increase fiber in recipes.  Using plain Greek yogurt for sour cream or mayonnaise increases protein and lowers fat content.
If you have a recipe you love but it needs a healthy make over, use some of these suggestions here or get creative and think of some on your own!