Staying lean over the holidays can be tough: holiday parties, holiday sweets, family gatherings, etc. can all drastically increase food intake and waistlines.  According to a 2000 study in The New England Journal of Medicine, average weight gain over the holidays is about a pound.  Even though that doesn't seem significant, holiday weight gain is not usually lost throughout the rest of the year meaning it keeps accumulating year after year.
There are simple substitutions and tools you can use to help keep your food intake in check around the holidays.  Here are some easy tips to make holiday meals healthier.
Baking substitutions
Whether its cookies, sweet bread or pies, swapping out some ingredients for a healthier option can significantly lower the calorie and increase the nutrition of sweets.
Replace up to ½ the fat for applesauce when baking to lower fat content while keeping moisture.  You can also use applesauce to replace sugar in a baking recipe; just keep in mind you'll want to decrease liquids by about ¼ c for this replacement.  Oils or butter can also be replaced with equal amount of mashed, ripe bananas.
To increase fiber content, replace 1 cup of butter in muffins, breads or cakes with 1-2 tbsp of chia seeds mixed with 1 cup of warm water.  For a nutty flavor, replace 1 tbsp of butter with 3 tbsp of ground flaxseed mixed with 1 tbsp of water.
Decrease sugar amount in recipes by ¼-1/2 the amount.  Chances are no one will even notice.  Replace1/4- ½ to all of flours for whole wheat or nut flours to increase fiber content.
Use skim or low fat dairy instead of full fat versions for baking or cooking.  Plain Greek yogurt can be substituted for sour cream.
Smaller plates
We eat more food from larger portion sizes.  Use small appetizer plates instead of large dinner plates when hosting holiday parties.  It takes less food to fill up the smaller plate, but the full plate can signal to our brain we're getting a lot of food.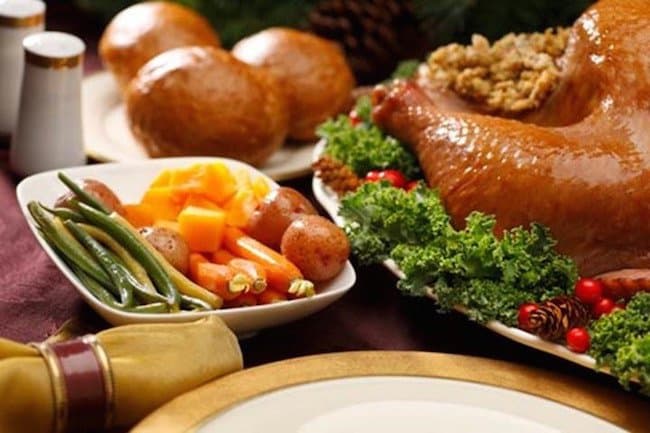 If we use large plates, it will take more food to fill the plate and for our brain to register we got enough to eat.
Eat away from the food
If there is a food room or table, mingle away from the food.  If you're eating close to the food table, it's easy to keep loading up on the food because it's so close.  If you eat in a different part of the house, you won't be tempted to keep going back for more food.
When sitting down for a family meal, keep the pots of food on the stove instead of on the table.  The same principle applies; if the food is further away, you will not eat as much.
Load up on fruits and veggies
Your plate should be half fruits and vegetables at all meals according to the United States Department of Agriculture (USDA).  Keep the same goal during the holidays.  Make at least half your plate produce.
Before going to a holiday party, eat a piece of fruit or salad.  This will help fill you up with fiber and nutrients and can help deter binging on high calorie holiday food.  Load up with fruits and veggies first, and then if you still want some other higher calorie foods take a small portion.
Before eating something sweet like a cookie, eat a piece of fruit.  Put grapes in the freezer and reach for those for a sweet, cold treat.  De-seed a pomegranate and keep a container of the seeds accessible in the refrigerator for a quick go-to sweet, crunchy snack.
Eat Mindfully
We feel most satisfied from food when we focus on it and enjoy it slowly.  When we multitask while eating we don't feel the same pleasure from eating.  In the hustle and bustle of the holiday season, take time to focus on your food and enjoy it.  Slow down when you eat instead of rushing through a meal.
By focusing on your food, you may find you only need 1 cookie to feel satisfied instead of hastily eating 2-3.  Before going up for seconds, take at least 15 minutes before getting more food.  By waiting you may realize you don't need more food after all.
Conclusion
The holiday season can be full of high calorie foods, work parties, emotions, family/friend get together, stress and business.  All these mixed together can equal an easy combination for gaining some extra weight, even if only a pound.
To combat the ease of holiday weight gain, make a conscious effort to make healthier holiday meals and treats.  Eat away from the food table at holiday parties.  Pause before going back up for seconds.  Load up with fruits and veggies first, and then see how much room is left over for other holiday foods.
Focus on your food instead of cramming food down before you can register what you tasted.  Chances are that you will feel more satisfied when eating slowly and will probably eat less.