In the current times of economic uncertainty, many people have to make their money go a little bit further when it comes to food. Unfortunately, this often leads to the neglect of healthy eating habits, as in many cases healthy food is perceived to be more expensive than less healthy options.
When you can buy a read-made pizza for a few dollars, there often doesn't seem to be any point in spending more money on fresh ingredients to make a meal, however with a bit of planning and organization, it is possible to create a much healthier meal for around the same price. It may cost you more in terms of time and effort, but surely these are a worthwhile investment when considering your health.
Although produce that is generally considered healthier such as organic foods and health food products can be very expensive, it is perfectly possible to eat a healthy diet without buying overpriced diet related products.
There is no strong evidence that eating organic fruit and vegetables is any better for our health than other types, but there is very strong evidence that a diet rich in fruit and vegetables is better for your health than one lacking in these foods. So if you feel than organic produce is out of reach, it is definitely better to choose plenty of normal produce than avoid it altogether.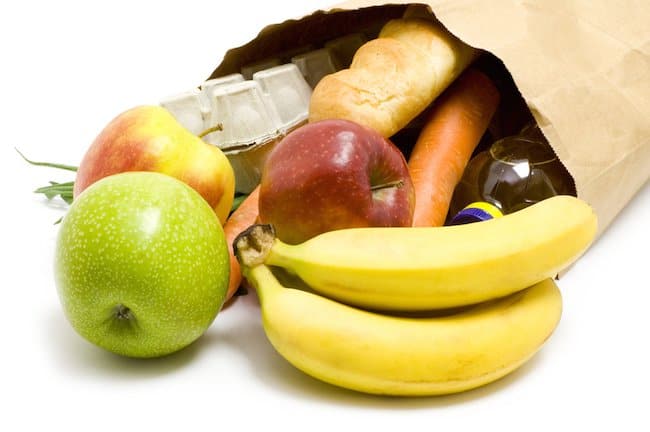 Supermarkets are also stocking more and more 'diet' products that are low in fat, sugar, gluten and just about anything else you can think of and generally sport a much higher price tag. Unless you have a medical condition which means you need to eat these types of foods, there are many more natural alternatives that are just as healthy or can be made at home for a fraction of the cost such as homemade muffins or muesli bars.
Here are some more tips to keep both yourself and your bank balance healthy:
Buy in Bulk
Buying larger packets of food is generally cheaper per gram, meaning you save money in the long term. This is a great way to buy foods that last a long time such as dried pasta, tinned products and cereals. For the best savings head to a store that specializes in bulk buys such as one designed for catering or businesses.
Be aware that whilst individually packed portions of foods such as dried fruit and nuts are convenient for school lunch boxes or as a snack on the run, they also tend to be a lot more expensive per weight than larger bags. To avoid this, buy bigger packets and portion them out yourself using zip lock bags or small containers.
Use cheap ingredients to make dishes go further
Meat, poultry and fish tend to be some of the most expensive things to buy, so stretch them further by adding cheaper ingredients to mixed dishes. Lentils, beans and chopped or grated vegetables are all cheap to buy and can be added to dishes such as bolognaise, chilli, minced meat and stews. Not only will you notice very little difference in the taste, you will save money, add fibre and other nutrients to your food and reduce the saturated fat content.
Another way to save a bit of cash on proteins is to buy cheaper cuts of meat and cook them for longer to achieve a better texture and flavour.
Shop at local markets
Although some fashionable markets tend to be expensive and filled with organic and artisan products, local farmers markets are often the best place to get cheap fruit and vegetables. It is also often possible to pick up bargains, for example vegetables with marked skin that is still perfectly good to eat but is not so pleasing to the eye. You are also supporting the community and are likely to get fresher and tastier produce than at the supermarket.
Buy in season products
Fresh produce that is in season is generally the cheapest option as well as tasting the best. Be flexible when you hit the store and adapt your meals around what is cheap and good rather than buying expensive ingredients to suit a certain recipe.
Use the freezer
By making large portions of cheap meals such as chilli or pasta and freeing it in individual portions, you can avoid the need to buy expensive frozen meals which can contain a lot of unhealthy ingredients and are highly processed.
Freezing leftovers is a great way to avoid wastage and save money later, as is buying frozen vegetables. These are often more nutritious than fresh as they are frozen directly on picking rather than spending time in transportation and storage. Frozen veg lasts much longer and means you never need to throw out food that is past its prime.
Plan ahead
It is often easy to opt for an unhealthy or expensive meal alternative when time is short, so get organized and save yourself both time and money. Make a plan for the week s meals so you only buy what you need and try to shop once per week rather than popping to the shop whenever you need something as this tends to turn out being more expensive, especially if you are going to overpriced corner stores as they are more convenient.
Fill your freezer with individual meals and make sure you have plenty of healthy snack options such as fruit or nuts on hand to get you through the week on your budget.
Eat more vegetarian options
As previously mentioned, animal proteins such as meat, chicken and fish are often the most expensive thing you buy. By eating more vegetarian alternatives such as legumes, tofu and seeds you will save money as these are generally cheaper. This may also benefit your health as you will eat less saturated fats, more fibre and a wider range of nutrients.
Beware of false economies
Although it is generally cheaper to buy in bulk, it is also important to remember that this is only really cost effective if you are going to eat it all. If it is a food with a short shelf life that is likely to go off before you have a chance to eat all of it, it may be a false economy and you might be better off buying a smaller amount.