Meditation is usually associated with sitting still with your eyes closed and associated with practicing yoga.  How is meditation associated with weight loss?
Meditation for weight loss means besides focusing on the food you're eating and your exercise, you are also focusing on internal cues you have related to how you view yourself, your food decisions, emotions and empowering you to make healthy decisions.
Meditation for weight loss focuses on mindfulness and being aware of how you are feeling throughout your day and how that influences decisions you make.
Advocates for meditation for weight loss suggest it is an important component of long term weight loss success because it deals with emotional triggers with food and other root issues for long term success.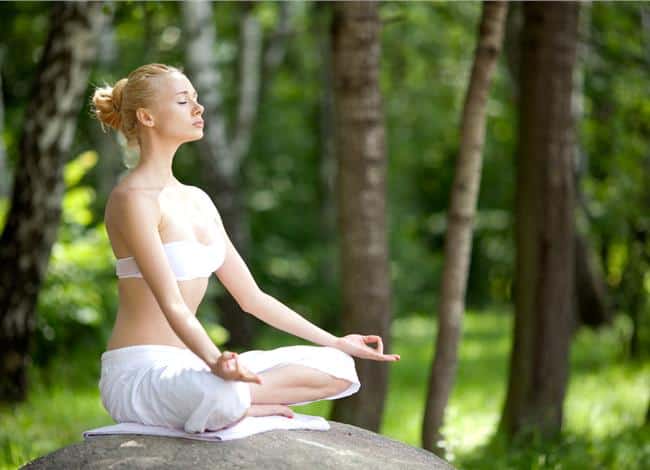 Incorporating healthy diet, exercise and sleep patterns are still the core pieces of any weight loss plan.  Mindfulness can take an extra layer of success by focusing on mental barriers to healthy behaviors.
Mindfulness needs to be paired with making healthy lifestyle changes.  There is some research to suggest practicing mindfulness or meditation for weight loss is significant for weight loss, but some research has had mixed results.
What does meditation for weight loss mean?
Meditation for weight loss can mean you are focusing on your mental thoughts, attitudes and emotions that set the tone for your actions.  It is a way to slow down and focus on intentions instead of rushing through decisions.
For weight loss, this means exploring motivations for weight loss, confronting childhood programming for food intake, shifting emotional eating patterns and understand why weight loss efforts in the past may not have worked.
This mindfulness awareness allows you to not only focus on what foods you should be eating but what thoughts, emotions and potential mental barriers have contributed to unhealthy behaviors.
Mindfulness takes work and focus which may be hard to get used to in our fast-paced society.
However, taking time to dial in the thoughts, emotions and attitudes you have about yourself and weight loss can help you succeed long term. The concepts are similar to hypnosis for weight loss.
Mindfulness can also simply mean focusing on the present and not multi-tasking.  For example, in a TIME article (1), mindfulness is defined as shifting focus to present experiences instead of thinking about 50 other things you have to do yet today.  Doing so can help you be in tune to internal hunger and fullness cues from your body.
How you can incorporate meditation for weight loss
Focusing on your food while you are eating is a simple way to incorporate more mindfulness.  This means slowing down when you eat, enjoying every bite, savoring the flavors and smells.
This can increase your satisfaction which can help you avoid over eating and feeling guilty.
Before you put something into your mouth, consider if you are really hungry.  If not, why are you eating?  Are you bored, mad, sad, etc?
Journaling your food intake can be common for many weight loss programs but journaling your emotion when eating can also unravel a deeper connection with your eating patterns.
Another aspect of meditation or mindfulness for weight loss can be exploring your motivation for weight loss and why you haven't achieved your goals.
This may entail confronting behaviors and beliefs with food that started as a child and how this has hindered your weight loss efforts.
If you are interested in learning more about ways to increase your mindfulness for weight loss, speak with a dietitian or other health expert.
There are many ways to incorporate mindfulness into weight loss efforts and getting guidance and support from a professional can help.
Does it meditation for weight loss really work?
Does mindfulness meditation really work for weight loss?  There is research (2) suggesting mindful eating may help treat eating disorders.  However, research around mindfulness meditation and weight loss is not as extensive.
A 2014 review (3) analyzed 14 studies that investigated mindfulness meditation and binge eating, emotional eating and weight change.
Researchers concluded from these studies that mindfulness meditation did decrease binge and emotional eating, but the effect it had on weight loss was mixed.
Researchers concluded more research is needed for mindfulness meditation and weight loss.
A 2009 study (4) explored the effects of a mindfulness based weight loss intervention in women.  Participants were split into two groups: one group continued with normal weight loss efforts they were already doing, and the other group attended four 2-hour long mindfulness workshops.
At the end of 6 months, the group who had the workshops had greater reductions in BMI primarily due to reductions in binge eating.
So far, research is strongest with mindfulness meditation related to lowering binge eating and helping with disordered eating.
Mindfulness meditation may be helpful with weight loss in general, but more research is needed.
Conclusion: Meditation and weight loss
Mindfulness meditation is growing in popularity as a means for weight loss.  Weight loss programs and diets in the past have mainly focused on behaviors to focus on primarily food intake and exercise.
Mindfulness can increase awareness about why we make decisions around food and exercise which can help translate to sustained weight loss success.
Mindfulness can also help you get back in touch with your internal cues of hunger, satisfaction and fullness.
There are various ways to incorporate mindfulness for weight loss.  There is no one set way.  Therefore, certain variations of mindfulness may work better than others for each individual.
Working with a dietitian can further help dial in what mindfulness tips may be most helpful for you.
Research does support mindful eating strategies may be helpful with disordered eating.  Many studies have suggested mindfulness meditation may help lower binge eating which could translate to weight loss.
However, not all studies have shown a strong link between mindfulness and weight loss.  Therefore, more research is needed.