About 500 million people word wide depend on cassava plant as a main component for their diet.  The cassava root is used as a carbohydrate source that is similar to other root vegetables like the potato.
Cassava is used to make tapioca products, which people following a typical Western diet may be more familiar with.  Cassava is mainly grown and used as a food source in Africa, Asia and Latin America.
The energy from eating cassava is primarily from carbohydrates.  Cassava is considered a poor protein source, and it does not have all the essential amino acids in adequate quantities.
Unfortunately, in some parts of the world where cassava is widely consumed malnutrition is a concern.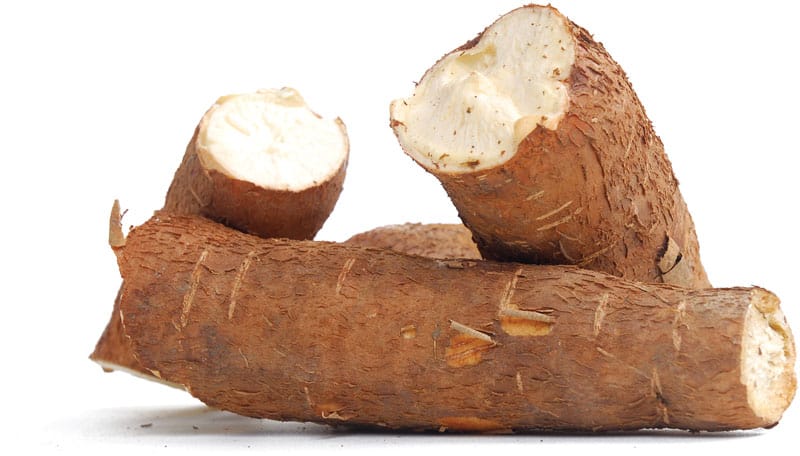 Cassava does not provide a good source of vitamin A, protein, zinc or iron.
Therefore, in populations whose diet primarily consists of cassava, these nutrient deficiencies can be a concern especially because cassava can also interfere with the absorption of some nutrients.
When cassava root and leaves are processed, it needs to be handled properly.  Improperly processed cassava can be a source for the poison cyanide which makes it potentially dangerous.
For this reason, a 2010 TIME article (1) suggests cassava is one of the 10 most dangerous foods.
Eating tapioca products is usually not a cause for concern from cyanide from cassava because the cassava has been cooked thoroughly.
Nevertheless, consume cassava products with caution and make sure they have been cooked and processed adequately so cyanide was not formed.
Benefits: Nutrients in cassava
Like other plants, the nutritional profile of cassava will depend on the soil conditions, environment and geographical area it is grown.
Cassava is primarily carbohydrates and is considered an energy dense food.
Cassava is naturally gluten free, so it or tapioca can be used as a carbohydrate source for people who can't tolerate gluten.
Cassava provides a source of vitamin C, about 70% DV for 1 cup cooked cassava.  Cassava provides less than 5% DV for calcium and iron.
Cassava also provides a source for magnesium and copper.
Cassava leaves are a good source of protein, minerals, B vitamins and the polyphenols carotenoids.
The cassava leaves actually have an amino acid content higher than soybeans and is lower in carbohydrate compared to the root (2).
Limiting amino acids for cassava root
Similar to corn, potatoes and other grains, cassava root does not provide adequate levels all the essential amino acids and shouldn't be considered a main protein source in the diet.
Because of this, cassava root should be part of a diet that includes legumes, nuts and other protein sources.
Unfortunately, those living in climates where the diet primarily consists of cassava, protein malnutrition can happen.
The leaves can provide a better protein source compared to the root, but they are still low in amino acids methionine and cysteine.
Nutrient absorption
Cassava has a compound called phytates.  These phytates can lower the absorption of certain minerals in the digestive tract which can increase risk for deficiency.
Therefore, populations eating a high amount of cassava may need higher intakes of minerals like magnesium, calcium, iron and zinc.
The good news is these phytates may have some potential benefits.  Phytates can also have antioxidant and anti-carcinogenic properties.
These phytates may also help lower cholesterol and triglyceride levels in the blood.
Tannins in cassava leaves can also lower iron absorption, and oxalates found in cassava can also lower absorption of calcium and magnesium.
Other plants also have phytates, tannins and oxalates.
Eating a variety of foods may help offset the binding on nutrients from these compounds in cassava.
Also, if you take any supplements, consume them at different times that foods or beverages that have tannins or oxalates.
Dangers of cassava: cyanide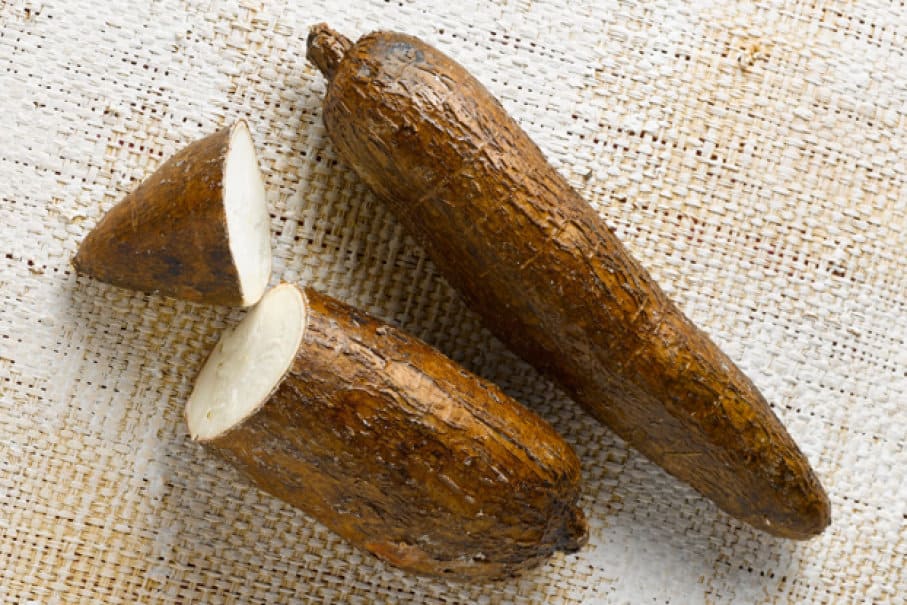 The proper processing of cassava includes drying, soaking, rinsing in water and baking (3).
The process lowers the amount of cyanide from cassava leaves and roots.
Consuming raw cassava is not recommended, as these will have much higher levels of cyanide.
During severe droughts or famine, short cuts may be taken to process cassava quickly.  Doing so increases risk for cyanide poisoning for consumers.
Research from Ohio State (4) suggests chronic consumption of even low amounts of cyanide from cassava can lead to health conditions such as: goiters, tropical ataxic neuropathy, paralysis and in extreme cases even death.
Unfortunately, people who are not getting enough protein in their diet are more likely to feel the effects of cyanide poisoning because their body does not have the amino acids needed to detoxify the cyanide poison.
Dangers of cassava: allergy
Surprisingly, people with a latex rubber allergy may also be allergic to cassava (5).
Therefore, if you have an allergy to latex rubber, you should not consume cassava products including tapioca desserts.
Target for biofortification
People who primarily consume cassava may have a harder time getting adequate intakes of minerals.
Since cassava is such a staple crop for many regions of the world, fortifying this food with nutrients may help lower nutrient deficiencies.
Researchers are continuing to experiment with harvesting a cassava plant that is higher in iron, vitamin A, zinc and protein while being lower in cyanide.
Conclusion
Millions of people around the world rely on cassava as their primary diet staple.  Cassava is a poor protein source and is also low in iron, zinc and vitamin A.
Because of this, people mainly consuming cassava are at risk for these nutritional deficiencies.
Consuming properly handled cassava products, including tapioca, is not considered dangerous.
Cassava products can be dangerous if they are not processed correctly.  If they are not processed correctly, they can have cyanide.
Consuming cyanide, even low amounts, can have negative consequences especially if a person is already malnourished.
If someone has a latex rubber allergy, consuming cassava products is not recommended.
If you are consuming properly handled cassava as part of a varied, balanced diet, there is no need for concern.
However, if the cassava is mishandled and your diet is void of other food sources, there is an increased risk for nutritional deficiencies and harm from cyanide.