Pears are one of the most consumed fruits worldwide.  A diet high in fruits and vegetable intake is associated with many health benefits.  Getting more pears in your diet can offer specific benefits, as pears are rich in many different nutrients.  A medium sized pear is only 100 calories, so it is considered a nutrient dense food because you get many nutrients for a small amount of energy.
Here are some specific benefits of eating pears daily and ways to get more pears in your diet.
Fiber
A medium size pear provides about 6 grams of fiber, which is 24% of the Daily Value for fiber.  Most Americans do not get the recommended amount of fiber per day, and eating a pear can help you reach the recommended fiber intake.
The soluble fiber in pears can help regulate blood sugar levels and help lower cholesterol.  The skin of the pear has insoluble fiber which can help promote digestive tract health.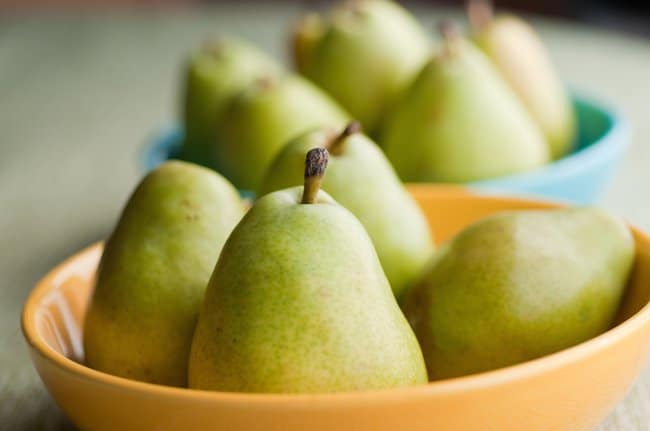 Eating high fiber foods, like pears, can also help with keeping you satisfied and less likely to over eat.  Eating a high fiber diet can help with weight loss and maintenance by keeping you full on low calorie, high bulk foods.
Vitamin C
A medium sized pear provides about 10% Daily Value of vitamin C.  Vitamin C has many important functions in the body including: immune support, producing collagen, antioxidant and increasing absorption of iron.  Collagen is part of connective tissue found in the skin, gums, bones and ligaments.
Getting adequate vitamin C can help skin look healthy and young; consuming adequate levels of vitamin C may also help your immune system fight off illness faster.  Eating a pear with plant sources of iron, such as leafy greens and legumes, will increase the absorption of iron.  This is especially beneficial for vegetarians, as they are at a higher risk for iron deficiency.
B6 vitamin
Another water soluble vitamin pears provide is vitamin B6.  A medium pear provides about 5% Daily Value for vitamin B6.  Vitamin B6 is involved with lowering levels of homocysteine in the body, which can help lower risk for heart disease.  B6 also helps the body make proteins and making hemoglobin, the oxygen carrier on red blood cells.
The B vitamins are all involved with breaking down carbohydrates and fats for fuel.  This is one reason why the B vitamins are known as "energy" vitamins.
Potassium and magnesium
Diets high in potassium, magnesium and calcium are associated with lowering blood pressure.  Most Americans do not get enough potassium or magnesium in their diet, and eating a pear a day can help you reach the recommended potassium and magnesium intakes.  Pears are also naturally sodium free, another benefit for blood pressure health.
A medium sized pear provides about 5% Daily Value of potassium (190 milligrams) and about 3% of recommended magnesium intake.  Eating a pear and a wide variety of other fruits and vegetables can help you get the adequate levels of these nutrients.
Antioxidants
Pears are a rich source of various phytochemicals; a 2008 study concluded that pears contain 32 different phytochemical compounds.  One function of phytochemicals is to act like antioxidants in the body.  Antioxidants help control damage to body cells from free radicals.  Free radicals can cause damage to cell membranes, proteins and DNA which can increase risk for cancer and cardiovascular disease.
A 2004 review article also suggests antioxidants in different fruits and vegetables have synergistic function.  This means the antioxidants you get from a pear may work together with other antioxidants from other foods in your diet to have an even greater positive effect in the body.
Adding pears to your diet
Besides eating a pear as it is for a snack, pears can be added in many ways to your diet.  Pears can add color, texture and a sweet element to salads, pizzas, baked chicken or pork dishes or used as a natural sweetener for oatmeal or yogurt.
Try different pear varieties and various colored pears for the highest amount of variety of phytochemicals.  Pears are best eaten when in season, but are available most times of the year.
Conclusion
Eating a pear a day may also help keep the doctor away because it is a source of so many beneficial nutrients.  A pear provides a high amount of fiber, about 6 grams per pear.  Eating a high fiber diet can help keep you satisfied, keep your gastro-intestinal tract healthy, lower cholesterol and help control blood sugar levels.
Pears are high in vitamin C, other antioxidants, B vitamins, potassium and magnesium just to name a few.  Most Americans have a hard time getting the recommended potassium and magnesium levels per day, so eating a pear a day can help meet these levels.
Snack of a pear and try adding them to other dishes for variety and adding natural sweetness.  Pears can go well with cooking chicken or pork dishes, or get creative by adding pear slices to pizzas and salads.
References used in this article