Acid reflux happens when stomach acid leaks into the esophagus.  When this happens, it can be very painful and feel like a burning sensation in your chest.  Other symptoms of chornic acid refulx can include: regurgitating food, liquid, difficulty swallowing, coughing, wheezing or chest pain (1).
Normally food passes through the esophagus, the esophageal sphincter opens and food travels into the stomach.  In the stomach, food is broken down into tiny particles with the acid in the stomach.
The sphincter muscle between the esophagus and the stomach stays closed to keep the acid in the stomach, where it belongs.
When acid refulx happens, the sphincter muscle relaxes and acid leaks into the esophagus which causes pain.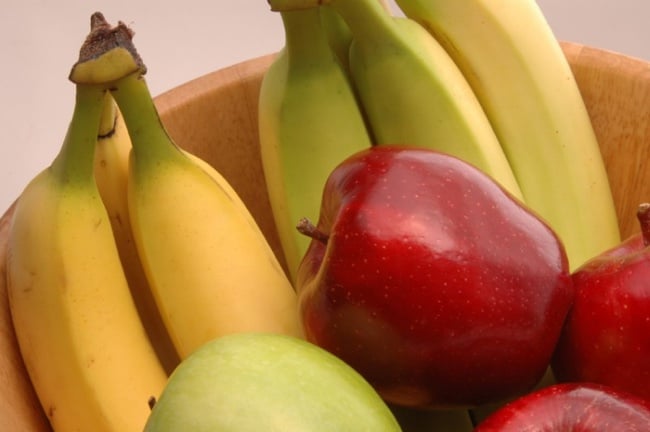 Weight loss, eating small meals, avoiding fatty foods, alcohol, spicy or acidic foods, caffeine and nicotine may all help relieve acid refulx.
However, sometimes that may not be enough.  Individualized treatment from a medical team may be needed to successfully treat acid reflux.
The following foods are considered low acid and are generally recommended if you have acid reflux.  However, keep in mind it can vary for what is causing the root cause of acid reflux, and trigger foods that cause reflux may vary.
Bananas
A general recommendation for eating when you have acid reflux is to choose low acid foods.
Foods that are lower in acid do not stimulate the production of stomach acid as much as foods higher in acid.
The acid content in food is not on food labels, so knowing which foods are considered low acid foods may take some research.
Fruits are generally considered acidic foods, but some fruits, like bananas, are low in acid.
If you have acid reflux, it is generally recommended to avoid citrus or tomato fruits because they are acidic.
Bananas are considered to be a lower acid fruit, so eating these can be a recommended addition for someone with acid reflux.
Bananas are generally considered easy on the digestive tract because they are fairly easy to breakdown.
Apples, pears, melon and berries
Apples, pears, melon and berries are other fruits that are considered to be lower in acid.
Therefore, these fruits can be part of an acid reflux friendly diet.  Incorporating these foods into your diet can also add beneficial antioxidants, vitamins and fiber.
Whole grains
High fat foods can irritate acid reflux. Therefore, choosing low fat foods is generally recommended.  Adding in whole grains which are naturally low in fat like oats, brown rice and whole grain breads can be part of acid reflux diet.
Whole grains are naturally high in fiber, vitamins and minerals as well.  Avoid grain products like baked goods or packaged snacks that may also be high in fat and low in fiber.
Ginger
Ginger has been used for centuries to treat various digestive health issues including nausea or stomach aches.
Ginger may also have anti-inflammatory health benefits relating to osteo-arthritis and easing muscle pain.
A rat study (2) concluded ginger may help with alleviating stomach ulcers.  Ulcers can be a painful condition when the stomach acid irritates the stomach lining.
Adding ginger to your diet can be done various ways.  You can add diced ginger to sauted vegetables, sauces, dressings, drink ginger tea or add ginger fresh or dried ginger to oatmeal or yogurt.
Lean protein
When choosing protein options on an acid reflux diet, it is best to choose low fat proteins.  Avoid high fat cooking methods like frying.
Lean proteins like chicken or turkey breast and seafood are recommended.  Web MD (3) also suggests egg whites instead of whole eggs.
Egg whites are primarily protein and have virtually no fat.  The yolk does provide many beneficial nutrients, but it may cause acid reflux symptoms in some people.
Green vegetables
In general, if you have acid reflux, eating vegetables is recommended.  Vegetables are low in fat and high in fiber, antioxidants, vitamins and minerals.
Avoid using high fat cooking methods like frying or cooking with heavy sauces.  Eat green vegetables like broccoli, fennel, asparagus and green beans that are considered low in acid.
Adding in fresh parsley to your diet may also have acid reflux benefit.
Food and drink to avoid for acid reflux
Even eating these foods suggested for if you have acid reflux can't guarantee you will be pain free.  It may take additional guidance and recommendations from your medical team to determine the best treatment plan for you.
Certain foods can be considered triggers for acid reflux, and eating low acid foods may not be enough to counter balance the effects trigger foods have on acid reflux.
General recommendations for foods and drink to avoid or limit if you have acid reflux include
Caffeine found in coffee, tea, energy drinks and chocolate.
Citrus fruits and citrus juice
Spicy foods
Whole dairy products
Fried foods
Mint flavored foods or gum
Nicotine
Other general recommendations for acid reflux include not laying down right after eating, avoid chewing gum and don't over eat in one sitting.
Conclusion
If you have acid reflux, it is generally recommended to eat low acidic foods and avoid foods high in fat.  Eating a varied diet of primarily low acid fruit, vegetables, lean proteins and whole grains may be helpful for preventing acid reflux symptoms.
Low acid fruits can include bananas, apples, pears, berries and melon.  Avoiding citrus fruit or tomatoes are recommended because they are more acidic.
Whole grains and vegetables are naturally low in fat and can be an important part of an acid reflux friendly diet.  Lean protein sources like egg whites, chicken or turkey breast and seafood are also generally recommended.
An important consideration for acid reflux is there can be high individual variance for what triggers acid reflux symptoms.
Following general dietary guidelines is a good starting point, but consulting with your healthcare team is recommended for best personal treatment and prevention.