Fennel is a vegetable that has a slight licorice taste and has been part of Mediterranean diets for centuries.  Fennel, which is native to the Mediterranean region, is now grown in different parts of the world and is fairly easy to find in most grocery stores.
The whole plant is edible: the bulb, stalks, leaves and seeds.  Fennel bulb can be incorporated into salads, the stalks used in soups or the bulb, stalks or leaves can be roasted or sautéed with other vegetables.
Eating a diet high in fruit and vegetables is associated with many potential health benefits such as: lower risk for high blood pressure, cardiovascular disease, certain cancers, digestive problems and can aid in appetite regulation (1).
It is recommended to increase a variety of fruits and vegetables into your diet because there is no one single fruit or vegetable that has all the nutrients you need.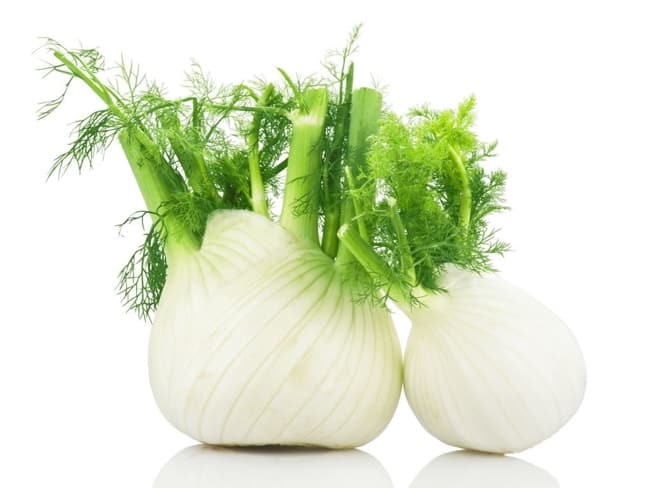 Add more fennel and a variety of other fruits and vegetables to your diet to get the most health benefits.
#1 – Fennel is a Great Antioxidant source
All fruits and vegetables provide many types of antioxidants to the body.  Antioxidants can help protect body cells against damage from oxidative stress.
Oxidative stress can play a role in the development of chronic diseases such as: cancer, cardiovascular disease, arthritis and other age related diseases (2).
A diet high in foods that provide antioxidants is thought to prevent and repair damage caused by oxidative stress.
According to Harvard Health (3), data from the World Cancer Research Fund and the American Institute for Cancer Research suggest eating non-starchy vegetables and fruits can most likely help protect against several types of cancers.
Fennel, like other vegetables, is a source of antioxidants.
A cup of sliced fennel provides about 18% DV vitamin C, 5% DV vitamin A, 4% DV vitamin E and a trace amount of antioxidant mineral selenium.
#2 – Good for blood pressure
A diet high in fruits and vegetables is one way to help prevent and treat high blood pressure.
Fruits and vegetables tend to be higher in potassium, magnesium and lower in sodium.  These nutrients are involved with fluid regulation.
Getting more potassium and less sodium in the diet is recommended for healthy blood pressure levels.
One main way to do this is to eat less processed, packaged food and more fruits and vegetables.
A cup of sliced fennel provides about 10% DV potassium and only 1% DV sodium.
Besides being a source of potassium, fennel may be good for blood pressure in another way.  Fennel is a top vegetable source of nitrates (4).
Nitrates can be negatively associated with health as an added ingredient in processed red meat.  However, nitrates from vegetables are naturally absorbed from the soil and water whole growing.
The nitrates associated with processed meats are usually from sodium nitrites which can form into carcinogens when cooked at high temperatures.
High intake of nitrates from fruits and vegetables can be actually be considered beneficial for heart health.
The nitrates get broken down from bacteria in the mouth and gastrointestinal tract to nitric oxide.  Nitric oxide then helps blood vessels relax.
This relaxation of the blood vessels can help to lower blood pressure.
More research is being done to fully understand the role of dietary nitrates from food sources and the differences between nitrates that are added to processed meats and naturally occurring nitrates from fruits and vegetables.
So far, research suggests nitrates from plants, like fennel, can be beneficial for blood pressure.
#3 – Helpful for weight loss
A cup of sliced fennel provides under 30 calories, is virtually fat free and provides about 2.7 grams of fiber.
Eating a diet high in fruits and vegetables may be beneficial for weight regulation because they are low in calories while being high in fiber and other essential nutrients.
Eating a large volume of high fiber foods can help you feel satisfied long after eating which may help regulate appetite throughout the day.
A review (5) on dietary fiber and weight regulation, efforts to increase daily fiber intake to 25 grams per day or more may help lower the incident and risk for obesity.
Most Americans only get about half the recommended 25-30 grams of fiber per day.  Therefore, eating more fruits, vegetables and other high fiber foods may be helpful for weight regulation and digestive health.
#4 – Bone building nutrients
Calcium and vitamin D are more obvious bone building nutrients.  About 99% of calcium is stored in bones, and not getting enough dietary calcium and vitamin D may increase risk for osteoporosis.
Dairy foods are considered good sources of these bone building nutrients.  However, vegetables are also a source of important bone building nutrients.
Although not as high as a cup of yogurt, a cup of fennel can provide about 5% DV calcium.
The potassium and magnesium in fennel and other vegetables can also aid in bone health.  According to WebMD (6) getting adequate potassium and magnesium may help slow bone loss.
Vitamin K is another important bone building nutrient.  Besides playing a role in blood clotting properly, vitamin K has a positive effect on bone mineral density and lowering fracture risk (7).
A cup of sliced fennel provides about 46% DV vitamin K.
Conclusion
The bottom line is adding any types of vegetables to your diet are recommended for many health reasons.  Fruits and vegetables are nutrient dense while being low in calories.
While fennel is common in many Mediterranean dishes and that region, it is now pretty easy to find in most groceries stores in the US.
If you are not familiar with eating fennel, give it a try.  Adding in sliced fennel to salads or stir frys with other vegetables can be an easy way to incorporate it into your diet.
Fennel is a good source of antioxidants and is high in nitrates.  Eating a diet high in fruits and vegetables is associated with lowering risk for high blood pressure in part due to their nitrate content.
Fennel can be part of a healthy diet that is high in fiber which may be beneficial for weight loss.
Maybe surprisingly, fennel is also a source of many bone building nutrients.