If you're trying to lose weight, it's generally recommended to avoid foods high in sugar and simple carbohydrates.  Pancakes are notorious for being very simple carbohydrates and are a limited food for someone on a diet.  The problem with foods high in simple carbohydrates is they are broken down rather quickly in the digestive tract.
When all these simple carbohydrates get absorbed into the bloodstream, blood glucose levels spike up.  Consequently, insulin levels spike as well.
High levels of insulin allow the glucose from the bloodstream to get into body cells they can use for energy or storage.
Once this happens, blood sugar levels can come crashing down again signaling the brain it's time to eat again.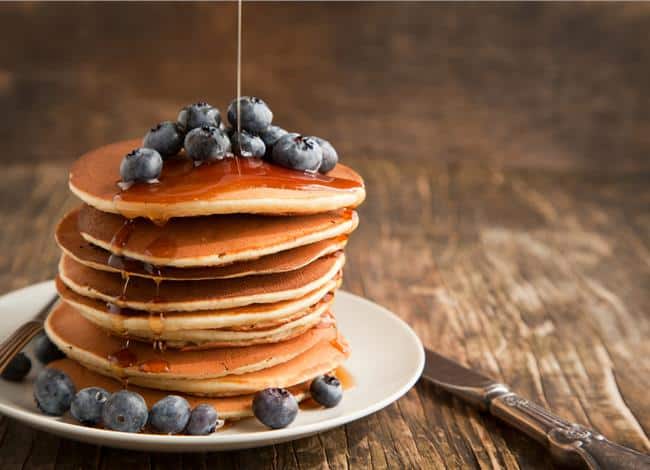 This is why you can feel hungry again soon after eating foods high in simple carbohydrates.  Another consequence of high levels of insulin is it can promote fat storage.
Does this mean you can never have pancakes if you are trying to lose weight? 
If you're craving pancakes but don't want all the refined flour, make these healthier alternatives.  Using higher fiber flour, healthy fat sources and higher protein content can all make pancakes a healthier alternative.
#1 – Cottage cheese and oatmeal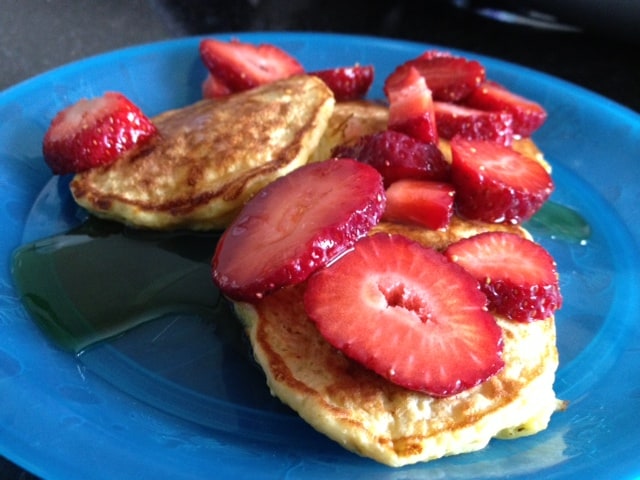 With blending just oatmeal, cottage cheese, eggs and vanilla you eliminate the need for white flour to make pancakes.
A recipe (1) using just these ingredients provides fiber from the oats and protein from the cottage cheese and eggs.
The co combination of fiber and protein from this pancake alternative will keep you satisfied longer than the regular flour version of pancakes.
#2 – Only use mashed banana and eggs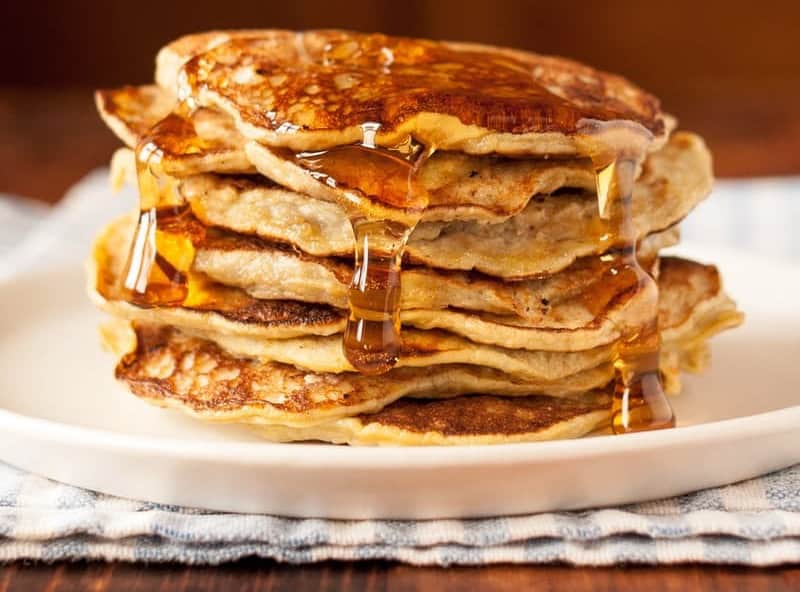 You really can make pancakes with just two ingredients: mashed banana and eggs (2).
These pancakes will be soft and maybe custard like, but they can be a healthier alternative to traditional pancakes.
You can add in some vanilla extract and/or cinnamon to add more depth of flavor.
#3- Make pancakes with avocado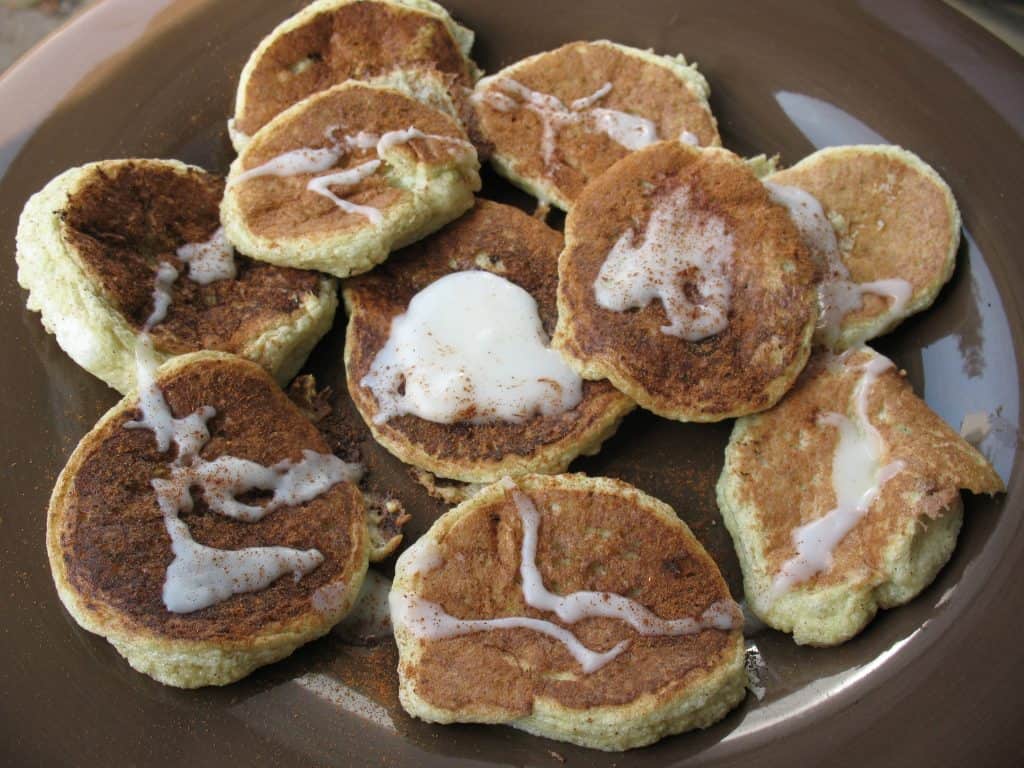 Adding avocado to any dish will provide a boost of heart healthy fats, fiber, vitamin B6, vitamin C, potassium and magnesium.
Adding avocado to a pancake recipe won't lower the calorie content, but it can help stabilize the release of glucose into the bloodstream.
You can also make avocado pancakes with flour (3) using just almond meal, avocado, eggs, baking powder, water, salt and cinnamon.
#4 – Whole wheat pancakes
An easy way to bump up the fiber content with pancakes is to switch out all or part of the called for white flour with whole wheat flour.
Using all whole wheat flour will make the pancakes more dense, but using a combination of white and whole wheat flour can make them more fluffy.
You can gradually use more and more whole wheat flour in a recipe instead of white flour to gradually change the texture.
#5 – Teff pancakes
Teff flour is traditionally used in Ethiopian cooking and used to make their injera bread.  Teff is a grain that is high in mineral content and protein making it more nutritious than white flour.
Teff flour is just starting to grow in popularity because of its health benefits, but teff flour should be accessible in most larger supermarkets or specialty stores.
If someone is gluten free, that is no problem because teff is naturally gluten free.  Teff may be a higher fiber alternative compared to other gluten free flours.
#6 – Pumpkin pancakes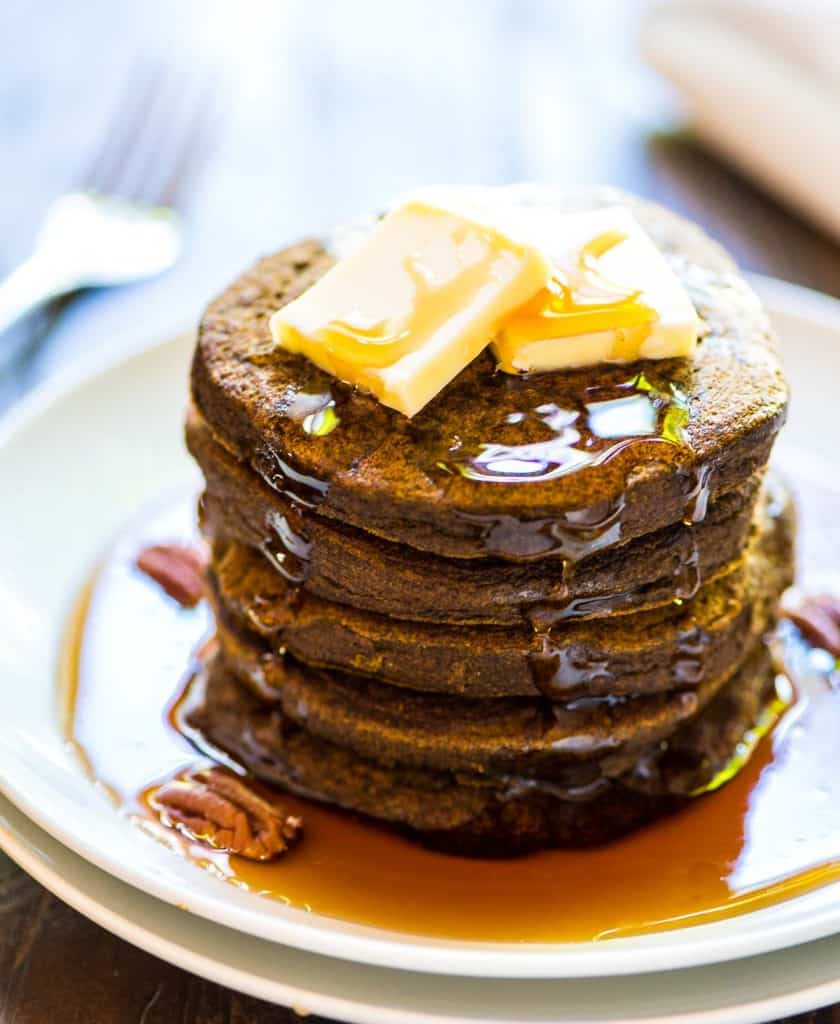 Pumpkin is a rich source of the vitamin A precursor beta carotene.  Eating foods high in beta carotene may help lower risk for some cancers and heart disease (5).
Besides increasing the vitamin A content, adding pumpkin to pancake recipes can also bump up the fiber and potassium content.
There are many healthy pumpkin pancake recipes available online, including one from wellplated.com (6) that uses whole grain buckwheat flour.
#7 – Switch out regular flour for almond meal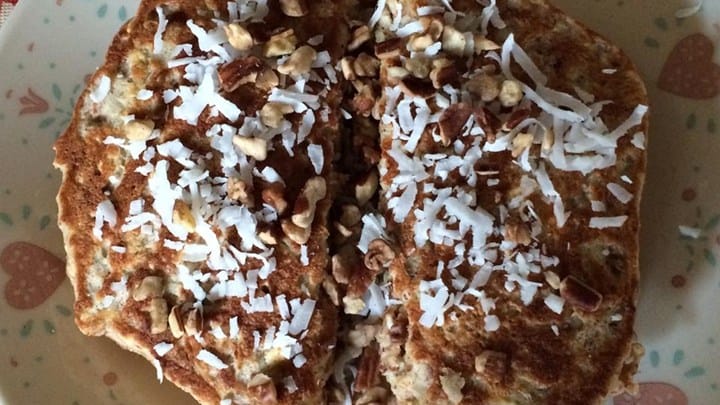 Using almond meal or almond flour in place of white flour bumps up the amount of heart healthy fats, fiber, protein, vitamin E, magnesium and potassium.
Using almond meal/flour will lower the insulin response after eating, and because it is higher in protein and fiber should keep you feeling full longer than regular flour.
A simple recipe (7) for pancakes with almond flour can just include almond flour, eggs, water, maple syrup and a pinch of salt.
#8 – Add some blueberries and chia seed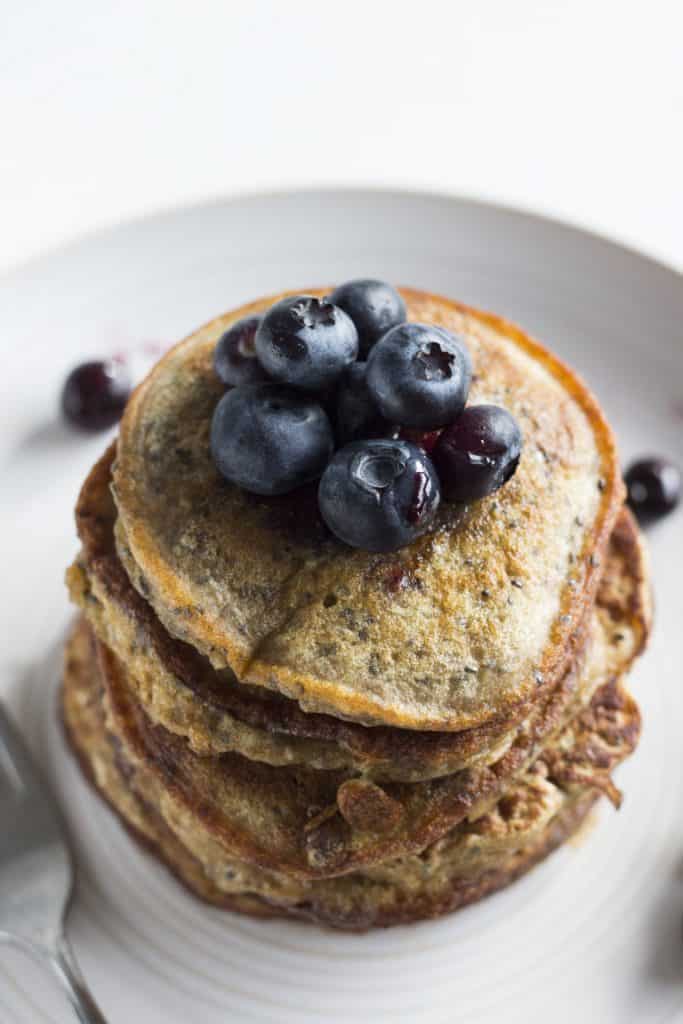 If you want to bump up the nutritional value and fiber content for pancakes, add in some fresh or frozen fruit.
Adding in blueberries, raspberries, blackberries, chopped apples, etc. can not only add a sweet flavor to pancakes, they also give you a source of antioxidants.
Adding a tablespoon or two of chia seeds or ground flaxseeds can also bump up the fiber and omega 3 levels for pancakes.
Combining fruit and seeds in pancakes can be a way to make them more filling and nutritious.
This recipe (8) from thealmondeater.com combines blueberries, whole wheat flour, chia seeds, plain yogurt and honey.
Choose healthy toppings
Another reason pancakes get a bad rap is they are not only a source of simple carbs, but usually they are topped with a sugary topping.
Pure maple syrup has some health benefits, but any syrup you get from most restaurants is probably not pure maple syrup.
It may be a mix of corn syrup, high fructose corn syrup or other sweeteners.
For healthier toppings for pancakes, consider using plain yogurt with fruit, nut butter or a small amount of pure maple syrup or fruit jam.
Topping with plain yogurt or nut butter will up the protein and can also be beneficial for stabilizing blood sugar levels.