Frozen produce can get a bad reputation for being lower in nutrients compared to fresh produce.  While fresh may be best, frozen produce can be just as or higher in nutritional value compared to fresh produce.
Often frozen fruits have been on the vine longer than fruit that is picked for fresh.  Staying on the vine longer means more nutrients.
Frozen fruits and vegetables can go longer before turning rotten which means they can also help lower food waste which can help you save money in the long run. As an alternative to frozen read: How to keep fruits and vegetables fresh longer
Here are some of the top fruits and vegetables to buy frozen for practical, nutrition and money saving reasons.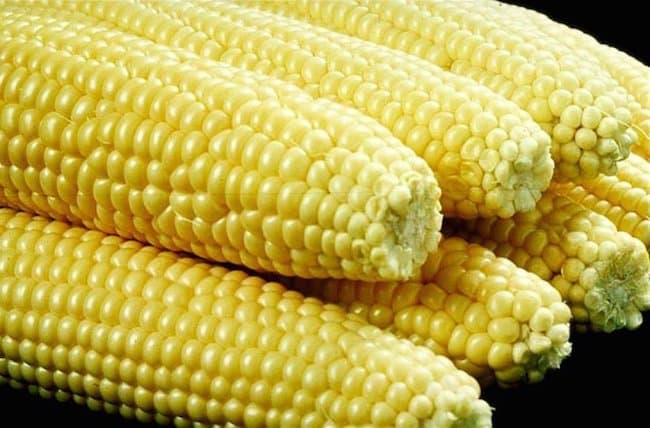 Corn
Fresh corn on the cob in the summer can be hard to beat.  However, during the off season fresh corn can be hard to come by.  Canned corn lacks flavor that fresh corn delivers, but frozen corn can be much higher in flavor compared to canned corn.
Frozen corn is an easy addition to soups, casseroles or salads any time of the year.  Frozen corn is also lower in sodium compared to canned corn which can offer health benefits.  Frozen corn is high in phytochemicals and nutrients that are good for eye health.
Berries
Frozen berries can especially be a healthy frozen alternative compared to fresh because frozen berries are usually picked at their peak ripeness.  Fresh berries can be picked when they are still green so they don't spoil during transportation.
Many studies have shown that frozen fruits and vegetables have just as much if not more nutrition compared to fresh produce.  Most fruits are frozen the IQF method- individually quick frozen.  This means berries keep their individuality and are not frozen together in a ball of ice.
Using frozen berries in the off seasons can be much more cost effective, and they do not spoil like fresh berries will.  Frozen berries work well in smoothies or eat them as is for a crunchy, frozen sweet treat.
Spinach
Frozen spinach, kale or collard greens can be a fast and convenient way to add leafy greens to a dish.  While frozen spinach will not be a good alternative for fresh spinach in salads, frozen spinach can work easily in hot or prepared dishes.
You can get more for your money with frozen spinach.  Frozen spinach is usually condensed into a box or other container with little wasted space.  However, containers of fresh spinach usually have less volume per container.
The same concept applies to cooking with frozen spinach; you can get more frozen spinach in a measurement than fresh spinach.  One cup of frozen spinach compared to one cup of fresh spinach will have a higher nutrient amounts of iron, calcium, fiber and B vitamins.
Pineapple
Fresh pineapple is delicious but can be messy and hard to cut out the edible portion.  Canned pineapple has a softer texture and tastes little like fresh pineapple.  Canned pineapple also can have added sugar.
Like berries, frozen pineapple is picked when at its peak.  Frozen pineapple tastes just as naturally sweet as fresh but without the hassle of the inedible peel and core.  Frozen pineapple goes well in smoothies, with cottage cheese or yogurt.
Peas
Frozen peas are able to retain color, texture and flavor much better than canned peas.  Frozen peas taste and look very close to fresh peas and are easier to store in the freezer than keeping fresh peas in the refrigerator.
Another advantage is that frozen peas are lower in sodium compared to canned peas.  Frozen peas don't have added salt like canned peas do.
Peas are a good source of protein, fiber and plenty of vitamins and minerals like vitamin k, B vitamins, vitamin C and iron.  Frozen peas can be a quick healthy addition to salads, soups, sauces and casseroles.
Check labels
For any frozen fruits or vegetables, make sure to check the ingredient labels.  Not all frozen fruits and vegetables are the healthiest alternatives.  Frozen vegetables that are in a sauce can be a source of added unhealthy fats, preservatives and unnecessary sodium.  Frozen fruits, especially packages that are labeled smoothie mixes, can have extra sugar and fillers added to them.
The ingredient label should just have one ingredient: whatever fruit or vegetable is inside.  If it lists more ingredients than the produce, choose a different container.
Conclusion
Frozen fruits and vegetables can be just as, and sometimes more, healthy than fresh fruits and vegetables.  They are often more economical and don't go bad as soon as fresh produce.  Frozen produce is picked at their peak ripeness compared to fresh produce which is usually picked before it is truly ripe.
Adding frozen corn, spinach or peas to dishes can easily increase the nutritional value of meals without a lot of hassle.  Frozen fruits like berries and pineapple can be easy additions for smoothies or mixed into yogurt, oatmeal or eaten by themselves for a frozen, healthy sweet treat.