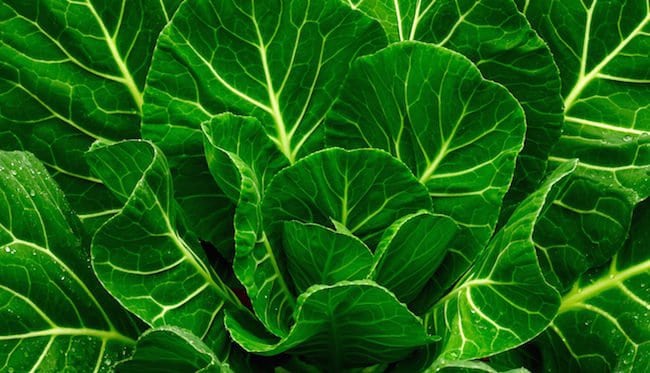 One of the keys for long term, successful weight loss is to fill up on nutrient dense, high fiber foods that will keep you feeling satisfied. Fad diets or processed foods may be low in calories, but they can be filled with preservatives and may not be sustainable long term. Eating real, unprocessed foods is a long term solution to healthy living and weight management.
Here is a start for healthy foods to eat every day to lose weight, but remember variety is also important. Eating a variety of foods diversifies your antioxidant intake and keeps you from getting bored with the same food.
Leafy greens
Leafy greens are probably a no brainer to be on a list to eat every day for anyone looking to lose weight. They are virtually calorie free, meaning you can eat a large volume, and they contain many important nutrients. Also, like any vegetable, they are packed with fiber.
Eating leafy greens doesn't have to mean you have to only eat salads for meals. There are many ways to sneak in leafy greens to your diet including: adding them to smoothies, adding to soups, sauces, sautés and blending into muffins. Get creative with how you can incorporate more leafy greens into your diet!
Nuts
Nuts get a bad rap for being high in calories and fat. Although this is true, eating a serving of nuts everyday can actually help with weight loss. Some research indicates that when we eat nuts, it can help keep us satisfied for a long time and may lower food intake later in the day.
Beans
Beans can be another important staple during weight loss. Beans are high in protein and fiber, which are both important for making you stay satisfied after a meal. Like leafy greens, beans can be added to almost any meal; get creative! Salads, soups, casseroles, burritos, sweets are just the beginning for ways you can add more beans.
Avocado
Similar to nuts, avocados are high in fat, and some may want to avoid this high calorie food. However, they are rich in fiber, heart healthy monounsaturated fats and omega 3's which can all be beneficial during weight loss. Most adults have a hard time getting enough omega 3's in the diet. Getting more omega 3's can be beneficial for lowering inflammation and protecting from cardiovascular disease.
Oats
Oats are a canvas that can be shaped many ways, and can therefore be a staple during weight loss that is not boring. You can add any type of fruit to oats, add nuts for texture, chia seeds or protein powder. Oats by themselves are very high in soluble fiber, which can help lower blood cholesterol and help regulate blood sugar levels.
Apples or pears
Any type of fruit you like can be a healthy snack option during weight loss, as fruit is rich in antioxidants, vitamins and fiber. However, apples and pears may be especially helpful during weight loss, according to a 2003 study. Research participants who ate 3 apples or pears lost more weight over 12 weeks than the group who had oatmeal cookies instead for snacks. Apples and pears are very high in fiber which may be one reason why they can be helpful during weight loss.
Eggs
Eggs are a low calorie option packed with protein. They can be very satisfying as part of a meal, and the protein in eggs are considered to be a high quality protein source. There is about 6-7 grams of protein per egg and almost no carbohydrate source. Add fiber to an egg based meal by pairing eggs with vegetables, like in an omelet.
If your doctor told you to watch your dietary cholesterol intake or have any other concern related to dietary cholesterol, eating egg whites eliminates most of the cholesterol found from eggs.
Must Read: How many eggs a week is healthy.
Yogurt
Yogurt is high in protein and calcium, which can be beneficial for weight loss. Choose plain yogurt for the least amount of sugar and add in your own fruit or other sweetener if you need to. Some research studies have shown dairy products to be beneficial for helping with weight loss.
Chia seeds
Chia seeds are high in fiber, protein and omega 3's. They absorb water to form a gel like consistency and can help keep you full. Adding chia seeds to the diet can be easy, in fact you can just add a tablespoon or two to your water bottle. You can also add chia seeds to baked goods, yogurt, oatmeal or salads.
Don't get stuck in a rut
One of the hardest parts about weight loss and trying to eat healthier is not getting stuck. These foods are great suggestions as staples in your diet, but remember to try different types of fruits, vegetables, proteins, nuts, beans, etc. to get a variety of nutrients and to not get bored. The key is to mainly eat foods high in nutrients and eat meals balanced with a healthy fiber, protein and fat source.
References used in this article