Most Americans are only familiar with miso as part of miso soup served at Japanese restaurants.  However, the Japanese use many types of miso for marinating seafood, used in pickled dishes, adding flavor to soups and sautéed dishes.
Miso is made from fermenting soybeans and grains.  Miso is just one food that is considered a staple of a traditional diet.
The Japanese diet as a whole is thought to be very healthy because of the Japanese have a high life expectancy and low incidence of chronic diseases.
Their traditional diet is thought to play a role in these health benefits.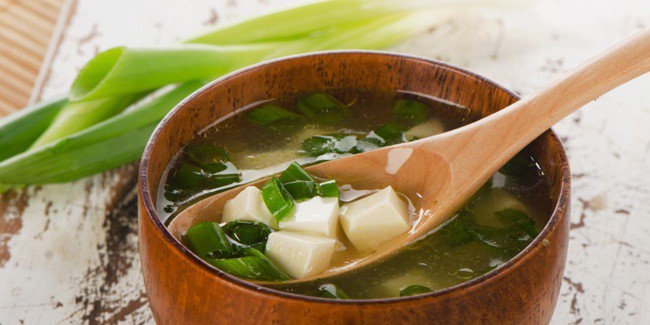 With an increased presence of Western foods that are processed and void of nutritional value, the health of the Japanese has followed other Western countries with an increase in obesity and comorbidities.
However, following a traditional Japanese diet is still considered to offer many health benefits.
Miso soup is traditionally made from miso paste, scallions, seaweed and tofu.
Miso soup is a low in calories, so it could fit into a diet geared for weight loss.
There may be other health benefits for heart health or cancer risk from eating miso soup according to some research.
One potential concern with miso soup is the higher sodium content.
Miso soup and weight loss
A cup of miso soup contains less than 70 calories, less than 1 gram of fat, 1 gram of fiber, 5 gm of carbohydrates and 2 grams of protein.
The fiber comes from seaweed, scallions and tofu, and the protein in miso soup is from the tofu.
Consuming broth based soups before a meal may help lower over all food intake.  Therefore, eating a cup of miso soup as an appetizer could fit into a weight loss diet.
A 2007 study (1) found when test subjects consumed a low calorie soup before a meal their food intake was significantly reduced compared to not eating soup before the meal.
Researchers concluded eating a low calorie soup before a meal could be a weight loss strategy for reducing calorie intake.
As with other soups, miso soup probably has the best nutritional profile when it is homemade compared to when it is pre-packaged.
Some pre-made mixes for miso soup could contain other ingredients that may add sugar, excess sodium or other preservatives.
Making your own miso soup can be easy to do as long as you have miso paste which can be found in most grocery stores.
A miso soup recipe from food blogger Minimalist Baker (2) even bumps us the fiber and antioxidant content by adding in extra leafy greens to miso soup.
Health benefits of miso
Miso soup's distinct flavor comes from the miso bean paste and added seaweed.
Miso paste is made from fermented soybeans and cultured grains.  Like other fermented foods, miso is a source of probiotics.
Probiotics are considered "friendly bacteria" that live in the colon.  Probiotics can play a role in immune health, prevent/treat urinary tract infections, treat diarrhea, shorten intestinal infection, aid in absorbing nutreints and may even have a role in regulating weight.
Japanese tradition associates miso paste as being a digestive regulator and may help neutralize harmful substances in the body.
According to a BBC Good Food article (3), miso is considered a good source of B vitamins, vitamin E, K, zinc, copper and manganese.
Sodium in miso soup: not what you think
One potential down fall with miso soup is it can be high in sodium.
A serving of miso soup can provide at least 630 mg of sodium.  The daily recommendation of sodium is less than 2,300mg per day.
Therefore, just one serving of miso soup can provide about 27% DV of sodium.
A concern with getting too much sodium is it could increase risk for high blood pressure.  Having high blood pressure can increase risk for other conditions like: stroke, heart disease or kidney disease.
We get too much sodium from foods because processed and packaged foods tend to be high in sodium.
In fact, it is estimated more than 90% of Americans get too much sodium in their diets.
The way the body handles sodium from miso may be different than how it handles it from other foods according to a 2013 review (4).
The fermentation process from miso may alter the way the body responds the sodium from miso.
Researchers compared blood pressure in rats fed either a high salt diet, a high miso diet (which was also high in salt) or a controlled diet low in salt.
Researchers found after 8 and 12 weeks the rats on the high salt diet had high blood pressure, but the rats on the miso and control diet did not.
There is also research from rats to suggest even though miso is higher in sodium, it may help lower risk for stomach cancer.
More research needs to be done on how miso affects blood pressure and cancer risk, as scientists still don't know for sure why miso may have these health benefits.
So, before you starting eating all the miso soup you want, if you have or are at risk for high blood pressure you should consult your healthcare provider first.
Conclusion: Japanese diet and health
Is miso soup good for you diet? 
Yes, miso soup can fit into a healthy diet geared for overall health and/or weight loss.  Miso soup is a low calorie food that may offer additional health benefits.
However, just as with any one food, you need to look at it in the context of your whole diet.  It is recommended to eat a varied diet high in fruits, vegetables, heart healthy fats, lean proteins, whole grains, legumes, nuts and seeds.
Therefore, eating just one food is not an assessment on the quality of your diet.
The Japanese diet is very high in fruits, vegetables, grains and low in packaged food, sugar and red meats.
The Japanese diet, specifically from the Okinawa region, is associated with playing a role in natives having a long life expectancy and lower risk of chronic diseases.
Therefore, it is thought eating and having a lifestyle more like the Okinawans could be beneficial for health.
Image Source: Epicurious