Bone broth has been used for centuries as a comforting, nourishing drink. Bone broth was often served in French inns as a dish to give to travelers stopping at inns. Recently bone broth has become one of the latest super foods gaining popularity. In fact, most restaurants that serve bone broth in the U.S.A can't keep up with the demand. Is bone broth all hype or is there validity to the nutrition claims of bone broth?
How is bone broth made?
True bone broth is made from roasting bones then boiling them for about 24-48 hours. This process releases the nutrients from the bone and releases them into the broth for drinking. Making bone broth requires time and access to animal bones, which most households don't use much in day to day cooking.
So why not just drink broth you can buy at the super market? Bone broth that is homemade or made in small batches has a different nutrient composition than broth your buy in the store already pre-made. Broths, or stocks, from the supermarket have a lot of sodium added to them and can have other preservatives.
Nutrients in bone broth
When the bones are roasted and boiled, the bone marrow gets released. Bone marrow is very nutrient dense and contains many different vitamins and minerals. When the bones are boiled in the water, the nutrients from the bone marrow are released into the liquid that you drink.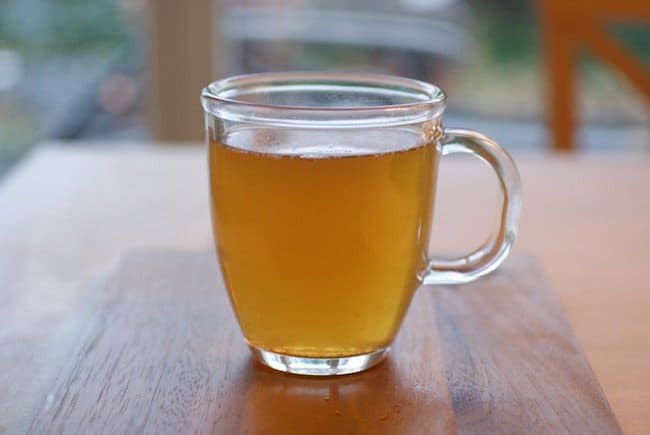 Bone broth is also a rich source for the building blocks of proteins, amino acids. These amino acids can be used in the body wherever they are needed: build muscle, make hormones, neurotransmitters or regulate fluid balance.
Bones consist of collagen and gelatin, and these get broken down during the process of making bone broth. Gelatin may help strengthen finger nails, hair and some research shows it may help relieve pain associated with arthritis.
However, keep in mind that just by drinking bone broth for a week won't magically make wrinkles go away or cure arthritis. Bone broth is a source of gelatin, but the amount you get from it can vary. More research is needed for the amount of gelatin needed for any health benefits and how much is in bone broth.
Immune boosting
Chicken broth has been used for centuries as a home remedy as a cure all for many sicknesses including the common cold. There is actually some scientific research suggesting chicken broth may boost immune health by lowering inflammation and may affect the way white blood cells respond to infection in the body.
The same effect could be seen with bone broth as well, although more research is needed to see if there is an immune boosting benefit for all bone broths. Scientists also don't know exactly which nutrient in chicken broth can be given credit for boosting immune protection. Health professionals also say to use caution, as chicken or other bone broth is not meant to be a cure for any illness.
Why is bone broth so popular?
One of the reasons why bone broth has become so popular lately is that people are looking for homemade, not packaged food. The paleo diet, which is based on consuming only grass fed animal meats, vegetables, some fruits, nuts and healthy oils has recently grown in popularity the past few years. Bone broth fits right in with the paleo diet, so because more people have heard of the paleo diet, more people are interested in bone broth.
Is it a superfood or a fad?
Bone broth has been used for centuries, and many cultures use bone broth before it has grown so popular in Western cultures. Bone broth is very high in nutrients and low in energy, so it is considered nutrient dense. Because of this, it could be considered a super food, although there is no real scientific definition for the term super food.
People have a growing interest in where their food comes from and knowing what the food is made of. In general, consumers have a growing desire to eat real foods instead of pre-packaged food. Bone broth is something homemade that can be nutrient dense and fits into many popular diet trends.
Be wary of bone broths that are massed produced, as the quality may be compromised. If you are ordering bone broth, ask how it is made and where they get the bones from.
Conclusion
Bone broth has been used for centuries, and although the popularity may ebb and flow in America, bone broths are used worldwide in many cultures. Bone broth is high in many vitamins, minerals and amino acids from the bone marrow and collagen.
Gelatin from the bones may also provide some additional health benefits to the skin, hair and nails, but it is not clear how much gelatin is needed for these health benefits.
Look for bone broth that is made in small batches and is not rushed through the cooking process. Chicken broth has been shown to have some immune boosting benefit, and other bone broths may have a similar effect but more research is needed.
References used in this article