Strength training has slowly gained popularity among the exercising masses over the last few years. However, it still remains vastly misunderstood and misconceived especially by the female population. The main reason is that strength training is seen as lifting weights which is often connected with loads of body building men, overgrown muscles and so on.
Well strength training does involve resistance and increasing muscle strength but this does not necessarily translate to lifting weights in a gym. Additionally, strength training does not mean growing massive muscles and looking like you had an allergic reaction, unless that is what your goal is. See also: strength training benefits for women
Regardless of age, gender or health status strength training can provide a valuable tool and it should be considered in being incorporated into workouts, unless obviously advised otherwise.
Strength training at older ages
Should you be lifting at 70 or 80 yrs of age? Yes! Old age tends to come with aches and pains, aliments, loss of strength and muscle mass, arthritis and more. True? I would say no. Inactivity does come with all these but is not necessarily part of old age.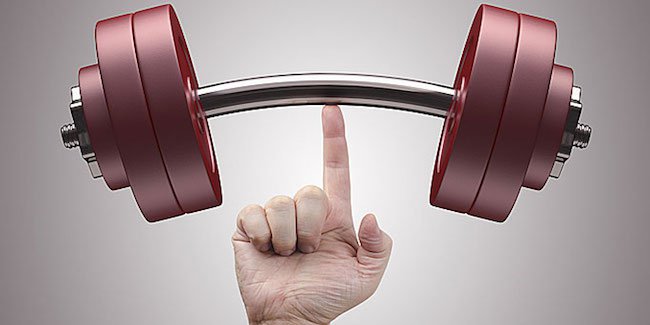 Loss of muscle mass is part of growing old, and it can be associated with health problems. This loss of muscle mass however does not take place as such if the muscles are being exercised.
Studies have shown that there is a relation between 'hand-grip strength' and mortality in old age, with low hand-grip strength to be associated with high mortality rates. Muscles are not there just so we look good or so that we are strong and lift loads of weight.
Apart from movement they are involved in body functions such as blood circulation and immunity amongst others.
Some of the benefits of strength training include decreasing the symptoms of arthritis, improving balance and walking ability and reducing the risk of falls. Such functions can be proved to be vital in older ages and can make a big difference in quality of life. Studies have shown health benefits to people strength training as old as 90 yrs of age, thus age cannot be seen as a limitation or an excuse!
Diabetes
Exercise and physical activity in general has been shown to improve glucose metabolism and return positive outcomes for diabetes. According to a blog on the British Journal of Sports Medicine, when strength training is incorporated to a workout it can help with improving diabetes outcomes.
Best results were observed when a combination of aerobic and strength training was followed along with a healthy diet. Obviously there is not a matter of one over the other but rather a combination of all.
More over other studies have shown that strength training can improve the risk of diabetes in men by 55% which is not a small figure. Exercise and more so resistance training does increase muscle mass and does improve glucose utilization and metabolism.
A lot of the adaptations related with exercise such as increasing muscle mass, fat loss, abdominal fat decrease (for some) and cardiovascular improvements are all elements which help in fighting type 2 diabetes.
See also: Exercising with type 2 diabetes
Strength training for children
Weight lifting hasn't been traditionally popular or particularly advised for children. Some of the fall in favoritism was due to the perceptions such as that it could hinder development and that it was related with increasing risk of injuries.
A few studies however have looked at using strength training for young athletes and they have actually found that strength training can be very beneficial for improving performance.
Apart from that there haven't been any studies, to my knowledge, that have reported injuries caused by the specific training including fractures at growth plates.
Strength training in childhood, can benefit in increasing bone density and enhance muscle health. It can also provide a great opportunity to children to experience their own bodies and build their confidence. It can also help with weight loss especially as overweight children may have difficulty with prolonged aerobic exercises. It is important however that any training regime is performed under supervision and in accordance to safe guidelines.
See also: How much weight should you be lifting
Strength training for cerebral palsy
In simple words, Cerebral Palsy (PC) refers to the damage of the 'young brain' usually meaning during or soon after birth. It is an umbrella term which covers a number of conditions related to brain damage such as motor and neurological conditions. There are different degrees of damage and therefore deferent degrees in which conditions develop and for some sufferers it can carry severe consequences.
Effective treatment and improvement of symptoms can be very important especially at young age while development still occurs. Although it must be made clear that we are not talking about a cure or about making CP disappear but rather as management and improvement of symptoms.
A number of studies have looked at the effects of strength training as a treatment for CP for both children and adults. Function specific strength training seems to improve children's ability to perform everyday tasks as much as 38% in some tasks. Similarly, a study carried out by the Karolinska Institute in Sweden showed that specific strength training improved walking ability for adults.
Special needs should put off people from strength training or carrying out exercises in general. Without a doubt any exercise regime should be coupled with the advice of an appropriate medical professional.
Different conditions carry their own complications such as inability to control body temperature effectively, or the increased blood pressure as a reflex to exercise. However, if advice is sought and specific and safe exercises are carried out it can be a valuable and important tool in the management of conditions.
General benefits of strength training
Things such as disability, age and health conditions can't be a deterrent for taking on strength training, quite the opposite it can be of benefit. Fitness and health benefits of strength training are many and can be relevant to most people.
Benefits can include:
1. Weight loss and maintenance: Long gone the days in which it was believed that the only way to lose fat is with aerobic training. Yes aerobic exercises do have their own value in weight loss however, resistance training can be as beneficial and in some cases more so.
Regimes such as high intensity interval training and high intensity 45min resistance training workouts have gained popularity and research support against fat burning and weight. It can be especially useful for obese individuals who may struggle to follow long aerobic workouts. Add some strength training to increase muscle mass and calories burned and to maintain it.
2. Increase performance: Strength training is used by runners, rowers and other aerobic based athletes in order to improve performance. However, even in a recreational level it can be as useful and beneficial and in some cases it can help in preventing injuries.
If you can run faster and safer or if you can cycle further then why not use strength training to do so.
3. Stop the aging process: I must say that being asked for ID in a recent night out has been my 'mojo' to keep training. It has been proven by studies and it does work. The benefit of 'youth' is not exclusive to strength training but rather to exercise in general.
Physical activity and exercise will slow down and/or stop the process of aging in a molecular level. Great!
4. Increased bone density: Studies appear to support that strength training can increase bone mineral density (BMD). This effect of increased BMD does not seem to be shown in all studies and for all types of strength training. Some studies have shown a regional effect in which BMD increases to the limps exercised and does not result in a whole body increase.
Other studies suggest that exercises need to have a dynamic and variable effect for BMD to increase rather than static loading.
Programs which include explosive and a variety of exercises such as jumping and sudden change of directions can have an effect in the bone density. Although is best BMD to be increased sufficiently during developmental years and childhood, strength training can show improvements at later stages of life. This can be especially beneficial for women which BMD decreases sharply after menopause.
References used in this article