Strength training has many health benefits for people of all ages.  Strength training (or resistance training) is beneficial for improving bone strength, can increase muscle mass and assist with fat loss.  Strength training doesn't have to be complicated, but it can be confusing where to start if you've never done strength training before.
Here are some starting points for developing a resistance training routine and where you can start.  If your goals are to bulk up in muscle mass or are more sports specific, the guidelines will vary somewhat from these beginner guidelines.
If you have a pre-existing health condition or a musculoskeletal injury, consult a health professional before participating in a strength training program.
See also: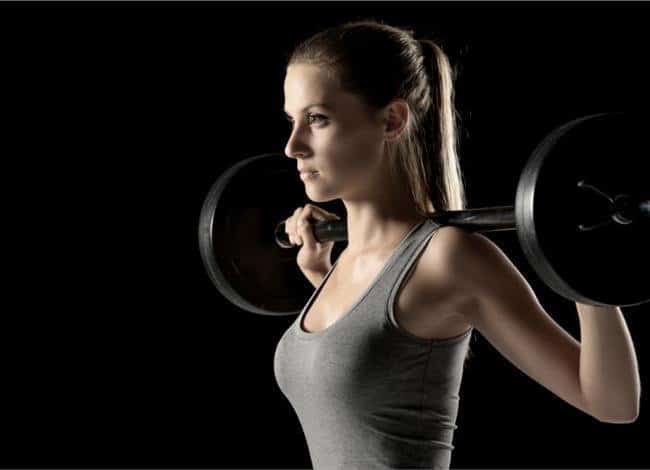 Strength training benefits for everyone
10 Benefits of strength training for women
What exercises should you do?
According to the American College of Sports Medicine (ACSM), adults should train each major muscle group two to three times per week.  Major muscle groups include: chest, back, legs, shoulders, core and arms.  Many websites and books have specific examples of different exercises that target each muscle group.  For example, push-ups and bench press can strengthen the chest, bicep curls and push-ups strengthen the arms.
You can use weights, just body weight or weight lifting machines for strength training.  If you belong to a gym or club, someone at the gym can show you how to work the machines in the facility.
How many times per week?
The ACSM recommends strength training each muscle group 2-3 times per week and taking 48 hours of rest in between strength training sessions.  This can be done a few different ways depending on your time and goals.
You can break your work outs into doing, for example, legs, back and core one day and shoulders, chest and arms another day.  If you go to a gym 4-5 days a week, you can rotate a schedule like this so you are exercising each muscle group 2-3 days per week and also allowing 48 hours of recovery for muscle groups.
Another option is to do a total body workout, strength training each muscle group during your workout session, and doing this 2-3 times per week with 48 hours of recovery in between sessions.
How many sets and repetitions?
Now that you know how many days are recommended, how much lifting should you do for each muscle group?  The ACSM recommends 2-4 sets of each exercise.  During a set, the ACSM recommends 8-12 repetitions per set for increasing muscle strength and power, and 10-15 repetitions per set are recommended for middle aged and older adults for increasing strength who are just starting strength training.  Something simple to remember for strength training is 10 reps per set, which can fit into either category.
This guideline should help you when determining how much weight to use if you are using weights or dumbbells.  You want to feel challenged to complete the number of repetitions in a set, but if you had to you could do a few more.
Equipment needed
You can strength train at home with just your body weight or with things around the house like cans or stairs.  Most people prefer to strength train at a gym because there is more variety for each muscle group.  You can use dumbbells, barbells, machines, exercise balls, etc. to target one or multiple muscle groups.
If you are traveling and don't have access to a gym, there are many workout videos or fitness apps that can help you design a workout that could be done in a hotel room or workouts on the go if you don't have a lot of time.
Don't be afraid to ask for help
If you are just starting to strength train or feel you need more guidance, don't hesitate to reach out to an exercise professional or personal trainer.  Research suggests working out with someone can give you a better workout, and it can help give you new ideas to challenge your muscles.
Also, if you are coming back from an injury, an exercise professional can really help you increase strength without over doing your injury.  If you want to take strength training more seriously or want to drastically increase muscle mass, an exercise professional can help you achieve your goals sooner and probably safer.
To start a strength training program, aim to exercise each muscle group 2-3 days a week with 2-4 sets for each exercise, 8-15 repetitions per set.  This can be accomplished multiple ways, whether it is a full body workout 2 times a week or alternating muscle groups every day.  Don't jump up in higher weights too soon; proper form is always important for strength training.  Don't sacrifice proper form just so you can lift a heavier weight.
Don't be afraid to ask for help, and consult with an exercise professional if you have questions about your individual goals.
References used in this article