Running sucks, especially in the beginning. And yes, it will be a little painful, too. So you need all the support you can get to get over the first hump.
But honestly your body will be fine. Believe me. You are an athlete already. Your heart pumps blood through the aorta at about 1 mile per hour. Red blood cells make approximately 250,000 trips around the circulatory system before they die. And your cells contain mitochondria, tiny organelles that produce power. I mean how amazing and sportive is that?
The thing you do not have to fear is that your body will break down. What you have to master is a much more powerful force. It's protected by 22 separate bones and sits behind these beautiful eyebrows of yours – your mind. Your mind will be very productive at trying to convince you, that the pain you're feeling is not worth the exercise. It will tempt you by giving you visions on how great it would be to have a cold craft beer on the patio instead of running, panting and sweating through the neighborhood.
So the key to what makes running feel easier is we have to distract the mind and do all the right things that enhance the experience of running. We have to set up ourselves for success and not failure.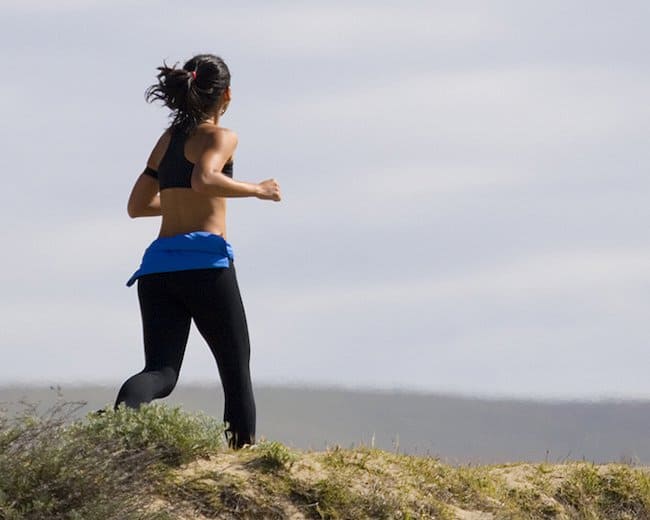 1. Hydration is key
Drinking water is essential to life and health and performance
Your running performance is directly correlated to your state of hydration. Your muscles need to work hard to move your body weight forward. In order to do so they need blood with nutrients and oxygen. Blood is 83% water. If we don't drink enough water blood volume decreases and becomes viscous. Think about it. What would be easier? Swimming in a gentle stream or molasses?
So when you start running and are dehydrated the heart not only has to pump harder to move the sluggish bloody matter but also has to pump faster because of the decreased blood volume.
To make things even worse, we start sweating. Of course sweat is 80% water and our sweat glands release about 2 cups of that salty liquid per day. Sweating cools the body down, which is great but also contributes further to dehydration.
So the first thing to make running feel easier is proper hydration. And I'm not talking having a sip of extra water two hours before your run. I mean like drinking water every day (especially in the hot summer) until your pee has a light yellowish color. If you're not hydrated don't bother running. You're making it extra hard for your body and it will open all the doors for great excuses and convincing you not to run one more step.
During your run or any kind of exercise you can sip on water. You should definitely bring a water bottle with coconut water or a splash of fruit juice when your run exceeds 60 minutes.
After exercise you need to drink at least the amount of water that you've lost with your sweat. One way to find out how much water you've lost is weighing yourself before your run and after your run. Per 1 kg weight loss you replenish 1.2 – 1.5 liter fluid. If that is too complicated, then just bare in mind that you have to drink water and follow the pee color advice.
2. Not eating right before running but eating after your run
Run. Eat. Sleep. Repeat.
Running is a pain in the ass for your heart. It has to pump hard to get the 4 to 5 liter of blood into every limb of your gorgeous body. So your body prioritizes and minimizes blood supply to areas that are not crucial in this very moment. And that is your digestive system. So either your skeletal muscles or the gut gets the full attention.
If you just demolished a burger combo, don't bother going for a run. Protein-rich foods especially need time to digest and will act like a roadblock or anchor. Therefor not have eaten for 2 hours or so before will make running feel easier.
Don't worry about pre-fueling your runs. If you are eating regularly and consider yourself healthy, than your energy stores should handle a little burst of 45 minutes.
However, if you feel like you need to eat something before you run, than have simple carbohydrates that digest quickly like dates, ½ banana, fruit juice, some apple sauce or a sport gel. Same goes if you're starting out early in the morning before having breakfast.
However, refueling your energy stores after your run is imperative to your blossoming running career and your recovery. Your energy stored in your liver and muscles is depleted during your run. Studies have shown that the window of opportunity to refuel them efficiently lies within a time period of 30 minutes after you've finished your workout.
But don't go crazy here. Let's say you've burnt 460 calories in a 45-minutes jog than you should initially refuel 1/3 (approx. 150 calories) right away. Ideally 120 calories would come from high GI carbohydrates and 30 calories from protein.  (See also: How much protein do you need after a workout?)
After your shower (or within 1-3 hours) it's a good time for a real meal containing all macronutrients (complex carbohydrates, protein and fat). Remember, you only have finished training after you've refueled.  (See also: What to eat after your workout)
If you don't replenish your energy stores after a workout, you are setting yourself up for all kind of things including adrenal fatigue. Running or any kind of activity then becomes very difficult and again leaves endless arguments for your brain that you should grab a beer and watch some TV.
3. Gear up like a superhero
"If you look good, you feel good, and if you feel good, you do good." – Georges St-Pierre
Think about Halloween when we (of course for the sake of the kids) dress up like our favorite super hero. Doesn't putting on the costume automatically transfer some magical power into us? Don't we suddenly feel like we can rescue the world?
I know this might sound silly. But I tried this approach with Iron Man socks. Yes, it is kind of wish full thinking but I run stronger if I'm dressed in my favorite clothes.
So yes, gear or outfit matters. You can't run like a "superhero in training" in hand me down running shoes. If your gear sucks, your running will suck too.
The most important item to running of course is shoes that fit you well. Don't buy runners at the Thrift Store. Get the help of dedicated people at a sport shop. Yes, you might pay some extra $ but remember: You don't want to sabotage your running experience with bad fitting shoes. That would be a very cheap excuse. "I can't run because I get blisters." Nope, not working pals! This is about what makes running feel easier and bad shoes are not part of it.
And ladies I know, I know. We pick shoes according to designs. NOT this time. If they don't have the right runners in your color console your self with a great looking running shirt and buy the ugly but great fitting shoes anyway.
4. Listen to music
"One good thing about music, when it hits you, you feel no pain." – Bob Marley
Running with music is a controversial topic. Some people say you should be aware of your surroundings and not float on a Bob Marley cloud. But music can make running feel easier because of three reasons:
a) Music releases the happy chemical dopamine in the brain
Just think about Pharell Williams song "Happy". Doesn't that make you hum and rock your leg right away? Music is an instant mood enhancer. If we listen to music that we like, the brain releases happy chemicals, which make us feel good and lowers any pain.
b) Music distracts the brain and leaves less room for other (negative) stimuli or thoughts
When we run there can be a lot of stimuli or not. Let's say we are running in the woods then we have to pay attention to tree roots, to bears crossing, keeping your balance, finding our way home and not losing the car key and so on. The brain is busy and occupied. On a treadmill? If we're lucky we can watch TV or do intervals that keep us busy. However adding music to the mix takes some of the space that annoying and boring thoughts would occupy.
c) Music can help to find a running rhythm
Music can be the pacesetter. There is something like a perfect running form and a proper stride length. For instance Katy Perry's "Roar" is a perfect running song for speedy people. The Internet is full of playlists for whatever level you want to run.
I would say definitely go for running with music when you run on a treadmill. When you run outside, maybe only wear one earplug. However, if racing is your goal be aware that a lot of organizers do not allow earphones. So you should be able to run at your best without music as well.
5. Join a clinic
It's not about "having" time. It's about making time.
Joining a run clinic was the key to my running success. I just had to show up and do what I was told. Quitting was not an option, because I had paid money. Not pushing myself was also not an option because I was surrounded by a bunch of determined people. You can't lose your face, right? The benefits of joining a run clinic are multiple:
a)     A program tailored to your needs
It's all right to be a beginner. No one is born as an expert at a particular sport. A run clinic offers training tailored to your current situation and it prevents you from starting out at a wrong speed. There is no shame in starting with a walking/running program.
What will also make running feel easier is the variety of training offered at a clinic. Some days you will have to run uphill other days you will do speed training at the track or a tempo run on the trails. It's likely that you will hate this training but after it your leg muscles will get stronger and stronger, running will feel like a breeze and your ego meter will reach new unthinkable highs.
b)     Consistency
Training success requires that we train on a consistence basis. After a run your body thinks: "OMG, that was hard, I better make sure that I'm prepared the next time." So your body starts building new muscles and makes all kinds of improvements to its cardiovascular and respiratory system. However, if you don't proof to your body that this adjustment was needed, it will get back to its previous state. So running regularly makes running feel easier and is a guarantee for success.
And let's be honest. If it's not in our calendar we always will find more important stuff to do. Committing to a run clinic makes sure we show up at a scheduled time.
c)      Make new friends and having fun
The great thing about run buddies is, that by the time you have caught up on every ones life the run is already over. Run buddies also share your pain and will support you on days that you absolutely do not feel like running. My run buddies are the reason I get out of bed early Sunday mornings and show up Tuesdays and Thursday nights no matter how busy I am or what pains I currently suffer or how hard it is raining. Run buddies make you run to your full potential.
6. Positive thinking – master your mind
 "Whether you think you can, or think you can't, you're right." – Henry Ford
Surrender and commit. The hardest part will be over as soon as you close the front door behind you. Positive thinking will make running feel easier.
Say to yourself: I'm strong. I can do this. I will feel great when I'm done. And if that is not convincing enough then Google the web for role models or people that would be grateful if they could run like you. Sometimes we just have to remind ourselves how lucky we are, that we actually have a healthy body that we can challenge from time to time.
7. Reward yourself
"Take action to see reward. Do nothing and be ignored." – Matthew E. Fryer
This does not include food! Remember the times when we came home from school and were proud of the excellence sticker we got from the teacher? We all love rewards and getting recognition for our achievements. Track your runs on your calendar. After 15 runs or so treat yourself to a massage, a floating session, a running water belt or a new running playlist. That will keep you on track.
Last but not least I have to be honest. For me running never gets easier. You just go faster. But that is a very encouraging thing and a reward in itself.