Quinoa is often considered a grain, but it is actually a pseudo grain because it is cooked and eaten like other grains.  Quinoa is actually a seed and related to vegetables like beets and spinach. This pseudo grain has been eaten in South America for centuries, as this is where it is naturally grown.
Quinoa has become popular in Western cultures only recently.
Quinoa has many reasons why it has become a nutrition super star, and in fact, quinoa is often considered a food that comes close to supplying most of the essential nutrients.
It is a good source for many vitamins, minerals, fiber and protein.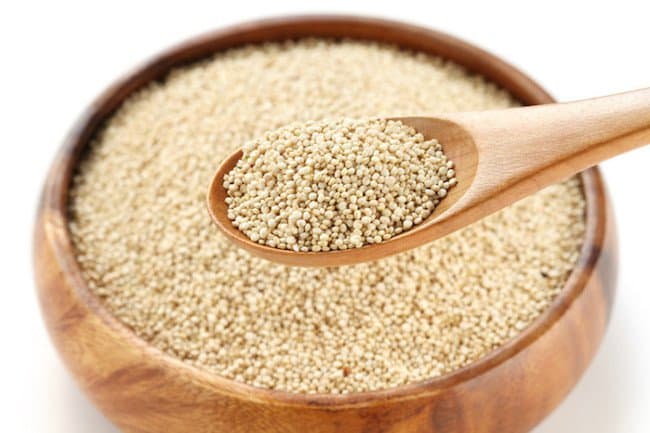 Quinoa is also considered a complete protein source which is rare for plant foods.
Therefore, it can be considered a quality protein source for vegans and vegetarians.
People who are gluten intolerant can also benefit from eating quinoa because it is a gluten free grain.
According to a 2015 TIME article (1), quinoa is higher in some nutrients like the B vitamin folate compared to other gluten free grains like rice and corn.
Quinoa is high in fiber and protein.  Therefore, it has a high satiety after eating.
Eating foods high in satiety, like quinoa, can beneficial for weight loss.
Quinoa is not a high calorie food, and there is no research to suggest eating quinoa is fattening.
In fact, research supports quinoa can help promote weight loss.
Nutrients in quinoa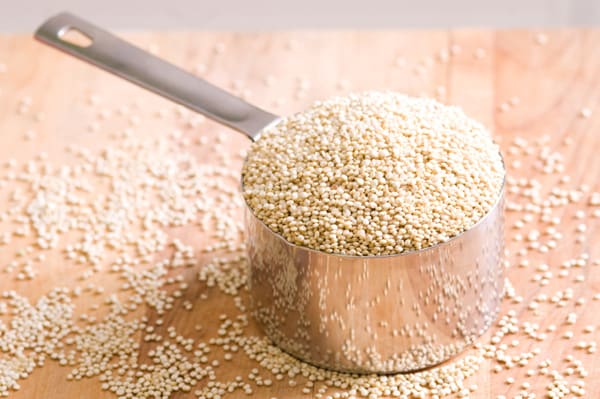 A generous 1 cup portion of quinoa provides just over 200 calories.
For this amount of calories, you also get 8 grams of protein, 5 grams of fiber, 15% DV iron and 3% DV calcium.
Quinoa is also a source of copper, B vitamins, magnesium, manganese and phosphorus (2).
Quinoa can be considered a highly nutritious food because it provides so many nutrients.
Some research also suggests quinoa has anti-inflammatory properties, and eating quinoa can help promote healthy bacteria growth in the colon.
Quinoa is considered a complete protein; it provides higher amounts of all essential amino acids.
Most grains have a lower amount of amino acid lysine, but quinoa does not.
The combination of protein and fiber from quinoa can translate into feeling satisfied long after eating it.
Protein and fiber are both known for helping increase satiety after eating, so foods that offer both can be considered beneficial for weight loss.
Quinoa and weight loss
Quinoa is not considered a fattening food; in fact, it can have the opposite effect.
According to a 2015 review (3), studies have shown eating quinoa has been associated with decreased weight gain, improved blood lipid profile and improved response to oxidative stress.
The association with quinoa and decreased weight gain is probably because quinoa is a high fiber, high protein food.
Since quinoa is a carbohydrate source, does that make it fattening?
In recent years, carbohydrate foods have been associated with being fattening.
A generalized reason for this is eating foods high in carbohydrates, like white bread, rice, sugary cereals or sweets can result in a high release of glucose into the blood stream.
When this happens, a strong release of insulin goes into the bloodstream to shift the glucose out of the blood stream and into body cells.
Insulin has many other effects on the body, and one of them is promoting fat storage.
Therefore, eating a diet high in refined carbohydrates can mean a constant fluctuation of blood sugar and insulin which may promote weight gain.
One thing to remember is that carbohydrates can be lumped together, but there are many different types of carbohydrates we get from food.
The effect they can have on the body can vary.  Carbohydrates from candy compared to quinoa are different.
The carbohydrates from whole grains, fruits and vegetables provide fiber than can slow the release of glucose into the blood stream.
They take a longer time to break down because of the fiber.
These foods also provide a rich source of many important nutrients, while other food sources of refined carbohydrates have no or little nutrition value.
Lumping foods as a single macronutrient (carbohydrate, fat, protein) or labeling a food as fattening can be a skewed view of food.
If you want to know if a food is fattening, you have to look at your over-all diet quality and how much food you are eating.
A rule of thumb is a single food by itself cannot save or crash your health.  It is a combination of everything you eat.
Conclusion: Is quinoa fattening?
Quinoa by itself is not considered a fattening food.  Research has shown the opposite to be true; eating quinoa could help resist weight gain.
Quinoa is high in protein and fiber which make it beneficial for weight loss.
It is also a source of many vitamins, minerals and anti-inflammatory properties.
It is considered a complete protein source and a gluten free grain, so it is suitable for many different dietary needs.
When asking if one food in your diet is fattening, remember to look at the whole picture.
One food by itself is probably not the problem.  It is a combination of everything you are eating and other lifestyle behaviors.
If you have not tried quinoa, it can be easy to incorporate into your diet.
Quinoa is relatively simple to prepare similar to other grains like rice or couscous.
Make sure you rinse quinoa before cooking it, as it could have a bitter taste if you don't rinse it.
Quinoa has a subtle nutty flavor and can be used a number of ways.
You can eat it plain or use it as a base for a salad or side dish.
You can even make porridge like dish for breakfast and top it with some fruit and nuts.