When you are trying to lose weight, one of the first methods for most people is cutting out extra calories which include alcohol.  Alcohol is of course not essential, is fairly calorie dense and doesn't provide vitamins or minerals.
If people do want to drink alcohol, it is always recommended in moderate doses: up to one drink per day for women and up to 2 for men.
A drink is defined as 5 ounces of wine, 12 ounces of beer or 1.5 ounces of hard liquor.
Drinking alcohol in moderation has shown to be associated with lowering risk for cardiovascular disease, type 2 diabetes and gallstones (1).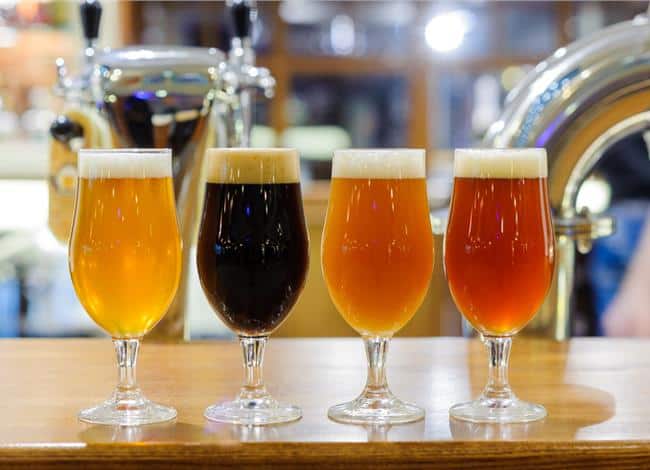 On the other hand, drinking above the moderate intake amount can increase risk for liver disease, cardiovascular disease and may increase risk for certain cancers.
If you drink more than the moderate amount of alcohol, risk for weight gain can increase.
However, the relationship between moderate alcohol and weight gain actually suggests it may not cause weight gain.
Depending on if alcohol is fattening can depend how much you drink, what you eat with the alcohol and what the rest of your diet looks like.
See also: Lowest Calorie Alcohol.
How the body deals with alcohol
Alcohol is a toxin in the body.  When it is ingested, it is the top priority for the body to break down and get it out of the body's system.
Alcohol provides 7 Kcals per gram.  So, the more that is consumed the more the body has to "delay" breaking down fat or carbohydrate as a fuel and focus on the alcohol.
Therefore, as a March 2017 NY Times article (2) suggests, if you drink alcohol and don't want it to be fattening, you should still eat healthy and exercise.
According to a 2013 Health article (3), research has shown the term "beer belly" may have some truth.
Alcohol can lower fat breakdown in the mid section.
Alcohol in moderation may not increase weight gain
Even though consuming alcohol means the body has to deal with these calories first, the relationship alcohol has with weight regulation is different than you might think.
If you can keep your alcohol intake to the moderation guideline, it may not increase risk for weight gain.
A 2015 review (4) found short term studies suggest drinking light to moderate alcohol is not associated with increasing fat.
One reason why light to moderate alcohol intake may not increase fat gain is people who drink moderately probably consume fewer calories than if they didn't drink moderately, and/or they may be more prone to be physically active (5).
If you do not drink alcohol and are looking to drop some weight, should you start drinking alcohol?  In short, no.
Adding light to moderate alcohol to your diet probably won't drop pounds from your waistline; it just probably won't increase risk for weight gain.
Alcohol as part of the Mediterranean Diet
The Mediterranean diet is associated with lowering risk for heart disease, certain cancers, Parkinson's, Alzheimer's and may even lower risk of all cause mortality.
The Mediterranean diet is primarily focused on fruits, vegetables, whole grains, legumes, nuts, olive oil and herbs and spices.
It also limits red meat, added sugar, butter, salt and includes daily exercise.  An optional component of the Mediterranean diet also includes moderate intake of alcohol.
Light to moderate alcohol intake can be part of the Mediterranean diet which also doesn't increase risk for weight gain and is associated with numerous health benefits.
However, the health benefits of this lifestyle are not from eating or drinking one thing; it is a combination of all elements.
Alcohol over moderation can increase weight gain
Drinking light to moderate amounts of alcohol may not increase risk for weight gain, but that doesn't apply for drinking higher amounts of alcohol.
Drinking over the recommended level can cause damage to many body systems and can also increase risk for weight gain.
In addition to the calories alcohol provides, drinking higher amounts of alcohol can lower inhibition for food choices.
Drinking too much can lead to over eating and can also influence food choices if you feel hung over the next day (often because of dehydration).
Also keep in mind you can't "store up" your alcohol intake.  For example if you don't drink any alcohol all week, that doesn't mean you can binge drink on the weekend.
Consistent light to moderate alcohol intake doesn't affect the body the same way as binge drinking only on the weekends.
Genetic factor
Dr. Chaput from the Healthy Active Living and Obesity Research Group in a 2017 NY Times article (6) says there is another factor for influencing alcohol's impact on your body.
Genetics.  Some people may be able to drink moderate alcohol without weight gain, but some people even at moderate intake may have weight gain.
People prone to obesity may be more prone to gaining weight when they drink alcohol.
If two people consume the same diet, alcohol amount, exercise the same, etc. the effect on each of their bodies will vary.
Alcohol that is considered lower in calories
If you do choose to consume alcohol and are concerned about weight gain, you can make smart choices about quantity and the quality of your drink.
Consuming sugary mixed cocktails are going to have a lot more calories than just plain hard liquor or wine.
Drinking sugary cocktails on an empty stomach can also lead to a blood sugar spike then crash.  The result may be an over indulgence on high calorie foods.
Eating a healthy, balanced meal with a serving of alcohol can help ward off blood sugar spikes and crashed that may lead to over eating.
Red and white wines provide about the same calorie amounts.  Beer types can vary more widely.
In general with alcohol drinks, the simpler they are the better for waist line they may be.