Vinegars have been used for centuries as cures for various ailments.  Hippocrates used it centuries ago to manage wounds, and US medical practitioners used vinegars in the 18th century to stomach aches, diabetes, poison ivy and croup.
A 2006 review (1) on medicinal uses of vinegar suggests there are many research backed health benefits from vinegar.
The word vinegar comes from a French term that means sour wine.
Vinegars can be made from any carbohydrate source that is fermentable including wine.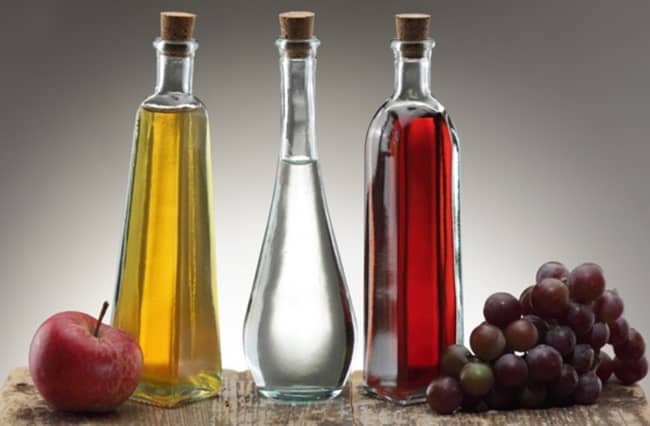 Vinegars can be made from: dates, wine, rice wine and cane.  During the fermentation process the acetic acid bacteria convert the alcohol to acetic acid.
The acetic acid is what gives vinegars the tangy, sharp flavor.  Commercially made vinegars may be made from fast or slow fermentation methods.
Health benefits from red wine vinegar are many because red wine vinegar is a rich source of antioxidants.
There is also some research to suggest vinegar may be an aid for weight loss and blood sugar regulation.
See also:
Does apple cider vinegar help with weight loss?
Is Apple Cider Vinegar Good for Your Skin?
Rich source of antioxidant anthocyanin
A 2010 study (2) analyzed the antioxidant capacity of red wine because it hasn't really been studied before.
Other types of vinegar like balsamic or sherry vinegars are known to be antioxidant sources, but this study analyzed the antioxidant capacity for red wine vinegar.
Researchers found 20 anthocyanins from red wine vinegar.  Anthocyanins are a flavonoid found in red, blue and purple fruits and vegetables.
Red wine vinegar is also going to be a source of anthocyanins because it is made from red wine which is made from red grapes.
This study found red wine vinegar to have significant antioxidant activity from the anthocyanins.
Anthocyanins have been shown in vitro and in vivo studies to inhibit cancer cell growth and may protect cells lining blood vessels from getting damaged (3).
This is an important part of lowering risk for cardiovascular disease because atherosclerosis can start when blood vessels get damaged.  Therefore, protecting against this damage may help lower risk for cardiovascular disease.
Could help lower blood pressure
Red wine vinegar may offer heart health advantages in addition to being an antioxidant source.
A 2005 study (5) found red wine vinegar may have a beneficial effect on blood pressure.  The study analyzed the effect a drink made from red wine vinegar and grape juice had on blood pressure in rats.
Researchers found the red wine vinegar and grape fruit drink had a significant lowering effect on the rennin-angiotensin system.
The rennin-angiotensin system controls blood pressure and sodium levels.
Blood pressure can be regulated through the rennin-angiotensin system, and a medication for lowering blood pressure can be angiotensin converting enzyme (ACE) inhibitors.
By inhibiting this enzyme, blood pressure levels stay lower.  Researchers from this study suggest the red wine vinegar and grape juice work the same way to lower blood pressure.
More research is needed in humans, but this study suggests red wine vinegar may have blood pressure lowering properties.
Digestive aid
Vinegars have been used in various cultures to act as a digestive aid.  While concrete research on vinegar's effect on digestion is lacking, many cultures embrace vinegar as part of a meal to aid digestion.
For example, Asian cultures incorporate vinegar during or between meals to aid digestion (6).  Some research has also shown the acetic acid in vinegar may help boost calcium absorption.
Vinegar and weight loss
Don't be fooled into thinking you can have red wine vinegar in your diet, eat whatever you want and still lose weight.
However, adding red wine or other vinegars to your diet may help boost weight loss efforts according to a 2009 study (7).
This study was a double blind trial in which obese participants received daily a 500 ml of a placebo drink, one with 15 mL of vinegar or a drink with 30 ml of vinegar.  Participants drank this every day for 12 weeks.
At the end of the 12 weeks, there was a significant difference between body fat, waist circumference, blood triglyceride levels and body weight in participants who received the vinegar solutions compared to the placebo group.
Researchers concluded daily intake of vinegar may be useful for helping treat obesity.
Other research (8) has suggested consuming vinegar at a morning meal may help lower calorie intake throughout the day.
It is suggested vinegar may slow gastric emptying or blunt glucose levels after a meal which could in turn increase satiety.
Vinegar and blood sugar
Vinegar has been shown to have antiglycemic effect in animal studies.  In humans, vinegar intake was shown to help lower the insulin response to a meal (9).
Studies from Japan have also shown adding vinegar or pickled foods to a meal can lower the glycemic index for a meal.
Vinegar intake of a mixed meal has also been shown to lower the glycemic response in people with insulin resistance or type 2 diabetes (10).
These studies suggest red wine and other vinegars may be beneficial for blood glucose regulation.
However, more research is needed in using vinegar as a tool for managing blood sugar levels.  If you are taking insulin or other blood sugar medications, speak to your healthcare team before increasing your vinegar intake.
How to use red wine vinegar
You can incorporate red wine vinegar in various ways in your meals.  You can make a marinade from red wine vinegar, Dijon mustard, olive oil, garlic and seasonings.
You can also simply use red wine vinegar, olive oil and various herbs as a marinade for veggies that are being roasted on grilled.
Bon Appétit (11) suggests using red wine vinegar with olive oil, Dijon mustard, minced shallots salt and pepper for a quick salad dressing.
Red wine vinegar can also be added when braising leafy greens.  You can even make your own red wine vinegar from a bottle of red wine and a piece of a "mother" you can get from wine or beer making supply store.