Sugar alcohols are found naturally in fruits and vegetables, but they are also added to many commercially made foods.  Sugar alcohols are commonly added in chewing gum, chocolate, candy, frozen sweets, toothpaste, mouth wash and some low calorie pre-packaged food.
They are added for sweetness but they also add texture and moisture to foods.  A reason sugar alcohols provide fewer calories than regular sugar and don't raise blood glucose levels as much as sugar.
Artificial sweeteners have come under much scrutiny for possibly having some negative health effects, especially in high doses.  While sugar alcohols are different compared to other artificial sweeteners, here are some considerations to keep in mind about them.
How it's different from regular sugar
Regular table sugar is a molecule of glucose and fructose hooked together.  The digestive tract can break this bond apart, and each molecule enters the blood stream.  As blood sugar levels rise, insulin is released to move glucose from the blood into body cells for energy or storage.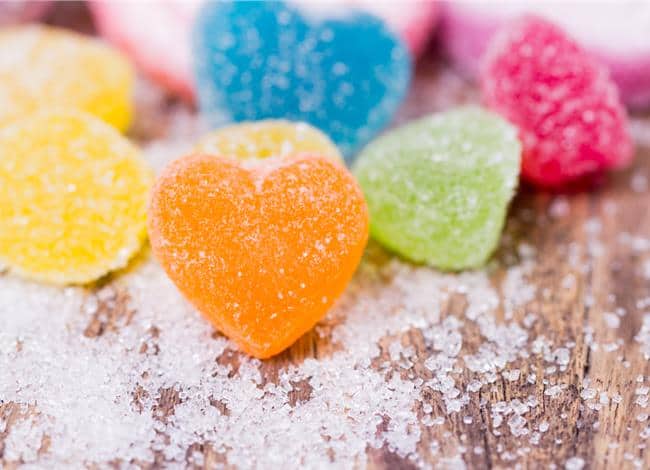 The chemical structure of sugar alcohols is different than sugar.  Because of this, sugar alcohols aren't absorbed wholly from the digestive tract and don't require as much insulin as regular sugar.
They provide less calories than sugar and are often not as sweet as sugar.  This is different than most other artificial sweeteners which are usually hundreds to thousands times sweeter than sugar.
You can look for sugar alcohols on ingredient labels.  They can have chemical sounding names, but a giveaway for sugar alcohols is that they end in –ol.  Some common sugar alcohols in food products are: mannitol, sorbitol, xylitol and malitol.
Are sugar alcohols good for teeth health?
Sugar free gums contain sugar alcohols because they do not promote tooth decay like regular sugar.  Some research also suggests certain sugar alcohols inhibit the growth of bacteria in the mouth.
However, some research also suggests sugar alcohols can increase the acidity in the mouth which can lead to erosion of tooth enamel.  Therefore, the jury is still out on how much benefit sugar alcohols really provide for teeth.
Replacing sugar with sugar alcohols can help lower risk for cavities, but sugar alcohols may not be such a benefit for overall teeth health.  In other words, eating gum with sugar alcohol instead of sugar may be a good thing, but over doing sugar alcohols may not be best for teeth after all.
Sugar alcohols can lower insulin response
Sugar alcohols aren't digested like regular sugar.  Therefore, the insulin needed to lower blood sugar after eating them is minimal.  This can be advantageous for people with diabetes or pre-diabetes.
This is one reason sugar alcohols are in low sugar or other foods marketed for diabetics.  In fact, when counting carbohydrates, sugar alcohols may be counted for half of the grams of sugar it provides.
However, the amount of carbs coming from sugar alcohol is still debated somewhat in the health community.
Eating foods with sugar alternatives instead of sugar may be beneficial for weight loss, but not all research shows a positive relationship for weight and artificial sweeteners.
The long term effects of using sugar alcohols are not known, and more research is needed for long term effects with sugar alcohols.
Sugar alcohols and your gut
One downside for eating sugar alcohols is that it can be hard on your digestive tract.  Eating large quantities of sugar alcohols can have a laxative effect or cause gas and cramping.
Therefore, moderation should be used when eating sugar alcohols.  Individual sensitivity may vary, but a general recommendation is to eat less than 50 grams of sorbitol per day or less than 20 grams of mannitol.
People following a low FODMAP diet may want to avoid sugar alcohols, as they are a type of carbohydrate that pulls water into the digestive tract.  People with irritable bowel syndrome (IBS) may also have a more severe reaction to sugar alcohols.
Sugar alcohol's effect on gut bacteria
The effect various sugar alternatives has on gut bacteria is a growing area of concern because more research is suggesting the importance of having healthy gut bacteria.  The food we eat can directly affect which types of bacteria grow in our digestive tract which can help or harm us.
A 2013 study looked at the effect of xylitol on the digestive tracts of mice.  The group of mice on a 5% xylitol diet had altered gut bacteria compared to other mice not getting xylitol.
Although this was a high amount of sugar alcohol and the study was done in mice, the results of this study could suggest a smaller amount of sugar alcohol may have a similar effect on humans.  More research is needed.
Conclusion: Consume sugar alcohols in moderation
Sugar alcohols aren't absorbed like regular sugar and are therefore lower in calories.  They elicit a much smaller insulin response compared with sugar and could be beneficial for diabetics or people at risk for type 2 diabetes for this reason.
However, the effect of sugar alcohols on the digestive tract could have negative side effects especially at high doses.
Sugar alcohols lower risk of cavities associated with sugar intake, but they may increase the acidity in the mouth.
Bottom line is more research is needed on long term effects with sugar alcohols, and they should be used in moderation.
References used in this article