I often get asked "What can I do to stay motivated" and being a good trainer that really wants to help change peoples lives for the better, the answer is never easy.
What is real motivation?
To get great results in this field, whether your goal is to start a diet, losing weight off your stomach, gaining muscle or benching 300lbs the answer is always the same.  You need to understand there has to be more to it than running a mile, curling a dumbbell or doing pushups.  There has to be a certain level of love and dedication for what you are doing.  Sure, a song or picture can motivate you to get through one workout, but that is not real motivation. Real long lasting motivation has to come from your soul; a great speaker once said if you do not believe in yourself 100%, who else will?
You need to find your own motivation to improve that one thing that will drive you forward no matter how hard it gets. Throughout my training career my motivation has always been the same, to inspire people to make their life better and show them that nothing is impossible.
My story
I have always believed everything happens for a reason, and my sickness for 7 years while seemingly hopeless and unfair to me at the time was no different. What left me at 120 pounds soaking wet began my journey to who I am today.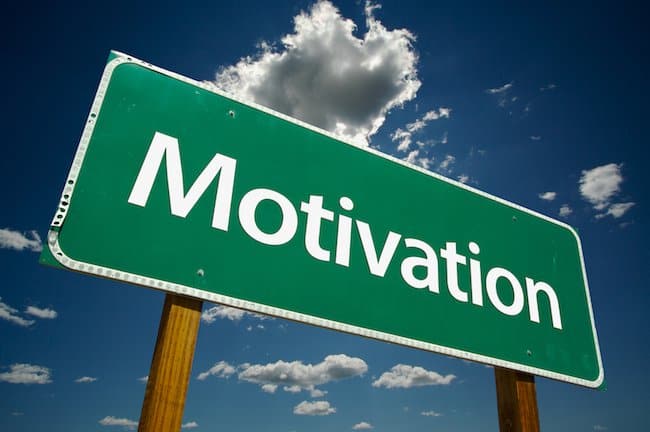 I know what it is like to feel weak, sick, and tired. To feel like your goal is impossible and no matter what you do, you do not seem to get any closer.  I have spent weeks at a time in hospitals and had many surgeries and medication changes along the way.  However, I also know what it feels like to overcome a struggle like that, to get up from falling and keep moving on. Remember even if you fall down 7 times, it is fine, just make sure you get up on the 8th.
And that truly is a great feeling, to overcome something you previously thought impossible. Always remember, no matter what you are going through, there will always be a way to get through it and prevail.  I do not know every one of your goals outside of weight loss, however I can tell you this, if you find the true motivation you need to succeed, you will reach those goals. I may not know every struggle you are facing but if you find that motivation to not give up no matter how hard it gets, you will succeed.
Maybe you are trying to lose 10,20,30,50, or 200 pounds.
Maybe you are trying to quit an unhealthy habit such as smoking.
Maybe you are trying to improve your overall health, so one day you can run and play with your grandchildren.
Maybe you are trying to get in better shape to join the local police department or the military.
Maybe you are trying to improve for a sport or build muscle.
Maybe you are just trying to find the motivation to study for your career.
Or perhaps you are trying to overcome a sickness like I did.
If you believe that you can do it, you will do it
I am here to tell you, that you can do it.  Just find that motivation you need to press on, to keep on going no matter what happens, and you will succeed. But there is something else you need to realize as well, the whole time you are working towards your goal, there always be people telling you that you can't to do it. People told me I would never reach 200lbs lean bodyweight after being sick so long, they told me I would never bench 300 lbs, but I did.  Take all the negativity people point towards you and use it as extra fuel, every time they say you cannot accomplish your goal no matter what it may be, see it as an extra incentive to accomplish it.
When I was benching 125lbs and  I told someone I  would bench 300lbs one day , they told me no I wouldn't, I could never do that. That moment is when I knew my goal was high enough, for someone to be in total disbelief I will ever accomplish it. In addition, when I did accomplish it, it felt even better.
Remember you can do anything you set your mind to, and losing fat is not as hard as companies trying to sell you products present it.  I am sure you have accomplished much harder tasks in life; all you need to do now is find your own personal motivation and press on.
Now that you know the primary form of motivation you will need to rely on to truly succeed long term, it is also important to note there is nothing wrong with short-term motivation boosters.  I have included a list of tips below that will also help you raise your motivation and keep you on track.
5 Motivation Tips for success
Keep a Fitness Journal
Nothing will keep you motivated on a day to day basis like being able to look back at last months workout and see how much you have improved.  Or to look back at last months measurements and see how many total inches you have lost. (HINT: Register now to get access to our free fitness journal)
Get Others Involved
Losing weight, like most ventures in life is best done with others, whether they are co-workers, friends, or your family.
Announce Your Goals
Informing your friends and family about your goals will help you push more to achieve them than keeping all your goals to yourself. As I mentioned in the last tip, getting others involved is always a positive thing in the end, however this way they do not have to join in, just tell them your goals and dates you should achieve them.
Avoid Negativity
As I said before, there will always be people who tell you that you cannot do something or that it is impossible.  Either avoid these people or tell them you do not have time for their negativity and hopefully they will stop. Would you want a business partner who constantly talked about how your career will fail?
Listen to Uplifting Music and Read Positive Quotes
This may sound corny but listening to music and reading positive quotes has been shown in many studies to help individuals perform and stay on track better.  You need to use every advantage you can to make sure you achieve your final goal and music always helps me get in the mood to do another hard workout.