Although yoga has been around for thousands of years, it has become increasingly more popular in the last few years.  It is a physical, mental and spiritual discipline originally from ancient India.  Yoga has so many benefits, but can it help you lose weight?
What exactly is yoga?
According to Yoga Alliance, yoga is more than a simple exercise, and people do yoga for many reasons including fitness, stress management, and to relieve physical or emotional pain.
See Also: Pilates vs Yoga
The different types of yoga can include postures, energy and breath control, meditation, music, etc.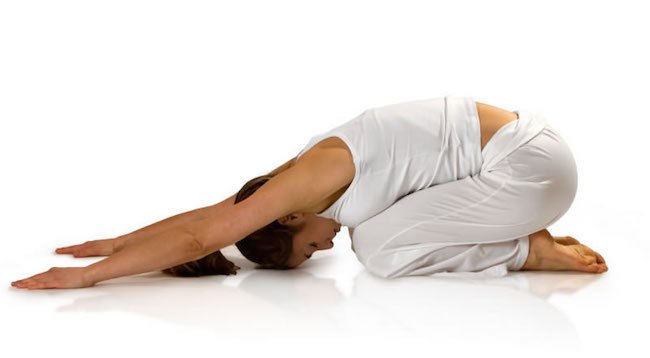 There are also many different styles of yoga.  Some common styles you may have heard of are:
Gentle yoga – includes breathing techniques, warm-ups and basic postures.   It may include a lot of movement, but is gentler on the body than some of the other styles.
Power yoga –It includes a lot of movement with routines designed to build strength and stamina.
Yoga flows – The movements are more flowing and is more aerobic.  It can improve strength and coordination.
Spiritually-Oriented yoga – focuses more on the spiritual side of yoga and includes slower movements and meditation.
Does Yoga Help Lose Weight?
A study, published in the Indian Journal of Physiology and Pharmacology, looked at the effect of yoga training for six weeks, and its effect on weight loss by using a test that looks at sweat loss.
There were 46 subjects, 23 of which were controls.  The study found a significant difference between the yoga group and the control group, indicating that yoga does produce weight loss.  The study also found yoga training to produce significant improvements in respiratory muscle strength and endurance.
Another study, published in Alternative Therapies in Health and Medicine, looked at 15,550 middle-aged men and women who practiced yoga, and the effect yoga had on weight gain.
The subjects were followed for 10 years.  The study found that regular yoga practice was associated with decreased weight gain, especially in overweight subjects.  So, this study concluded that yoga can help those who want to maintain or lose weight.
So, according to these studies, yoga does provide a benefit of weight loss.  Neither one of the studies stated what type of yoga the subjects were practicing, but the subjects were able to lose weight.
Whether or not yoga will help you lose weight will obviously depend on what type of yoga you are practicing.  The types that include more aerobic movements such as Power Yoga and Yoga Flows are going to burn more calories than the ones that include less movement and focus more on meditation. 
Does yoga provide other benefits?
The researchers from the study that was published in Alternative Therapies in Health and Medicine weren't able to explain why those practicing yoga were less likely to gain weight than those who weren't practicing yoga.
Alan Kristal, co-author of the study, stated that it had nothing to do with burning calories, and that only very strenuous yoga practices can burn enough calories to make a difference in weight.
This suggests that yoga may provide other benefits that could lead to weight loss.  Since yoga is a great way to relieve stress, it may decrease stress eating or those practicing yoga may value their body more, leading them to take better care of themselves.
Some of the great benefits that yoga offers are:
Stress relief:  Yoga has been shown to decrease the physical effects of stress on the body.  It has also been shown to decrease levels of cortisol, the stress hormone.  High levels of cortisol have been associated with weight gain.
Pain relief:  Yoga has been shown to reduce pain in people with different conditions such as cancer and arthritis.
Better breathing: The breathing practices in yoga help to reduce our stress response, which improves lung function and promotes relaxation.
Flexibility:  Yoga improves flexibility and increases range of motion, which eventually leads to increased elasticity of the muscles, tendons and ligaments.
Increased strength: Since all muscles in the body are used, strength is increased.
Cardiovascular conditioning: Practicing yoga decreases your resting heart rate, which increases endurance and oxygen uptake during exercise.
Inner peace: By practicing yoga and meditating, it may help you develop inner peace and quiet.
What can you do to ensure that you do lose weight?
Yoga is a great workout and provides many benefits.  These benefits may help contribute to weight loss, but you may not lose weight as quickly as you would like to by doing yoga as your only type of exercise.
It does not burn as many calories as you would burn during your normal cardiovascular workout.  Every workout regimen should include cardiovascular exercise, resistance training, and flexibility training.
Rather than only doing yoga, by adding it to your current cardio workout and resistance training, you will burn more calories, and still attain the benefits of yoga.  If you want to burn more calories while practicing yoga, it is suggested to perform styles of yoga that are more aerobic.
No matter what style of yoga you choose to do, even if it doesn't burn a lot of calories, it will still provide many other benefits, and may help you lose weight.
References used in this article