Eating mint leaves can provide a source of antioxidants and small amounts of vitamins and minerals to your diet.  Consuming mint leaves is generally considered safe. Some research has shown mint oil may be helpful for short term treatment of IBS, but more research is needed for long term effects.  
Mint is more than just flavoring for toothpaste, gum and breath mints.  In many Middle Eastern, some European and Indian cultures, mint has been used as an important component of cuisine for centuries.  Mint's cooling affect can be paired wonderfully for both sweet and savory dishes.
In a traditional Western diet, mint has little use in dishes except as a garnish.  However, incorporating more mint in your diet won't just add a depth of flavor; it will also give you some nutritional benefits because it is a source of antioxidants.
Mint's affect on health is considered positive, but there are a few instances you may want to use caution with adding mint to your diet.  Mint may not be best for heart burn but could offer benefit for lower gastro-intestinal (GI) disorders.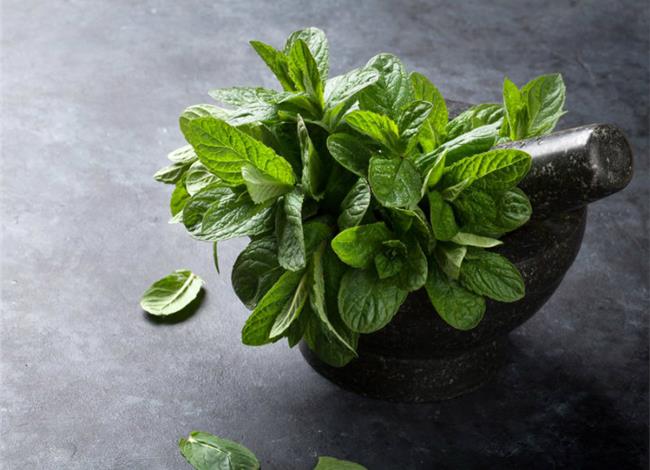 Mint can be grown in your own garden or indoor space, or purchasing fresh mint leaves is available at most grocery stores.
Can you eat mint leaves?
Mint leaves are considered edible.  The mint family includes about 15-20 plant species of which peppermint and spearmint are most common.
Peppermint oil can be used to give peppermint scent to soaps or other skin applications, but avoid consuming large quantities of peppermint oil.
Peppermint oil is large doses may be harmful, and pure menthol should never be consumed.  Medical News Today (1) also suggests caution with consuming mint products for people who have or had gallstones.
If consuming mint leaves from the store, wash before consuming.  As with other herbs, fruits and vegetables, mint leaves have the capacity to have traces of pesticide residue present.
For example, a 2016 study (2) residue of pesticides in 59% of 300 samples of black pepper, basil, oregano, nutmeg, paprika and thyme.
Health benefits of mint
Besides adding a cooling flavor, what benefit is there to eating mint?
One of the main reasons to add mint is, similar to other herbs, it has one of the highest antioxidant capacities in food.
Many studies, including a 2015 study (3) using wild mint leaves from Turkey conclude mint leaves are a rich source of antioxidant activity.
A 2007 study (4) found adding mint extract to lamb cut oxidation markers in lamb meat in half compared to lamb meat without mint extract.
Consuming a diet high in antioxidants from food has been associated with providing protection to cells against diseases associated with aging (5).
Adding mint to your diet will not be a guaranteed protection from any disease, but adding it to a diet high in other plant antioxidant sources can provide a rich amount of antioxidants to the body.
Since menthol has a cooling effect and a natural, aromatic decongestant, consuming menthol may help symptoms of sore throat or a head cold may be helpful.
Applying mint to the skin may have a calming, soothing affect.  Applying mint water while breastfeeding to the nipple may alleviate pain especially for first time mothers, and mint or mint oil may be helpful for alleviating pain associated with rashes or insect bites.
Before applying any mint topically to the skin, consult with your doctor first.
Does mint help digestion?
Mint may be helpful for some, but not all, digestion issues.  Consuming mint tea or other mint products may provide a soothing feeling for an upset stomach.
However, if you have heart burn, be wary of consuming mint.  Consuming mint may actually make heart burn worse, not better because mint may encourage the relaxing of the esophageal sphincter.
This is a ring like muscle that connects the stomach and esophagus.  The sphincter needs to stay closed during digestion to keep stomach acid in the stomach and out of the esophagus.
One reason for heart burn or acid reflux is because the sphincter muscle opens.  Therefore, consuming anything that encourages the sphincter muscle to relax should be avoided if you have heart burn.
Some research suggests mint may be helpful for issues with the lower GI tract. 
For example, a 2014 study (6) concluded peppermint oil is a safe and effective short term treatment for irritable bowel syndrome (IBS).
More studies are needed for long term treatment of mint and IBS.  In this study, peppermint oil was also found to alleviate abdominal pain.  However, a side effect from some participants with the peppermint oil was heart burn.
If you have IBS or other digestive issues, speak with your doctor before taking any peppermint oil or increasing your mint intake.
How to add more mint in your diet
Because mint can pair well with sweet and savory dishes, it can be used in many different ways.
In order to maintain the texture and delicate flavor of mint leaves, add fresh mint at the end of cooking or in raw foods.
Using a dull knife or over chopping mint leaves can leach out some flavor into the cutting board instead of keeping it in the leaves.
Mint can easily be added to fresh fruit salads, fruit desserts, fruit salsas or smoothies.  Fresh mint leaves can be added to plain hot or cold water.
Want more inspiring and unique ways to use mint?  Saveur (7) offers 17 recipes that use mint that range from: pesto, marinade for chicken, sauce for lamb, salads, omelets, desserts and cocktails.
Conclusion: health benefits from mint leaves
Eating mint leaves can provide a source of antioxidants and small amounts of vitamins and minerals to your diet.  Consuming mint leaves is generally considered safe.
As with other plants, wash the leaves before consuming to remove, if any, pesticide residues.  If you have heart burn, you may want to avoid consuming mint leaves or other mint products, as mint may encourage the relaxation of the sphincter muscle between the esophagus and stomach in some people.
Some research has shown mint oil may be helpful for short term treatment of IBS, but more research is needed for long term effects.