Chewing sugar free gum is often suggested as a helpful habit for weight loss.  Of course chewing sugar free gum adds no to very little calories, and it can be used in place of munching on other snacks.  Also, when your breath is a fresh minty taste, you may be less apt to snack on salty or sweet foods. However, there is no research showing chewing gum has a significant role in weight loss.
The idea that chewing gum alone can significantly cause weight loss is a stretch and may be considered a myth.
Some studies have shown chewing gum can help marginally lower intake of food, but just adding gum into your routine without changing anything else is unlikely to cause a drastic shift in weight.
Lower appetite and calorie intake
If you reach for a piece of gum instead of a second helping of food, in theory you'll save yourself a lot of calories.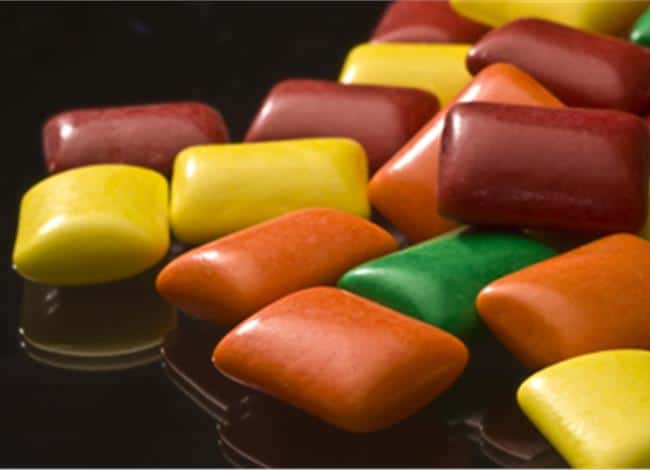 However, is it really that simple for using gum for weight loss? 
A 2011 study (1) tested the hypothesis that chewing gum helps lower appetite and calorie intake.  Test subjects were either given gum after lunch or not given gum over the course of 3 hours then offered a snack in the afternoon.
When subjects were given gum, they chewed gum for 15 minutes at hour intervals.  Researchers found when test subjects were offered gum after a meal, their intake of a snack hours later was about 10% less than when no gum was chewed after a meal.
This suggests chewing gum after a meal could help lower short term craving or snack intake.
A 2012 study (2) looked at long term effect of chewing gum and weight regulation.
Over 200 overweight or obese adults were randomly put into one of two groups for eight weeks: weight loss educated group that was instructed to chew gum for about 90 minutes per day or weight loss educated group with no gum.
After 8 weeks, there was no significant difference between groups for weight and waist circumference.
Researchers concluded chewing gum did not help with weight loss with overweight and obese individuals over 8 weeks.
Chewing gum during the day could help you slightly lower your intake of snacks after meals, but over all effect on weight loss appears to be minimal.
If you think it could help you lower intake of snacks through the day, try chewing sugarless gum.
However, don't expect this change alone to significantly influence weight loss efforts.
Chewing gum and fruit and vegetable intake
According to 2013 Women's Health article (3), researchers from the University of Buffalo put participants through three sessions: one chewing minty gum, one chewing fruity gum and one with no gum.
In each session, participants filled out a survey and had access to healthy or unhealthy foods.
Researchers found when people chewed both types of gum, there was a general decrease in hunger feeling.
Surprisingly, when participants chewed the minty gum, there was a lowered intake of fruits and vegetables but not lowered intake of junk food compared to the other two groups.
So, this study suggests chewing minty gum could curb your hunger, but it could also lower your intake of fruits and vegetables which may not be a good thing.
Chewing gum and teeth health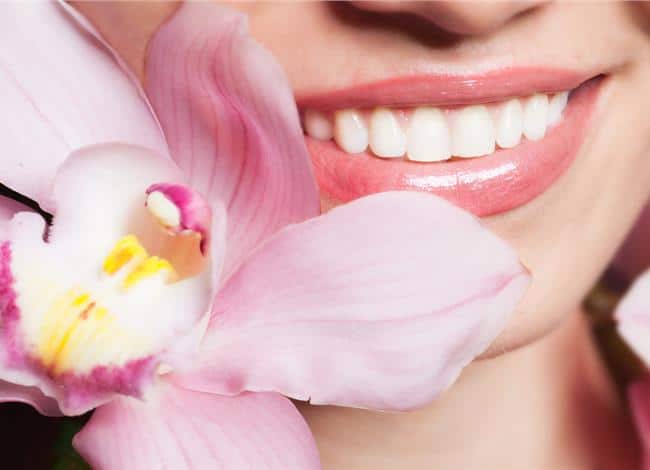 The American Dental Association (ADA) (4) suggests chewing gum after eating can help neutralize acids in your mouth and help fight plaque build up on your teeth.
Fighting acid build up on your teeth can be helpful for keeping teeth strong and building up tooth enamel.  The ADA recommends chewing sugar free gum for 20 minutes after meals to help fight tooth decay.
A 2001 study (5) found the addition of casein phosphopeptide-amorphous calcium phosphate (CPP-ACP) to sugarless gum can further enhance remineralization of tooth enamel.
Therefore, chewing sugarless gum may not only help slightly lower intake of calories but can also have benefit for health of your teeth.
Potential drawbacks from chewing gum
Most sugar free gum is made from some sort of sugar alcohol.  While sugar alcohols still have calories, they provide less than regular sugar.
Sugar free gums can have artificial flavorings or colors added, which some people may be sensitive too.  Some may also be sensitive to the effect sugar alcohols, or other sugar alternatives, have on the body.
If you have questions about how sugarless gum could affect your health, speak with your healthcare team for individualized advice.
Large doses of sugar alcohols can have a laxative effect in the digestive system.  Chewing gum throughout the day won't give enough sugar alcohol for this effect to happen for most people.
However, if sugar alcohols are eaten in other foods or drinks throughout the day in combination with sugar alcohol from gum, the compounded intake of sugar alcohols could affect the digestive tract.
Chewing gum could lead to swallowing more air which could cause bloating, gas or discomfort (6).
The peppermint flavor from gum could relax the muscles where the esophagus and stomach connect which could promote acid reflux in some people.
Therefore, if you have any digestive issues, you may want to speak with your doctor if chewing gum is best for you.
Should you chew gum for weight loss?
Short term studies have shown a small effect of lowering food intake when chewing sugar free gum after meals.  However, longer studies have not shown significant effect of chewing gum and benefit for weight loss efforts.
In fact, some research suggests chewing mint gum could lower intake of nutrient dense foods like fruits and vegetables.
Another benefit of chewing sugar free gum after meals can be to support oral hygiene.  Chewing sugar free gum can help lower acid levels in mouth after eating.
Chewing gum could possibly interfere with digestive function.  Some people may ingest more air when chewing gum which can increase gas or bloating.
The mint flavor from gum could also increase feeling of acid reflux in some people.