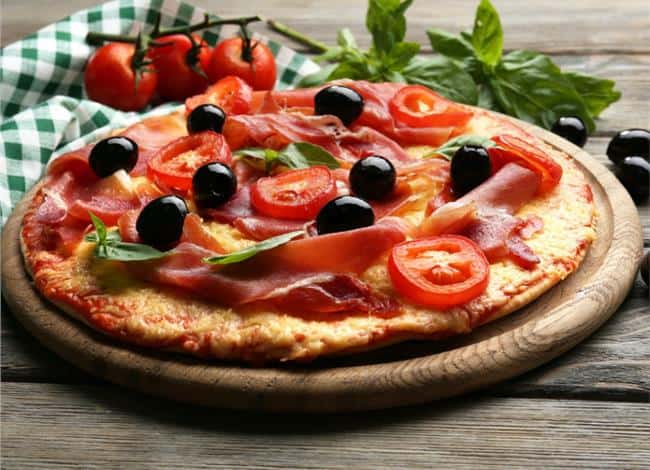 People all over the world love pizza.  In fact, just in the US alone, it is estimated 350 slices of pizza are sold every second!  That is a large amount of pizza, not to mention other countries, like Italy, that also have a high pizza consumption.  Children and adolescents also have a high consumption of pizza; one study found that pizza was the second leading source of calories for children in the USA.
Is Pizza bad for you? The are numerous ways to eat pizza. The healthy way (think veggies) or the unhealthy way (think pepperoni, extra cheese, sausage, ham). If you limit the consumption of pizza to once per week and load up on healthy toppings, then it's not bad for you.
Is eating pizza bad for your diet?  It depends; it definitely could be.  An average slice of pizza can provide at least 350 calories.
Of course, not all pizza is made the same, and the nutritional value can vary widely.  If you are trying to lose weight, you could still enjoy pizza as long as you make smart choices.
In order to assess if eating pizza is bad for your diet you also need to look at your overall diet and quantity eaten.
Why pizza gets a bad rap
Pizza can be high in overall calories, fat and refined carbohydrates all while being low in fiber.  This can be the opposite of what you are looking for in food when you want to lose weight.
Of course the nutritional content can vary, and in general eating pizza out at a restaurant will provide more calories than making your own.
The fact that kids eat so much pizza may be concerning because they eat a lot of pizza and can be a concentrated source of calories.
On average, when kids eat pizza, they consume about 400 calories and adolescents consume about 600 calories (1).
As obesity levels grow in children and adolescents, cutting back on higher calorie foods is recommended.
Toppings such as pepperoni, extra cheese, sausage, ham, etc. can also add to the calorie and fat content of pizza.
If there is a thick crust or dough layer, all the bread can also add up the calories and doesn't provide much fiber.
What to look out for in pizza if you want to enjoy it while losing weight
Does this mean you can't eat pizza if you want to lose weight?  Well, if you modify pizza, you could still fit it into a healthy diet of course.
Some things to consider when watching your waist line and eating pizza are the following:
Portion size: If you want a slice or two of pizza, enjoy it but don't go overboard.  Balance a splurge on pizza by eating healthy the rest of the day.
Don't eat pizza daily; make a special treat and enjoy it when you do eat it.
Opt for the thin crust: Thin crust pizza will be lower in calories and simple carbohydrates.
Choose veggie toppings: Avoid heavy meats and cheeses on top of pizza.  Make the cheese layer lighter and pile on the veggies.
How can you boost the nutritional profile of Pizza?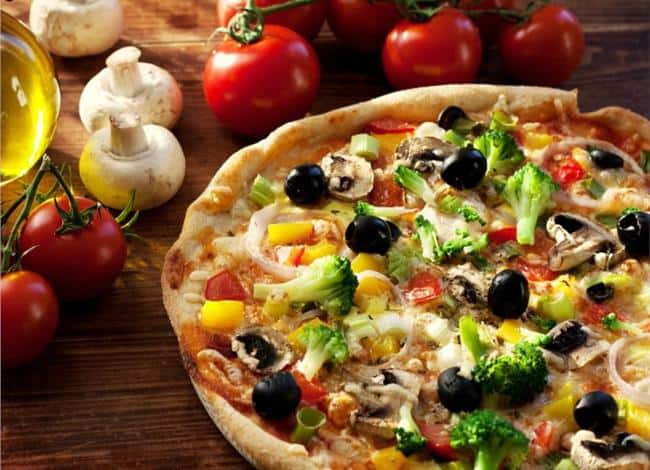 There are many creative ways you can still enjoy pizza but make it much healthier.
If you're craving pizza but don't want a high calorie meal, consider these substitutions and alternatives.
Change the crust.  Want to swap white bread for a healthier pizza dough option?  Consider using a cauliflower (2) or sweet potato (3) crust.
These options are also gluten free.
The texture may be a little different at first, but you boost the fiber, antioxidant, vitamin and mineral level for your pizza base.
You could also consider swapping a whole grain wrap, tortilla or pita for the base of a small personalized pizza.
This can offer a whole grain option to also boost the fiber content.
Boost up the veggies.  Pizza is a wide open canvas for creative toppings!  Swap out the heavy, greasy meats for veggies.
Piling on veggies before or after cooking the pizza can add a variety of texture, flavor and color to a pizza.
Adding roasted vegetables, tomatoes, pineapple for a softer crunch as a pizza topping.
Adding some fresh greens, maybe seasoned with some olive oil, on the pizza after its baked can be more like a salad on top of pizza.
Adding extra veggies to pizza can bump up the nutritional content and also make you feel fuller after eating because of the higher fiber content.
Sprinkling the cheese on instead creating a thick layer of cheese can also keep the energy density down from pizza.
Make your own sauce.  Already made pizza sauce can be a hidden source of added sugar.
You can of course make your own pasta sauce, but a quicker option can be to use plain tomato sauce or paste.  Add in your own dried or fresh herbs for seasoning.
How much are you eating?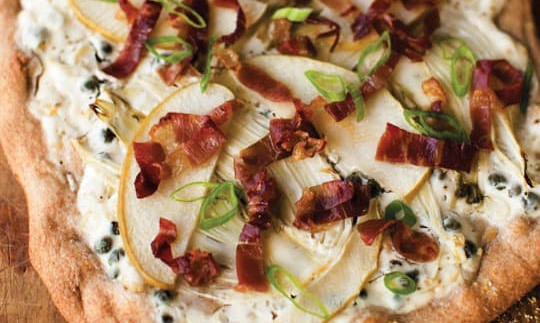 Lastly, portion size is a must for considering if pizza will hinder your weight loss goals.
How much are you eating at one time?  Do you feel stuffed or satisfied?  What are you eating the rest of the day?  Are you balancing your intake to fuel your body?
Eating traditional pizza everyday may not be the best choice for weight loss, but it can still be enjoyed as a special treat in moderation.
If you make pizza healthier, you could incorporate it more frequently into a healthy weight loss diet.
Conclusion
Many people following a Western diet eat a lot of pizza, especially children.
Pizza is notorious for being higher in calories, fat and refined carbohydrates.
This doesn't translate well for a weight loss diet, so should you cut out pizza completely if you want to lose weight?
You can make pizza healthier by choosing a thin crust, alternative crust like with cauliflower or whole grain tortilla.
You can also skimp the cheese, bump up the veggies and cut out processed meat toppings.
If you want traditional pizza, make it a rare treat instead of a common occurrence and balance the rest of your calorie intake other times of the day.