Mushrooms have many health benefits and can often get overlooked because of their dull color.  A diet rich in brightly colored fruits and vegetables is advised for many health benefits, and eating all the colors of the rainbow is encouraged.
Just because mushrooms are pale in color doesn't mean they lack nutritional value.  Mushrooms are low in calories, fairly high in protein and can provide a good source of fiber and many nutrients.  Because of this, mushrooms can be considered good for weight loss.
Mushrooms have gotten fanfare as a weight loss agent because some celebrities follow a diet known as the M-Plan.  The M-Plan diet focuses on eating meals rich in mushrooms, and some celebrities claim to have weight loss success with this diet.
However, nutrition experts suggest there is nothing "extraordinary" about mushrooms and weight loss.  Rather, like other vegetables, it can take the place of higher calorie foods and help you feel full long after eating them.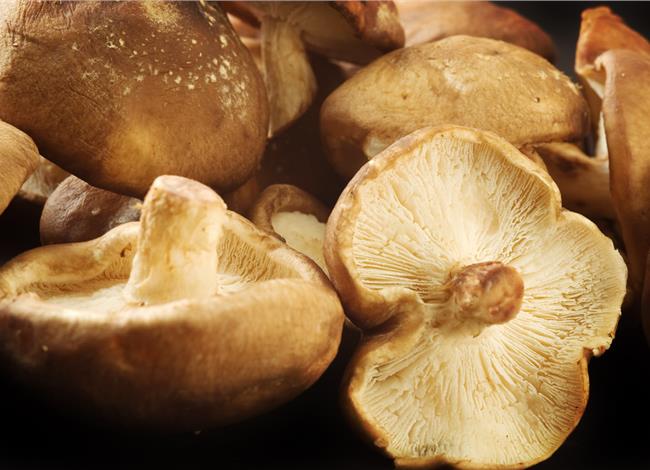 Low fat, higher protein and fiber
A serving of 100 grams of mushrooms provides under 50 calories, less than 1 gram of fat, only 7 grams of carbohydrate, about 4 grams of fiber and about 1.5 grams of protein.
If you eat mushrooms at a meal, they can help fill you up because they are high in fiber.  However, since they are low in calories, they won't give your body too much energy.
Beneficial vitamins and minerals in mushrooms
A 100 gram serving of mushrooms can provide around 500 mg of potassium, which is 15% Daily Value.  Getting enough potassium is important for many reasons including helping to keep blood pressure at a healthy level.
Most adults have a hard time reaching the recommended potassium daily intake, so adding mushrooms to your diet can help boost your potassium intake.
Mushrooms are a source of the mineral selenium, which is fairly unique among fruits and vegetables.
Selenium is involved with detoxifying the body, helping with immune defense, lowering inflammation and may even help fight cancer cells (1).
Another unique nutrient mushrooms provide is vitamin D.  Not many foods are naturally a good source of vitamin D, but mushrooms are.  Mushrooms also provide a source of B vitamins and iron.
Mushrooms for weight loss
Can mushrooms actually help with weight loss? 
Besides providing a source of many nutrients, fiber and protein, mushrooms may have other benefits for weight loss, but research is still clarifying the relationship.
A 2015 study (2) a traditional Chinese mushroom, Ganoderma lucidum, and gave this as an extract to mice who were being fed a high fat diet.
Researchers found the mushroom extract changed the gut bacteria in the mice and may hold future promise for helping people fight obesity.
Recent research with gut bacteria has shown that the type of bacteria in the digestive system may have an effect on weight regulation.  Diet also influences what kind of bacteria line the digestive tract.
Weight loss may be further encouraged by shifting gut bacteria associated with obesity, and it looks like certain mushrooms may encourage shifting gut bacteria.
Researchers from this study conclude these results may suggest Ganoderma lucidum mushroom extract may have similar benefits in humans, but more research is needed.
It is also not clearly known if eating a diet high in other types of mushrooms would have a similar effect in these mice and even people.
What about the mushroom diet?
The M-Plan, or known as the mushroom diet, has been associated with successful weight loss with big celebrities like Katie Perry.
The main concept of the diet is to replace a meal or two a day with a mushroom heavy meal.
The diet plan suggests you can lose weight in 2 weeks by following this advice (3).
The rationale of this "diet" is that you will feel satisfied from a meal high in mushrooms because of the fiber content, and the mushrooms are replacing higher calorie foods.  Therefore, the result is you are eating a diet fairly low in calories.
Sometimes the M-Plan diet suggests by eating a diet high in mushrooms you can guarantee weight loss in certain parts of the body.
Keep in mind eating mushrooms can't help you spot reduce in any part of the body; no food can do that.
Caution with mushrooms
If you find local mushrooms and want to eat them, always ask an expert before eating local mushrooms.  Some varieties of mushrooms could be lethal or cause negative side effects.
Before taking a supplement of extract from mushrooms, speak with your health care team especially if you are on any medication.  Taking any supplements could interact with medication.
Eating mushrooms in a variety of ways
There are many sizes, textures and shapes of mushrooms.  You can grill larger mushrooms like portabella mushrooms and use them for sandwiches, meat replacers or even baked and stuffed with other veggies.
Other smaller mushrooms can go well in an omelet, pizza, stir fry or even raw on top of salads.
Remember, there are many health benefits to mushrooms, but there are health benefits to all other fruits and vegetables as well.
Try to find ways to increase your intake of mushrooms and other produce as well for the most benefit.
Conclusion
Mushrooms have many health benefits: they are high in fiber, a source of potassium, selenium, vitamin D and protein.
They can be beneficial for weight loss because they are high in fiber, so they can help fill you up while providing a small amount of energy.
Some fad diets may suggest there are special benefits to eating mushrooms, but keep in mind eating a diet high in mushrooms will not magically make fat disappear from anywhere on your body.
Some research has shown benefit for mushroom extracts in weight loss with mice altering gut bacteria.  More research is needed to see of this could translate to humans.