There are plenty of fad diets out there, with a different one appearing in the media almost every day. All of these diets make a similar promise, to help you lose weight, usually rapidly. These types of diets are generally focused on the goal of weight loss, rather than what is healthy for the human body and do not help you to develop long term healthy habits to lose weight and keep it off, but instead offer quick fixes that are unlikely to be maintainable in the long term.
Although hundreds of fad diets are commonly promoted, some are definitely worse than others when it comes to their effect on health. So which of these diets are the worst of the bunch and should definitely be avoided, no matter how attractive their promised results may look?
Here is a look at some of the worst fad diets out there, and although some of them may sound ridiculous, bear in mind the lengths that some women will go to in order to drop a few extra pounds.
There are numerous different forms of these types of diets marketed under different names or with different 'miracle' ingredients. Just remember that if a diet sounds too good to be true, eliminates whole food groups, has an extremely low calorie intake or involves a 'magical' super ingredient, it is probably not going to be a healthy diet to follow and almost certainly won't bring about weight loss in the long term. Also make sure that you read: "10 ways to identify a fad diet"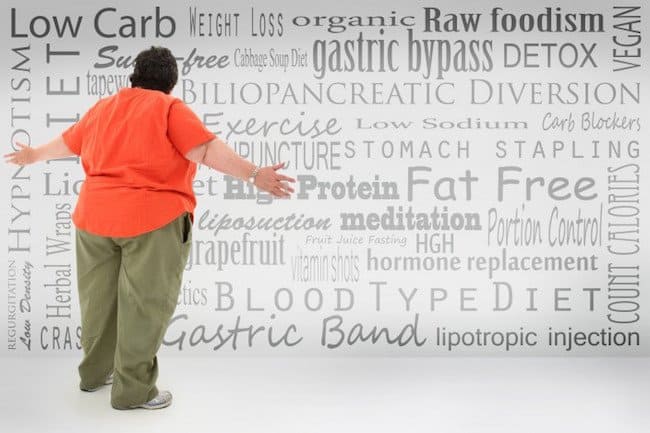 The top five worst fad diets for your health
The lemon detox diet
This diet is fairly well-known and popular amongst dieters, however, dieticians have rated it the worst fad diet out there for two years in a row.
Basically the diet involves starving yourself and eliminating food for 10 to 14 days, whilst existing purely on lemon flavored drinks. Not only does the diet eliminate all the core food groups and thus runs the risk of nutrient deficiencies, it is very low in calories and you are unlikely to be able to go about your daily life, let alone do any exercise when following such a low energy plan.
You will probably lose weight if you manage to keep it up for the total time, but as soon as you return to your normal eating habits, the pounds are likely to creep back fairly quickly.
See also: Do detox diets work for weight loss?
The Acid Alkaline Diet
This diet suggests avoiding acidic foods in an effort to make the body more alkaline and therefore enhance weight loss. Not only does this concept have no scientific evidence to back it, but the body is perfectly capable of regulating its own acid and alkaline balance and what we eat and drink has very little effect on it.
The Six Weeks to OMG diet
This diet, created by a personal trainer, suggests skipping breakfast every day before exercising, which goes against the fairly strong evidence that people who eat breakfast tend to weigh less and be healthier than those who skip it.
Not only this but the diet makes some shocking health claims that are just not true, including suggesting that broccoli and Coca Cola are similar when it comes to effects on your health.
The cabbage soup diet
Again this is a very low calorie diet that barely provides enough energy to maintain normal body function and eliminates a large number of food groups, thus putting essential nutrient intake at risk.
Not only this, but it is likely to induce symptoms such as gas, bloating and diarrhea, which is likely to leave you dehydrated. It doesn't taste that great either!
The eat all you want diet
It sounds too good to be true, and it is. The idea behind this fad diet is that when given the freedom to eat as much of anything you desire, you will lose interest in food and thus lose weight. Anyone that has any interest in food at all will tell you that this is unlikely to happen.
Instead you are more likely to eat higher calorie, unhealthy foods, develop a taste for such foods and gain weight. The key principle in weight loss is that you must consume less calories than you are burning in order to lose weight, so it is no surprise that suggesting you eat anything you want is not a particularly successful way to lose any pounds.
How to avoid fad diets
In order to avoid these and other diets that are harmful and unlikely to have any benefits in terms of weight loss and overall health, try to look at a diet as a way to nourish the body. The human body requires food to fuel it and provide the nutrients it needs in order to function correctly. For this reason, avoid diets that eliminate foods groups or reduce calories to a very low level.
The best diets are those which encourage you to form and maintain healthy habits that you can continue for the rest of your life, that include a wide variety of nutritious foods and avoid processed foods where possible.