An advantage of meal replacement shakes can be a convenient way to get the nutrients of a meal on the go.  They should also be formulated to be supplemented with vitamins and minerals, so you get the nutrients of a meal.  They are already portioned, so some people like they don't have to guess how much to drink for a meal.
A disadvantage for using meal replacements could be they can leave you feeling hungry soon afterwards, depending on what's in the shake.
If this leads you to over eat later in the day, using a meal replacement shake (MRS) may not be the best method for you.
An important factor to also consider when using MRS is what the rest of your diet looks like.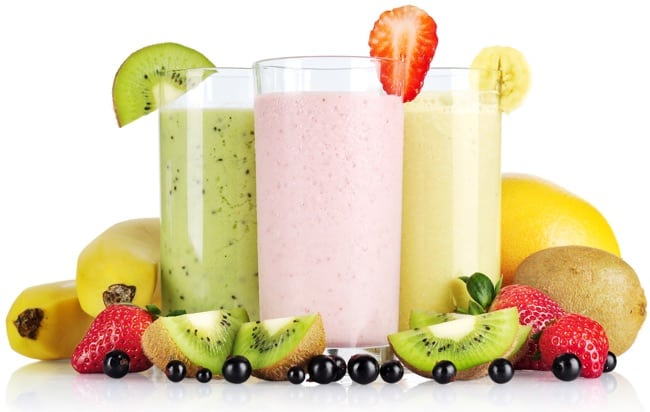 It's important to eat low energy, high nutrient dense foods for optimal nutrition during weight loss.
Studies have concluded MRS may be helpful for weight loss, but before you start using them you should consult your health care team.
The ingredients can vary in weight loss shakes.  If you want to use them, use MRS with low sugar, limited artificial sweeteners, high protein content and a source of nutrients.
Can they help with weight loss?
A 2003 review article (1) analyzed the results of 6 studies using MRS for weight loss.  They were all at least 3 months long, and subjects had a fortified MRS for 1-2 meals with at least one meal of real food.
Researchers concluded subjects who had a MRS diet compared to a conventional low calorie diet lost significantly more weight.
Researchers also found dropout rate for MRS groups was significantly lower than groups who were following a conventional low calorie diet.
A 2007 study (2) with ninety six women also concluded women who used MRS for 1-2 meals per day for a year had significant weight loss.
However, there was not significant difference in weight loss between the MRS group and the group with a traditional low calorie diet.
These, and other, studies suggest using MRS can be helpful for weight loss.  The bottom line with any weight loss strategy is what will you stick with for the long term?
Some people may enjoy the convenience of having a MRS every day, but some may want more variety.
What are you eating the rest of the day?
MRS can help with weight loss as noted in these studies.  However, in a research study, food is carefully controlled to the best of the researchers' capacity.
If you are using MRS on your own, it is important to follow a healthy, balanced diet the rest of the day.
If you have a MRS for breakfast but have a heavy lunch and/or dinner, you are probably not going to have the best weight loss results.
Whether you do or don't use MRS, you should still get the recommended intake of fruits and vegetables per day.
These nutrition super stars are nutrient dense and can also help you reach your daily fiber intake recommendations.
Limiting added sugar intake is also recommended for weight loss and should be taken into consideration for the rest of your diet if you use MRS.
Another consideration is how many calories your body needs.  If you are exercising strenuously, having a MRS in place of a meal may not give your body enough proper nutrients to maintain an active lifestyle.
On the other hand, if you are considered a low to moderate exerciser, a MRS may be considered helpful for a meal replacement.
Check the label for nutrients
There are many options for MRS.  In general, if you are using MRS choose one that is low or free of added sugars.
Since you are using these in place of a meal, MRS should also provide around 20-30% Daily Value (DV) for vitamins, minerals and fiber.
The 2007 MRS study (3) found after one year, subjects in the MRS group compared to those on a traditional low calorie diet had significantly higher intakes of several vitamins and minerals.
Following a lower calorie diet can (but doesn't have to) mean you are just not getting enough volume of food to meet your DV intake of micronutrients.
Therefore, this study suggests MRS may actually help meet your intake needs for some vitamins and minerals.
Avoid MRS that are mainly hard to pronounce preservatives, artificial ingredients and higher in unhealthy fats.
See also: Labeling tricks you definitely need to avoid
What's the protein content?
Protein has gotten a lot of buzz as being helpful for weight loss.  It is the highest satiety macronutrient which means it can help you feel full after eating which could help lower food intake.
Therefore, knowing how much protein is in your shake may affect weight loss.
A 2008 study (4) compared weight loss and lean mass in obese men and women who either had a higher protein MRS or a higher carbohydrate MRS for two meals a day for 12 weeks.
Both MRS were equal in calories.  The higher protein group had a protein intake of 2.2 grams/kilogram body weight, and the standard group had a protein intake of 1.1 grams/kilogram body weight.
Researchers found no difference in weight loss between groups after 12 weeks.  However, the higher protein group lost significantly more body fat compared to the other group.
If you are wondering how much protein to look for, according to this study, you could take 2.2 x your weight in kilograms to determine daily need.
Then divide that amount into three to determine how many grams of protein you want at each meal.
Keep in mind the more protein is not always better.  There is a "cap" for protein absorption, and dietary protein is not stored.
A general recommendation for protein at each meal for an average weight, healthy adult woman is 25-30 grams.
Conclusion: should you try MRS?
You can lose weight with or without MRS, and individual results can vary.  Some studies suggest using MRS can be helpful for weight loss while following a healthy diet.
Remember to look at your diet as a whole and make sure you are getting quality calories that provide many nutrients.
Make sure you are still getting the recommended amount of fruits, vegetables and fiber per day.
Check ingredient labels for MRS and keep in mind if you want to use them they should be low in sugar, preservatives and be a source of fiber, protein and micronutrients.