Food manufacturers will try to do everything they can to get your attention when you're grocery shopping.  Fancy packaging, eye catching colors and placement on a shelf are some ways they can try people to buy their product.  They can also use food labeling tricks to try to get people to buy their product.  Sometimes companies can play on certain words like fat free, light or gluten free to make a product desirable.
What is important when looking at food labels?  The serving size, energy (calories) it provides, ingredient list, sugar content, fiber, etc. are all important.  However, there are words on the packaging that can also be misleading.
Here are some food labeling tricks that can be misleading you to believe a product is healthier than it really is.
The word "natural"
Many people are looking for more natural, unprocessed foods as concern for obesity and chronic diseases grows.  A diet high in processed foods, or foods high in calories with little nutritional value, can increase risk for obesity and many other diseases.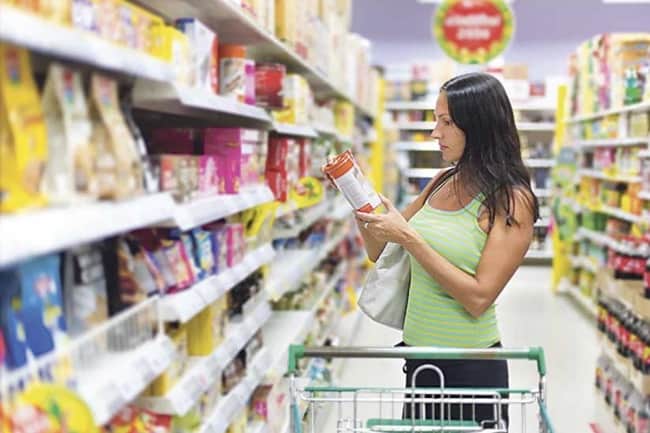 As this news continues to grow in popularity with the public, more people are looking for less processed alternatives for food.
Of course food without packaging, like fruits and vegetables, are natural.  However, many food packages will have the word natural plastered somewhere to get your attention.
The problem with using the word natural for a food is there is no clear definition for what it can mean.
If something is natural, it usually means there are no artificial ingredients, but that doesn't mean other ingredients like sodium or sugar are added.  Snacks like potato chips can say all natural, but that doesn't mean they are healthy.
Look further than just the word natural on foods to determine if they are really your best option.
Multi grain
Getting at least half your grain intake from whole grains is recommended.  Whole grains are higher in fiber compared to refined grains like white bread, white rice or sugary cereals.  Whole grains have the bran and outer hull layer on the seed to provide fiber and nutrients.
100% Whole grain bread should have only whole grain flour.  However, if something says multi-grain, it doesn't mean it's 100% whole grain.  Multi grain can be a tricky way of saying a grain product is a mix of white flour and lesser amount of whole grain flour.
Check the ingredient label to see if 100% whole grain products are used or if it's mainly white flour with some whole grain mix thrown in for color.
Trans fat free
Most Americans have heard that trans fats are bad for health.  In fact, as of 2013, the FDA does not recognize partially hydrogenated oil, a source of trans fat, as a safe ingredient (1).
Most foods in the grocery store do not contain really high amounts of trans fats which is good.  However, many foods still have trans fats in smaller amounts.
A food can claim to be trans fat free but still provide up to 0.5 grams of trans fats.  How can you know if the food will have trans fats?  Look at the ingredient label.
If a food product contains partially (or fully) hydrogenated oil, it will have some trans fat.
If you eat many servings or foods with small amounts of trans fats, it could add up to a dangerous amount.
Therefore, just because a label says trans fat free, you should still look at the ingredient label.
Potential sources of trans fats include: coffee creamers, commercially produced baked goods or some microwave popcorns.
Fat or sugar free
Like trans fat, foods can claim to be fat or sugar free.  However, they can still provide up to 0.5 grams per serving.  Also, keep in mind fat or sugar free does not always mean lower in calories.
Sometimes a fat or sugar free option may just as much or higher in calories as the original version.
If something is fat free, it will probably have more sugar in it than the original version.  It could also have more artificial flavors or preservatives.
Light
Just like fat or sugar free, just because a food has the word "light" on it doesn't automatically make it healthy.  In order for a product to have the word light on it, it has to have 50% less fat than the original product.
Light can also be put on a food to describe the flavor, like olive oil.  Light olive oil doesn't have less calories than original olive oil, it just has a lighter taste.
Buzz words like gluten free, organic, GMO free, etc. don't always mean healthy
Just because a product is labeled as gluten free, organic or GMO free doesn't mean it is a healthy food.  Food companies can make organic junk food, and gluten free products can be very high in simple sugars and low in fiber.  GMO free cheese curls are still a source of empty calories.
Don't fall into the trap of thinking just because a food product has a certain word on it it's healthy.  Unfortunately you need to do some more glancing at the nutrition label and ingredient label to take a closer look.
Serving size
Another trick from food labeling can be in the serving size.  Maybe a drink will say something like, "Only 100 calories per serving".  You might think wow, I'm only getting 100 calories if I drink this.
If you take a closer look, you may see the bottle has 2 or more servings in it.  Therefore, you're getting double the calories and sugar if you drink the whole thing.
Conclusion
There can be many tricky ways food companies label foods to try to make them sound healthier or more appealing for consumers.  Using the word natural, at this point, doesn't really mean much for food.
Foods that claim to be fat, sugar or trans fat free can still have up to 0.5 grams in them per serving.  This could add up if you are eating multiple food sources that have, for example, 0.5 grams of trans fat in them.
Foods that are sugar or fat free are not always the healthier option, and foods that are light just mean they have less fat than the original version.
If a food is organic, GMO free or gluten free, it doesn't mean the food is low in calories or rich in nutrients.  Junk food can be organic or gluten free!
Looking at the nutrition facts label and ingredients can help give you a clearer picture of what's in a food.
Buying foods without any packaging, like raw fruits and vegetables is best, but if you need some convenience watch out for these tricky words.