Onions are more than just a pungent vegetable that can make you cry.  They are rich in phytochemicals, similar to garlic, that have many known health benefits.  Onions and garlic are part of the Allium family of vegetables which contain sulfur compounds that give them the unique smell and taste.
Onions have many health benefits including helping with blood sugar regulation, anti-carcinogenic, a powerful antioxidant, boosting heart health and can help with bone strength.
Here are more details on the great health benefits of onions.
Diabetes risk
Animal studies have shown a health benefit of onions in improving blood sugar in animals that are insulin resistant or have type 2 diabetes.  More research studies are needed to determine if onions have the same effect on humans and to what extent.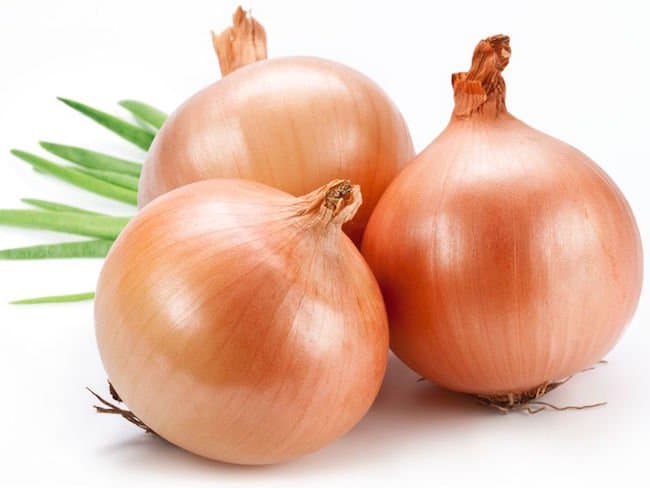 A 2005 study in Food and Chemical Toxicology concluded that onion or garlic juice given to diabetic rats improved their blood sugar levels and other biomarkers associated with diabetes back to normal levels.
Other research studies have had similar results with animals.  Onions may have a similar effect on blood sugar level in humans, but more research is needed to determine to what extent.
Antioxidants
Onions are a source of vitamin C, folate, calcium, iron and fiber.  They are also rich in a variety of phytochemicals, specifically one called quercetin.  Quercetin can help get rid of damaging free radicals in the body and stop LDL cholesterol from getting oxidized.  This is important because oxidized LDL can increase risk for cardiovascular disease.
According to the National Onion Association, there is research suggesting quercitin from onions are more absorbable than other foods that contain quercetin such as tea and apples.
Other phytochemicals in onions, such as disulfides and trisulfides, have other important health benefits that researchers are still uncovering.
A benefit with onions is that cooking onions does not decrease the quercetin content, it just gets transported to the cooking liquid.
Anti-carcinogenic
Eating a diet rich in fruits and vegetables is associated with reducing risk for certain cancers.  Eating a diet rich in onions in particular may be advantageous for lowering cancer risk, according to a 2006 study from The American Journal of Clinical Nutrition.
Researchers analyzed data from several studies looking at the relationship between onion and garlic intake and cancer risk.  Researchers found there was an inverse association between eating onions and garlic and risk of developing certain cancers.
Other studies have shown similar results with onion intake and cancer risk, and researchers suggest it is probably mainly from the quercetin content in onions that may help reduce the risk of cancer.
Heart health
There is some animal research to suggest that onions may help inhibit blood clotting, which is important because excess blood clotting is associated with increasing cardiovascular disease risk.
The sulfur containing compounds in onions may have a beneficial effect on lowering blood cholesterol and triglyceride levels.
In many large epidemiological studies, a diet high in vegetables, which includes onions, is associated with lowering risk for cardiovascular disease.  Because onions are so rich in flavonoids and antioxidants, they may have particular benefit to lowering risk for many chronic diseases including cancer and heart disease.
Antibacterial
Similar to garlic, onions have an antimicrobial effect in the body.  Specifically, onions may help lower risk for peptic ulcers by killing off the bacteria associated with forming peptic ulcers, H. pylori bacteria.
Bone health
Instead of just increasing dairy products for bone health, you may want to start increasing onion intake for strong bones, according to some animal and human studies.  Onions may help increase bone density, which could be an important health benefit for those at risk or who have osteoporosis.
Some research even suggests eating onions everyday could help lower risk for hip fractures in post-menopausal women.  It may be that instead of just focusing on increasing calcium and vitamin D sources, increasing onion consumption should also be considered for those at risk of low bone density.
Conclusion
There are many benefits of eating a diet rich in fruits and vegetables, and researchers are constantly finding out specific advantages for each unique one.  Onions are known to be high in the antioxidant quercetin, and the quercetin in onions is more absorbable than from other foods that contain quercetin too.
Onions may help lower blood sugar and may help with reversing some of type 2 diabetes effects in animals.  More research is needed to determine if onions could have the same effect in humans.
Onions are a source of different types of antioxidants, which protect body cells from damage caused by free radicals.  Onions may help fight off cancer cells, as some research shows there is an inverse relationship between onion intake and cancer risk.
Onions can help lower blood cholesterol, blood triglycerides and may help decrease blood clotting.  Onions can also help build strong bones and may help reduce risk for osteoporosis, and they fight off specific bacteria associated with forming peptic ulcers.
How can you add more onions to your diet?
References used in this article