Parties are often a time of overindulgence and often result in you eating more than you should, often of the wrong types of foods. Typical party finger foods such as deep fried foods, pizza, pastries and cheese are high in fat and calories, and are usually accompanied by numerous unhealthy nibbles like potato chips, pretzels and other fried treats.
It is easy to overeat at social events, particularly if you are drinking alcohol, which not only adds extra calorie in its own right, but also makes you less aware of what you are eating and can lead you to eat more in an effort to stay more sober.
Typical party foods can have a negative effect on your diet, particularly if you are socializing a lot, so for the sake of yourself as well as your guests, when you have your own parties, try to make them a healthy event.
Taking a healthy dish to another person's party is also a good plan, as it means that you know there will be at least one healthy option to choose.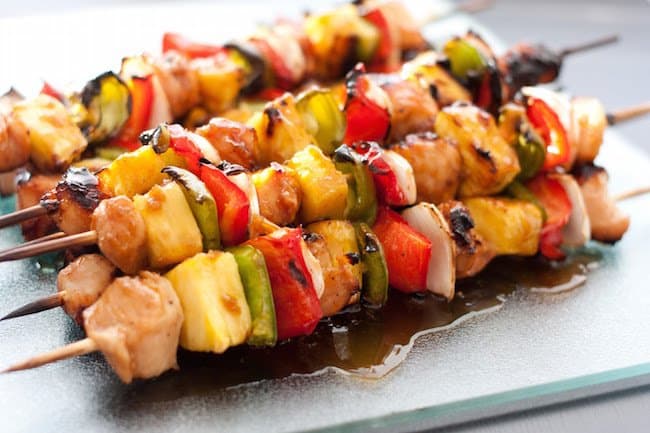 See also:
10 Healthy Party Foods
Here are ten healthy nibble and finger party food options to keep your guests satisfied and healthy.
1. Air popped popcorn
Popcorn is a great source of fiber and has far less fat and calories than other snack type foods. Avoid buttered, flavored or sweet popcorn as the added ingredients tend to increase the calorie and fat content hugely.
Serve popcorn plain or for extra flavor add black pepper, paprika, or other spices. Leave bowls of popcorn around your party area for guests to snack on instead of potato chips, or fried snacks.
2. Vegetable sticks with dip
A platter of vegetable sticks such as carrot, celery, cucumber and capsicum make a great accompaniment to a healthy dip and are low in fat and calories as well as providing fiber, vitamins and minerals.
Dips such as hummus, baba ganoush or tzatziki make excellent healthy options and can easily be made at home so that you know exactly what is going into them.
3. Fruit
Fresh fruit makes a refreshing end to a party meal or sweet finger food, providing vitamins and fiber with minimal calories and fat. Serve fruit cut into bite sized pieces with a yogurt and honey dip or even with a little melted dark chocolate for a little bit of indulgence.
Alternatively, thread small pieces of fruit onto skewers to make portable, easy to eat fruit kabobs. These are also very popular with children.
4. Vegetable bruschetta
Slices of toasted whole grain bread topped with a mixture of cooked or raw vegetables make a great healthy snack. Tomato with low fat cheese and a drizzle of balsamic vinegar makes a great combination, as does roasted vegetables such as pumpkin with a spread of basil pesto.
5. Salsa with homemade pitta chips
Salsa is based on healthy ingredients such as tomatoes, onions, garlic, vinegar and spice and so is low in fat and calories. For a more rustic and flavorsome salsa, make your own version and dip toasted whole grain pitta bread triangles instead of high fat tortilla chips.
To make pitta chips, simply cut the bread into triangles and drizzle with a little extra virgin olive oil. Then bake in a hot oven until crispy.
6. Homemade veggie chips
French fries are a popular party food with all age groups; however, they offer very little nutritional value and a lot of fat, salt and calories. For a healthier option that is just as tasty and easy to eat, but offers a lot more nutritional value, cut a variety of vegetables, such as zucchini, pumpkin and sweet potato, into chip sized pieces, drizzle with olive oil, add a little seasoning and bake until cooked through.
These can be served with a healthy natural yogurt dip, spicy sauce, or with the more traditional tomato sauce.
7. Guacamole
A simple guacamole made with avocado, lemon juice and a little salt and pepper is a healthy dip option to serve with whole meal pitta chips or as an addition to a bruschetta toast. Although avocadoes are high in fat, the majority of this fat is of the heart healthy, unsaturated type.
This means that although only a small amount should be consumed if you are watching your weight; a homemade guacamole is a great way to get some healthy fats into your diet and is always popular at social events.
Avoid store bought guacamole as this often contains unnecessary additions such as sour cream which add calories and unhealthy saturated fat.
8. Chicken skewers
Simple grilled chicken skewers made with lean breast meat with no skin make an ideal party finger food that provides lean protein. Other lean meats, fish or seafood could also be used instead of chicken for variety.
Simply marinade you protein choice in a healthy mix of spices, olive oil or even yogurt the night before to add flavor and serve with a variety of dipping sauces.
Skewers make a great party food as they are easy for guests to hold and eat from without the need for plates and cutlery and are incredibly versatile in terms of the meat, fish or vegetables you put on the stick and the marinades or sauces you serve them with.
For vegetarians or an even lower fat version, meat substitutes such as tofu or tempeh could also be served in the same way.
9. Nuts
Nuts are a great source of healthy fats, fiber and a range of vitamins and minerals and so make an excellent healthy snack food for parties. Small bowls of unsalted, raw nuts make a healthier alternative to other snack foods, but avoid nuts that are heavily salted, fried ,roasted or are honey coated, as these tend to have more fat and calories.
Dry roasting your own nuts in the oven is a great way to bring out the flavor of the nut without adding any extra calories.
10. Steamed vegetable or fish dumplings
Many Asian foods make great finger foods at parties, but not all of them are healthy options. Fried spring rolls and dumplings are high in fat and calories, whilst even sushi has a high calorie count due to their high content of sweetened white rice and the common high fat fillings such as mayonnaise and fried foods.
Steamed dishes however usually make healthy alternative and small items such as steamed dumplings or pot stickers are relatively healthy and easy to eat. Fish and vegetable fillings tend to be the lowest in calories and can provide extra nutritional value in the form of healthy fats or fiber and vitamins.