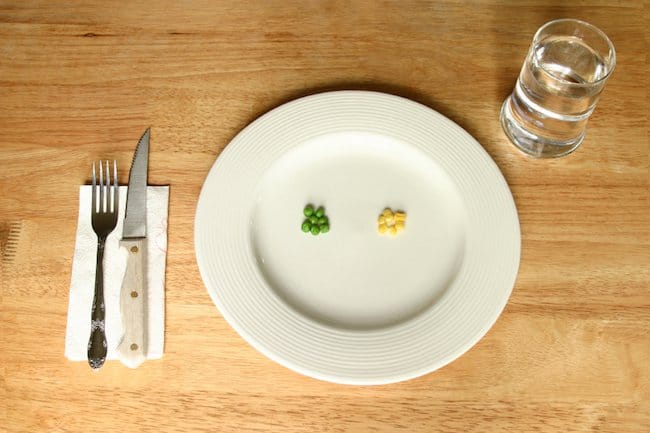 Many weight loss diets advocate a very low calorie intake for quick weight loss, but many health professionals actually recommend the opposite with not eating too low a calorie intake.  Many times the suggested guideline for calorie intake is at least 1,000-1,200 calories per day.  For example, the American College of Sports Medicine (ACSM) recommends women not get less than 1,200 calories per day for women and 1,800 calories for men.
There are many factors that go into estimating calorie needs, so this recommendation is a general guideline.  Here is a closer look at the rationale for why eating less than 1200 calories per day may not be a good idea.
Lowered metabolic rate
Whenever someone cuts down on their calorie intake for weight loss or any other reason, the body's natural response is for basal metabolic rate to slow down.  The human body is designed to conserve energy when food intake is drastically cut so the body will be able to survive longer if needed for survival.
The human body does not know the difference between cutting calories for weight loss or because of starvation, so cutting calories too low when trying to lose weight may cause metabolic rate to slow.  This is one of the main reasons why health professionals recommend keeping calorie intake at least 1,200 calories per day.
Cutting calories less drastically is recommended to avoid metabolic rate plummeting too low.  In order to lose about a pound per week, a rough estimate is to cut 500 calories per day from your diet, increase 500 calories through exercise or through a combination of diet and exercise. (See also: What happens if I start eating fewer calories?)
What is basal metabolism?
What does your metabolic rate mean?  Basically, your basal metabolism is how many calories your body burns at rest for your organs to work.  For example, it is the calories needed to keep your brain functioning, heart beating and diaphragm moving for breathing.
As mentioned above, when calories are drastically cut like on a fad diet or during initial starvation, basal metabolism will slow.  Your body becomes more efficient at making sure your organs are functioning on less energy.  Other functions that take energy, like exercise, may feel more burdensome when calorie intake is drastically cut and fatigue may be a problem as well.
Guidelines
So how do you know how many calories you need?  A general guideline from the ACSM is to take your weight and multiply by 10.  For example, a 150 pound women will need approximately 1,500 calories.
If she is trying to lose a pound a week, you normally subtract 500 calories per day.  Since this would bring her to 1,000 calories per day, below the 1,200 calorie guideline, she should instead increase her exercise.  She could also cut her calorie intake to about 1,300 calories and bump up her calorie burn at least a few hundred calories.
A less scientific way to determine calorie needs for weight loss is to simply cut back on portion sizes you now eat.  Instead of drastically cutting down your food intake, which your brain will notice, cut back about 20-25% of your normal portion size.  Research from Dr. Wansink from Cornell University suggests cutting back this amount of serving sizes to cut back calorie intake without feeling deprived.
Other factors
There are several factors that go into estimating someone's calorie needs.  The guidelines to stay under 1,200 calories are general.  Some people who are small in size may be able to eat less than this amount and not suffer any negative consequences.
People who are morbidly obese are sometimes prescribed a very low calorie diet- about 800 calories per day- under medical supervision for extreme weight loss.  A calorie intake this low that is long term should always be monitored by a physician. (See also: Calorie Secrets 1200 diet)
Other factors influencing metabolic rate include hormone levels, age, body composition and sex.  Men naturally have a higher metabolic rate compared to women because they are generally have a larger body mass.  Increasing muscle mass can increase metabolic rate which is another benefit for exercise.  Exercise can also help combat the effects getting older has with lowering metabolic rate.
Conclusion
There are many factors that are used to estimate someone's calorie needs including age, weight, sex, activity level, hormone levels, body composition and if they desire weight loss.  There are general recommendations for especially females to not eat less than 1,200 calories per day.
The reason for this is because if calorie intake drops too low, metabolic rate will also slow.  This can impede weight loss efforts instead of help weight loss.  Some people who have a very small body size may be able to eat less than 1,200 calories per day without a problem.  In general though, very low calorie diets should be monitored by a physician.
References used in this article