According to the CDC, less than 10% of Americans meet the recommended daily intake for vegetables.  Most Americans recognize that vegetables are important for health, and eating vegetables as part of a healthy diet may help lower risk for certain diseases.  Despite this, most people still do not consume enough vegetables.
Whether raw or cooked, eating more vegetables is important (1). However, when cooking vegetables, not all methods have the same impact.
Nutrients in vegetables can be sensitive to heat or leach out into water, so in general, shorter cooking times with less water is recommended.
Eating raw vegetables doesn't always produce the highest amount of nutrition; some nutrients actually are increased after cooking.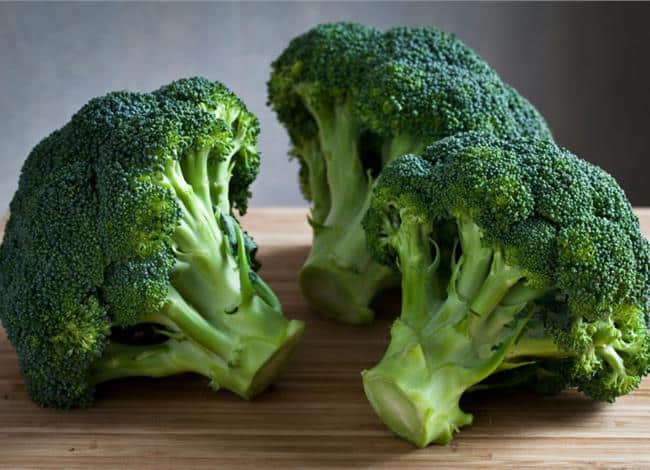 Cooking in some instances can make nutrients more absorbable in the body.  So should you eat more raw or cooked vegetables?  The answer is simple: do both.
Steam
Steaming is perhaps one of the easiest and healthiest ways to cook vegetables.  A 2013 TIME article (2) suggests steaming may be the best way to cook broccoli in particular because this method helps keep broccoli's cancer fighting glucosinolates.
Steaming can help break down vegetable cell walls making the nutrients easier to digest and easier on the digestive tract.  A 2013 article from Prevention (3) also suggests steaming can help increase antioxidant activity in certain vegetables like peppers, broccoli, spinach and green beans.
Steaming differs from boiling or simmering because it doesn't require the vegetables to be completely submerged in water, which can increase nutrient loss.
Place vegetables in a basket in a pot so they are elevated above the water level.  The cooking time with steaming is relatively short; be careful you don't overcook the vegetables or burn your pan.(4)
Sauté or stir fry
Sauté and stir fry are similar cooking methods.  Both require a hot pan or wok and a small amount of oil.
Using this cooking method can also lower nutrient loss and is probably the best choice for cooking softer vegetables like asparagus, snow peas, peppers and onions (5).
For the best outcome, make sure you add the vegetables to the pan after the pan and oil are hot.
This will help make sure the cooking time is short.  Also make sure you are stirring or tossing the ingredients you are using so they don't burn to the pan.
Cutting vegetables into bite size pieces before you put them in the pan can help minimize cooking time.
Sautéing or stir frying vegetables can be an easy way to cook a meal with a protein because you can cook the protein together with the vegetables in the same pan.
For best results with sautéing or stir frying, choose an oil that can withstand high heat cooking temperatures.
Roast
Roasting, similar to steaming, can be a no fuss way to cook vegetables.  It's as easy as tossing some vegetables with a drizzle of oil, seasonings and putting it in the oven.
Roasting creates a unique caramelized layer that can add some flavor that you can't get from boiling or steaming vegetables.
Roasted vegetables may be a healthier way of cooking than grilling.  Grilling meats especially can increase risk for the formation of carcinogens from charred foods.
When is boiling recommended?
Boiling gets a bad rap as a cooking method because you cook the vegetables submerged in water, cook with a high temperature then discard the cooking liquid.  Many nutrients are leached into the cooking water which can lower some of the nutrient value of the vegetables.
If you boil vegetables, using the cooking liquid as part of the recipe can help keep the nutrients.
For example, if you are cooking vegetables for a soup or stew, using the cooking liquid as part of your stock.
Boiling vegetables may be recommended for people who are trying to watch their potassium intake because of kidney disease (6).
In some instances, lowering the potassium amount from vegetables is helpful because the kidneys can't process the high amounts of potassium.
Boiling vegetables and discarding the liquid can help lower potassium levels which is normally not recommended for healthy people, but with kidney disease is sometimes recommended.
Boiling may also be recommended for lowering risk of developing kidney stones.  Oxalic acid is in vegetables and may increase risk for forming kidney stones.
Boiling vegetables can help lower the oxalic acid. If you have questions about kidney health and the best way to cook vegetables, speak with your healthcare team.
Conclusion
Whether raw or cooked, most people need to increase their vegetable intake.  Eating raw vegetables will provide some nutrients in the highest amount, while cooking can actually increase other nutrients from vegetables.
To minimize nutrient loss, using quick cooking times with minimal water are generally recommended.  Steaming, sautéing, stir frying and roasting can be healthy ways to cook vegetables.