Rice milk is made when milled rice is blended with water until it turns into a consistent liquid. Since rice is a carbohydrate, rice milk has some natural sweetness when these carbohydrates are broken down during the making of rice milk. Rice milk is not naturally high in many vitamins or minerals, but it is often fortified with them.
There are certain instances that rice milk may be advantageous, and instances where you may want to think twice about choosing rice milk. Here are some options to consider when deciding if rice milk is good for you.
Lactose free and vegan
Rice milk can be an alternative for people who either have a lactose intolerance or choose to avoid dairy products for other reasons. Rice milk is naturally free of lactose, so it can replace cow's milk.
Rice milk can also be a common alternative for people following a vegan diet. A vegan diet strictly avoids all animal products, so since rice milk is only plant based, it can fit into a vegan diet. If someone is looking for a vegan, lactose free milk alternative, rice milk fits into this category.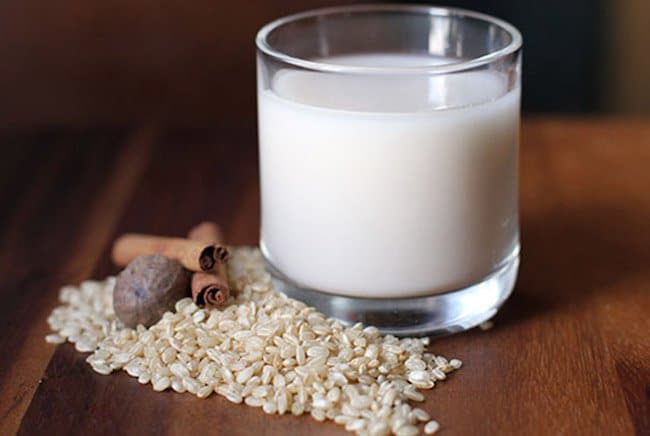 Hypoallergenic
It is estimated about 15 million Americans have food allergies, and food allergies have been on the rise since the 1990's according to data from the Center for Disease Control and Prevention (CDC). The top eight foods that account for most of the food allergies include dairy, wheat, eggs, peanuts, tree nuts (including almonds), soy fish and shellfish.
Someone who has food allergies, or a combination of food allergies, can typically have rice milk because rice allergies are not common. Cow milk and other dairy alternatives, such as soy or almond milk, can be problematic allergen sources for people with food allergies.
Nutrition compared to cow's milk
Cow's milk has traditionally been a staple of protein, calcium, vitamin D and other nutrients in the American diet. Many people rely on milk or other dairy products as a protein source. However, when you replace cow's milk with rice milk, you are missing out on the protein.
A cup of rice milk has only 0-1 gram of protein, but a cup of 1% milk has about 8 grams of protein. If someone is replacing rice milk for cow's milk, they may need to supplement additional protein in their diet, especially if someone is vegan.
A cup of rice milk can have about the same amount of calcium and vitamin D compared with a glass of milk if the rice milk is fortified. Look on labels before purchasing to see which rice milk brands will also be a source of calcium and vitamin D, similar to regular milk.
A cup of 1% milk has about 12 grams of carbohydrates and about 100 calories. However, a cup of rice milk has about 23 grams of carbohydrates and 120 calories. Rice milk is higher in carbohydrates, lower in protein and similar amounts of fat compared with 1% milk.
Most rice milks will also be fortified with vitamin B12 and vitamin A. Rice milk can also contain some iron.
Health concerns
If you don't have food allergies and aren't following a vegan diet, is there any reason to switch to rice milk? Maybe if you like the taste and are trying to follow a low protein diet, which is necessary for some health conditions.
However, there may be reasons to possibly avoid rice milk because of concern of arsenic levels in rice products. Arsenic is a chemical element found in nature and can be found in small amounts in some foods which is picked up from soil.
Rice absorbs arsenic more than other foods because of its growing conditions, so there is increased concern for arsenic contamination from all rice and rice products. High levels of arsenic could cause long term health risks.
The FDA recommends to avoid consuming in excess one particular food and eating a wide, varied diet to lower risk for contamination from any one food. If you already eat a lot of rice products, you may want to diversify your intake.
Some scientists suggest children and pregnant women should not drink rice milk because of risk for arsenic contamination. Currently, arsenic levels in foods are not regulated, and safe levels have not been clearly defined.
If you have questions regarding rice milk intake and arsenic risk, talk to your health care provider.
Conclusion
Rice milk is a hypoallergenic, lactose free and vegan alternative to cow's milk. It has a similar nutrition profile for vitamin and mineral intake if the rice milk is fortified, but rice milk will be lower in protein and higher in carbohydrates compared with cow's milk.
There is some concern of arsenic levels in rice products, and some health professionals advocate limiting rice milk especially for children. Consult with your health care provider for more questions regarding your health and drinking rice milk.
References used in this article