One common notion is that thin people have low body fat where as larger people have more fat. There are a number of misconceptions in relation to being thin and how much fat is there. Similarly people who go on a diet automatically assume that loosing weight is equal to loosing fat.
In many ways body weight has become synonymous to body fat and vice versa weight loss is synonymous to fat loss.
How can you measure body fat and most of all is it important?
Body fat percentage 
Should you loose your sleep over your body fat percentage and what is this after all?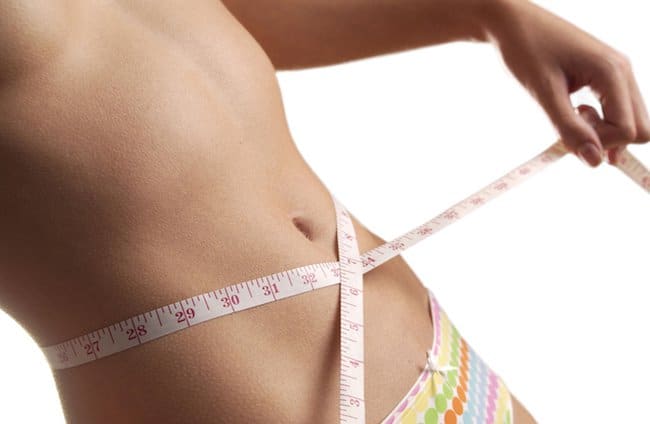 Firstly body fat percentage is the amount of fat (as a percentage) contained in your body. Should you be concerned? My favourite answer is 'it's complicated' and it's a Yes and a No.
Basically you could be a relatively average weight and within normal ranges person but at the same time you could have a high body fat percentage. If majority of the fat was sitting on your hips, well it may not look good in that dress but is likely to be relatively ok for your health. However, if the fat is sitting on your abdomen then that could be fairly high risk as abdominal fat can increase your risk of developing certain conditions.
At the same time don't forget that fat is essential for the body. So apart from thinking do I have a lot of fat, measuring body fat could also be in terms of not having enough. Not enough fat can be as dangerous for health as too much, if not worse in the extreme cases.
In terms of weight loss, if you know the amount of fat your body carries you could set your goals accordingly. You can also read how to lose 15 pounds of fat
Body fat percentage categories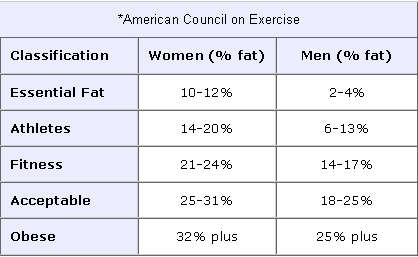 Formula calculations
Indirect methods use body measurements and mathematic formulas to calculate body fat percentage. Indirect methods can be as close to accurate as the direct methods. What they don't measure is the internal fat such as the one which hides away into the abdomen and the organs so it could be misconceiving.
However, so could be some direct methods as they give you a percentage of body fat rather than the location of the fat in the body. Like most indirect formulas always allow a 'give-and-take' range for example if your calculation is 25%, is more like approximately 25%.
For the below formula there are slightly different measurements for men and women. 
For men measure:
Neck circumference, just bellow the Adam's apple.
The waist circumference at the navel.
You will also need a measurement of your height for the formula, or you can use the last measurement you had.
Formula: 86.010 – (waist – neck) / 100 – 70.041 x (height / 100) 36.76
Just add the measurements to the formula and calculate. The resultant number is the % of body fat. For example if your calculations equal to =20 then your body fat percentage is 20%.
For women measure:
The neck circumference, just underneath the larynx.
The waist circumference, at the thinnest point of the waist.
The hip circumference, at the widest point of the hips.
Formula: 163.205 – (waist hip – neck) / 100 – 97.684 x (height / 100) – 78.387
Just add the measurements to the formula and calculate. The resultant number is    the % of body fat.
To measure the circumference use a tape measure and place it around the body part you want i.e. around your waist. Keep the measure as straight as possible and be relaxed, i.e. keep the arms relaxed at the side of your body don't hold your breath etc.
It may be a good idea to ask someone else to do it for you although it's not necessary. Finally, it may be recommended to do it first thing in the morning after you used the toilet. As the day progresses there are other elements which may influence the measurements such as the body retaining water or you may be bloated etc.
Skinfold Callipers
This is a hand-held device which measures the folds of skin (in centimetres) in specific parts of the body. The sum of the measurements corresponds to a percentage of body fat in a chart depending on age and gender.
It is relatively more direct measurement than simple waist circumference, however, it also doesn't account for internal fat. Unless you are very concerned about your internal fat it is as good as others. Again it is an approximation but according to studies quite a close one.
In a plus point it is easily accessible and inexpensive to use although is not something you buy from your local pharmacy. The downside is that it takes someone who knows how to take the measurements as it takes practice to get used to it. Is one of those things that it looks easier than it is.
I am not aware if that is true but I would guess that skinfold calliper measurements may be available in some gyms or fitness centres.
I will not get into too much detail on how to operate the callipers as it will require a lot of space. If you do happen to get hold of a skinfold calliper device it should come with directions and body map for the parts that need to be measured. It should also come with charts of sums and the corresponding fat percentage.
In general the sites measured are:
Back of the arm (triceps)
Front of the arm (biceps)
Upper back
Waist
Bioelectrical impedance
This method requires a small machine which attaches to the body via electrodes. It sends a very low electrical current through the body and in return it measures body fat, water content, etc in the body.
It's safe and it doesn't have any risks regardless as may sound. Most machines are battery operated so as you can imagine the electrical current is so low that you can't even feel it. It is quick and fairly easy to use.
The downside is that it is expensive to buy, well as far as I know there aren't any cheap home-use versions of the machine. As with the skinfold callipers bioelectrical impedance may be available in the local pharmacy, gym or health centre. Some places offer general check ups with body fat measurements, blood glucose levels etc.
Apart from being a fairly accurate measurement, most machines provide additional information such as muscle mass and hydration levels. These can give a better and fuller picture of your body and its condition. Often there may be additional reasons which may add to a weight problem such as dehydration.
There are several other methods which can be used to measure fat such as Hydro-densitometry and DEXA which is through a body scan. A lot of these methods are used for specific medical reasons or for athletes. Well in simple words unless it is for a specialised reason it is unlikely to find it in the local clinic. They are neither cheap nor easy to administer, nor so necessary for the average person.