The body uses proteins to make new cells, help with fluid balance and make enzymes that have many functions in the body.  It is recommended healthy adults get daily between 10-35% of calories coming from protein.
Unfortunately, some people around the world struggle to get adequate daily protein, but people living in first world countries tend to get more than enough protein in their diet.
Proteins can come from animal or plant foods, and if it is animal or plant based will mean the protein can have some differences.
Plant based proteins are usually deficient in at least one essential amino acid, but animal based proteins contain all essential amino acids.  Plant based protein can have other nutrients like fiber and antioxidants.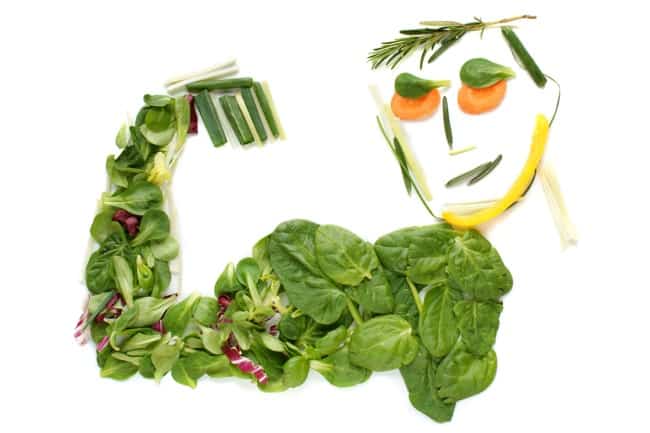 Animal based proteins can also provide some vitamins and minerals but can also be higher in fat and lower in fiber.
Both animal and plant proteins can have a place in a healthy diet, but you don't have to eat animal proteins.  You can eat just plant proteins as long as you are eating a variety of foods.
Complete or incomplete protein
There are nine essential amino acids that the body needs to get from the diet.  The body cannot make these essential amino acids but are critical for health.
Animal foods provide all essential amino acids.  Plant foods can be short in at least one essential amino acid.  Therefore, animal foods are called complete proteins, and plant foods are called incomplete proteins.
If you eat only plant proteins, it is important to eat a variety of foods so you get all essential amino acids.
For example, grains are limiting in the essential amino acid lysine.  However, legumes contain higher amounts of lysine but are limited in methionine and cysteine.
Can you only eat plant proteins?
Yes you can only eat plant proteins and still be able to get all essential amino acids and be within the daily target percent calories from protein.  In order to do this, you need to eat a variety of plant foods that provide protein like: grains, nuts, seeds, legumes and soy.
In fact, soy and the whole grain quinoa are considered a higher quality plant protein because they contain high amounts of all essential amino acids.  People who eat only plant foods can get enough essential amino acids as long as their diet is varied and total calorie amount is adequate (1).
Difference in absorption
There are some differences in absorption when it comes to animal or plant based proteins.  Because animal proteins are similar to human proteins are used more readily.
When a plant protein has similar amounts of essential amino acids, they are absorbed relatively close to animal proteins, according to researcher Dr. Campbell (2).
Total vegans, people who eat no animal foods, can have a higher protein need because plants are absorbed a little differently than animal foods.  However, if they eat a varied diet this slightly higher amount is still feasible to reach.
See also: How to eat more protein without meat
Animal proteins tend to be higher in sulphur containing amino acids.  These amino acids are slightly acidic, which means the body needs to use a buffer to lower the pH from these foods.
A buffer the body can use is to pull nutrients from the bone.  For this reason, some research (3) has suggested a diet high in animal protein, or even from plants, may increase risk for osteoporosis.
However, there are many other factors that influence bone health.  Other nutrients in food can also increase or decrease calcium absorption or have an effect on pH balance in the body.
What are some concerns with protein intake?
Harvard School of Public Health (4) suggests eating protein foods like fish, chicken, beans, or nuts in place of red meat could lower risk of some chronic diseases and overall mortality.
Eating processed red meat, even small amounts, on a chronic basis has been linked to an increased risk of heart disease or stroke.
Eating a lot of red meat could also increase risk for colon cancer.  Protein quality is just as important as quantity.
Getting protein from healthy sources can provide health benefits like increased satiety or beneficial changes in blood lipids.
What are you getting with the protein?
In our nutrient obsessed culture, we tend to only focus in on how grams of protein, carbohydrate or fat a food has.  However, as Harvard School of Public Health suggests, protein foods shouldn't just be looked at for their protein content.  You should take into account the whole protein, or food, package.
Processed red meats can be a source of protein, but they are also a source of hidden salt, excess fat and potential carcinogens.  Dairy provides many other bone building nutrients besides just protein, but sweetened milks or yogurt can also provide a lot of added sugar.
Some soy based meat alternatives are high in sodium and preservatives, but unprocessed plant sources provide many other beneficial nutrients besides protein.
The bottom line is don't just focus on the protein; look at what else you are (or aren't) getting with the food.
Conclusion
Animal and plant proteins can differ by the levels of essential amino acids they provide and a little on how they are absorbed.  It is possible, and maybe even beneficial, to eat most of or all your protein from plants if you eat a varied diet and are getting enough total calories.
Protein quantity shouldn't be the only concern; protein quality is just as important.  Foods do not contain just protein; they also have other nutrients that affect health.
Red meats, especially processed red meats, have been linked to increasing risk for some chronic diseases.
However, other protein foods, like leaner meat or plant based proteins, could be a healthier alternative.
Instead of just focusing on how many grams of protein a food provides, remember to look at the whole picture.
What other nutrients are you getting and how does it fit into your overall diet?