Eating nuts and seeds has many health benefits.  However, can you get too much of a good thing?  Almonds in particular are touted as heart healthy, but there may be some downsides to getting too many.
Although the exact definition of what too many almonds is not really defined, in general sticking to the guideline of eating about 1-2 ounces (small handful) of nuts per day is recommended.  Eating a little more than this amount probably won't cause any negative health effects, but eating a lot more than this recommendation could have some unpleasant side effects.
See also: Best healthy nuts and seeds
Health benefits of almonds
Almonds are rich in monounsaturated fats, fiber, protein and many vitamins and minerals.  According to the FDA, research studies suggest eating 1.5 ounces per day of nuts, including almonds, as part of a healthy diet could help reduce the risk of heart disease.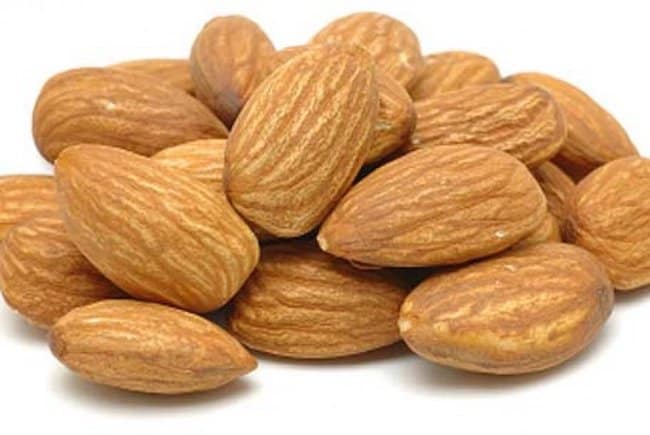 Almonds are a source of vitamin E, manganese, magnesium, copper, calcium, phosphorus and riboflavin.  Also, according to the California Almond Board, some research studies suggest eating almonds may help improve insulin sensitivity in people with pre-diabetes.
Weight gain
Nuts are relatively high in calories which is why some health professionals caution against eating too many.  However, eating nuts as part of a healthy diet does not increase risk of weight gain even though nuts are higher in calories.
According to a 2003 article from The American Journal of Clinical Nutrition, epidemiological studies suggest there is an inverse relationship between nut consumption and body weight.  This means even when people eat nuts (about an ounce per day), weight gain does not occur.
However, this does not mean eating all the almonds you want will lead to weight loss.  There may be a dose dependent relationship for nut consumption and weight loss meaning after a certain point nuts may not protect against weight loss and may promote weight gain.  Therefore, a side effect from eating too many almonds could actually be weight gain.
Drug interactions from too much manganese
Manganese is a trace mineral that helps the body produce connective tissue, blood clotting, metabolism, calcium absorption, nerve function and blood sugar regulation.  According to the University of Maryland Medical Center, up to 27% of American adults may not be getting adequate levels of manganese per day.
A one ounce serving of almonds contains about 0.6 mg of almonds.  Adequate Intake of manganese per day for females over 19 years old is 1.8mg/day and for males over 19 years old is 2.3 mg/day.
Manganese from food and supplements should not be over 10 mg per day because at this level it can cause nerve damage.  If someone is taking supplements with manganese, like a multi-vitamin, plus eating a diet rich in manganese and a high almond consumption, it could be possible to reach the unsafe level for manganese.
If someone is taking medications like antipsychotics, certain high blood pressure medicines, antacids or antibiotics, ingesting too much manganese could interfere with absorption of these medications.  Eating too many almonds in combination of eating an already rich manganese diet or taking supplements could cause adverse interactions with certain medications.
GI Problems
An ounce of almonds provides about 3-4 grams of fiber.  Women under 50 years old need about 25 grams of fiber per day, and men under 50 years old need about 38 grams of fiber per day.  Some Americans struggle to meet the recommended amount of fiber per day, and eating high fiber foods like almonds can help meet the fiber requirement.
Getting enough fiber per day is necessary for healthy bowel movements, gastro-intestinal health, lowering cholesterol and helping maintain body weight.  However, eating too many almonds at one time or on top of an already high fiber diet may cause gastro-intestinal distress.  Too many almonds could cause cramping, bloating or constipation from too much fiber.
Almonds are not high in water content, and eating too many almonds without proper fluid intake could especially cause GI distress.  Drink water or eat other high water foods, like fruits and vegetables, when eating almonds.
Possible Allergy
Any food eaten in excess has the possibility to develop as an allergy in a person.  Eating too many almonds may trigger the immune system to develop an allergic reaction to almonds which could mean avoidance of all almond products in the future.
Conclusion
There are many reasons why almonds are good for you.  However, getting too much of them could cause adverse side effects such as weight gain, manganese over dose if consuming with supplements, possible drug interactions, GI problems or possibly developing an almond allergy.
A typical serving size of almonds is 1.5 ounces, which is about a small handful.  Research studies looking at nut intake and health benefits usually use a 1.5 ounce nut intake per day as a guideline.  Different foods have different health benefits; moderation, balance and variety is key for health.
References used in this article