Fruits and vegetables have many health benefits: they are low in energy, high in fiber, high in antioxidants, high in vitamins, minerals and are considered nature's super stars.  Eating a diet rich in fruits and vegetables is often associated with many health benefits.
For example, a 2002 study (1) that analyzed data from over 9,600 adults found an inverse relationship between fruit and vegetable intake with cardiovascular risk and all cause mortality.
Despite these known benefits of fruits and vegetables, many people still do not eat the recommended daily intakes.
It is estimated only about 8% of adult Americans eat the recommended daily fruit intake (2).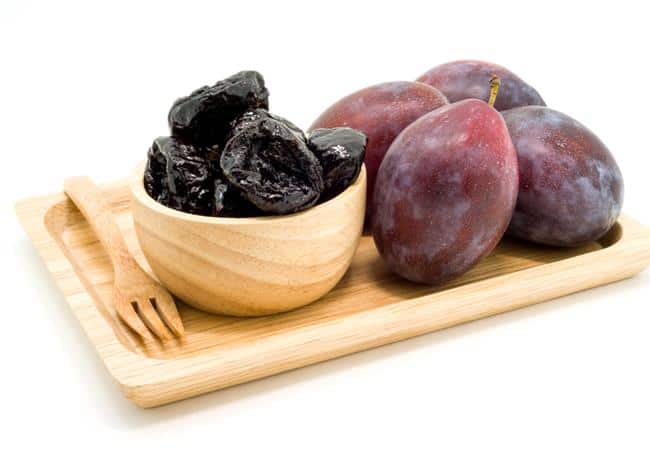 It is recommended adult men get 2 cups of fruit per day and women over 31 years old should get 1.5 cups of fruit per day.
Adding in plums (or prunes) to your diet can not only help you reach your daily fruit intake, they can provide a source of fiber, antioxidants and vitamins.
Plums are also relatively low on the glycemic scale meaning they won't spike blood sugar levels after eating.
Eating foods that don't spike blood sugar levels can be helpful for weight loss.
Low energy density
One plum provides only 30 calories.  A hundred gram serving of plums provides less than 50 calories.
Fruits are high in volume because they are mainly water.
Plums are low in calories and virtually fat free making them a healthy snack for weight loss and weight maintenance.
Eating foods that are low in energy density but high in nutrient density can be a satisfying, balanced approach to weight loss.
Eating more fruits and vegetables can leave you satisfied because of the large volume you can eat for a small amount of energy.
Antioxidants
Like all fruits, plums are a rich source of antioxidants.
A one hundred gram serving of plums provides about 15% Daily Value (DV) of vitamin C and about 6% DV of vitamin A as beta carotene.
Fruits that have a bluish-purple color like plums also contain the antioxidant anthocyanins.
This group of antioxidants is what gives fruits and vegetables their deep blue/purple color.
According to Dr. Blumberg from the USDA Human Nutrition Research Center of Aging, consuming anthocyanin rich foods should be encouraged (3).
There is still much to learn about how anthocyanins affect our health, but several studies have shown an association between consuming anthocyanin rich foods protecting against cardiovascular disease.
Anthocyanins and extracts from anthocyanins have been shown in cell and animal studies to have anti-carcinogenic effects.
A small study also found anthocyanin extract helped lower proliferation rates for colon cancer (4).
Consuming plums and other blue/purple fruits and vegetables can help boost your intake of anthocyanins.
More research is needed to further clarify their role in disease protection, but studies so far suggest this antioxidant may be helpful for lowering risk for cardiovascular disease.
Fiber
Since most Americans fall short of the recommended daily fruit and vegetable intake, it is understandable that most Americans also fall short of the recommended daily fiber intake.
In fact, the average fiber intake in American adults is half of the recommended amount.
Eating more foods high in fiber like fruits, vegetables, whole grains, legumes, nuts and seeds can help boost daily fiber intake.
A 2005 review (5) analyzed data from human studies on dietary fiber and weight.  Researchers found fiber intake was inversely related with body weight and fat.
Eating a high fiber diet appears to be protective against weight gain.  Increasing fiber intake can also help weight loss efforts according to some intervention trials.
Consuming fiber rich foods may be helpful for weight loss because fiber can increase satiety after eating.
A serving of plums provides about 1.5 grams of fiber.
Adding more plums to your diet can help boost fiber intake.  They can be eaten by themselves as a sweet snack or dessert.
Dried plums, prunes, are notorious for being high in fiber and a go to food for constipation relief.
A 100 gram serving of prunes provides more fiber than fresh plums.  A serving of prunes provides about 7 grams of fiber.
Adult women should aim for about 25 grams of fiber per day and men about 30 grams oer day of fiber.
Low glycemic index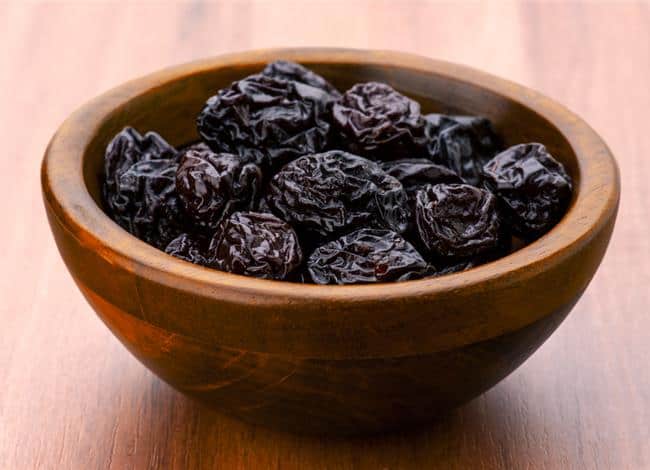 Both prunes and plums are considered low glycemic index foods.
Fruits are a source of carbohydrates which some may shy away from during weight loss to avoid spikes in blood sugar.
However, not all fruits are considered high glycemic foods.  Plums are considered a low glycemic index food.
Therefore, if you are following a weight loss plan encouraging low glycemic foods, plums fit the criteria.
There is more to weight loss than just looking at the glycemic index value of foods, but choosing to eat mostly low glycemic foods may be helpful for regulating blood sugar levels which can be helpful for weight regulation as well.
Glycemic index for dried plums
Dried fruit generally has a higher glycemic value than fresh fruit.
The carbohydrate amount in dried fruit tends to be more concentrated compared to fresh fruits.
However, dried plums are still considered low glycemic and have a lower glycemic index level than other dried fruits.
A 60 gram serving of plums falls into the low glycemic index scale and is lower compared to raisins and dates (6).
Conclusion: Plums and weight loss
Plums are low in calories and high in nutrients.  They are also considered a low glycemic index food.
For all these reasons, they can be part of a healthy, balanced weight loss diet.
They are a source of antioxidant anthocyanins which has been associated with being protective against cardiovascular disease.
Increasing fiber intake is also associated with benefiting weight loss, so if you really want a boost in fiber reach for dried plums.
Dried plums like fresh plums are also considered a low glycemic index food.