Dates have been used as a natural sweetener for centuries in Middle Eastern and some African cultures. Dates can be eaten fresh, but most Western societies are most familiar with eating dried dates. Like other dried fruit, dried dates have a low water content and a relatively high sugar content.
However, even though they have sugar, dates can be a part of a healthy weight loss diet. They are nutrient dense and a good source of fiber.
Calories in Dates
Dates have a high amount of antioxidants called polyphenols. In fact, dates contain a higher amount of polyphenols than most common fruits and vegetables consumed according to the USDA. Dates tend to grow in harsh climates, and the polyphenols protect the fruit from damage.
How many calories in a date? A serving of 5-6 dates provides about 120 calories, zero grams of fat, 1 gram of protein, 30 grams of carbohydrate and 3 grams of fiber.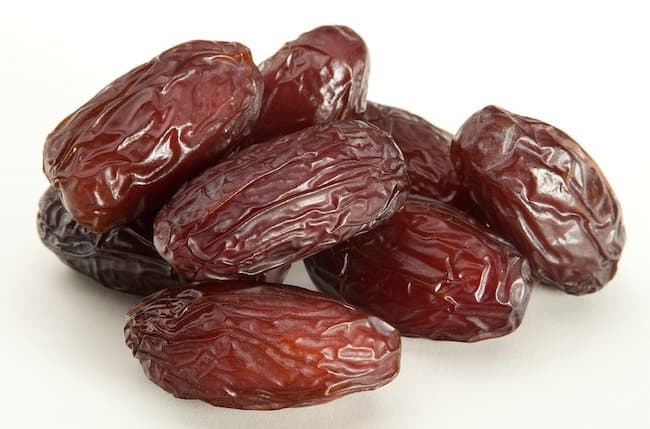 Dates also contain a small amount of many different minerals including calcium, magnesium, zinc, copper, iron and potassium. These minerals can help play a role in lowering blood pressure and regulating fluid balance in the body.
According to a 2003 article from London Metropolitan University Department of Health & Human Sciences, dates provide 15 different minerals and some amino acids (building blocks of proteins) that are not found in other common fruits. Researchers concluded that the date may be considered an almost ideal food because of the wide array of nutrients they provide.
Fruits and vegetables for weight loss
Eating a diet high in fruits and vegetables is recommended for most people when going through weight loss. Fruits and vegetables are nutrient dense and rich in water and fiber. Because of this, they provide a high satiety without a lot of energy and nourish your body with nutrients.
A 2008 study concluded that eating a diet high in fruits and vegetables may help avoid weight gain in over weight adults. Researchers studied over 80 overweight adults who went through nutritional counseling for 6 months and found subjects who had a greater intake of fruits and vegetables was associated with greater weight loss.
Dates are a great source of fiber
A concern for some people with dates is the higher sugar content. However, dates also provide fiber which can impact the way the sugar is absorbed from the digestive system. Eating a diet high in fiber can be beneficial for weight loss. In fact, a 2008 study that included more than 89,000 people found that total fiber intake was inversely associated with weight gain and waist circumference change.
Dates are considered a healthy food that provides many different nutrients and a source of fiber.
Can dates be part of a weight loss diet? Yes. However, no single fruit or vegetable should be your only source of produce. Include a wide variety of both fruits and vegetables for maximum health benefit.
Watch the portion size
Like all dried fruit, dates are best eaten in moderation. Dates have a low water content and higher carbohydrate and fiber amount. If you consume a large amount in one sitting, that can be cause for a stomach cramp or other unpleasant digestive issues.
Eating a large amount can also provide a fair amount of sugar, which may not be beneficial for some people trying to lose weight especially if they have been advised to follow a low sugar diet. (see also: Is sugar in fruit unhealthy?)
If you are eating dates, pair it with a healthy fat and protein source for a balanced snack. For example, pair dates with cheese, plain yogurt, nuts or in savory dishes.
Uses for dates
Dates are a sweet snack anytime, but they can have many other uses. As mentioned, dates can be used for savory dishes to offer a sweet note. Middle Eastern or some African dishes commonly use dates in many savory recipes.
Dates are also served with unsweetened drinks in place of adding sweeteners in the drinks. The next time you get a sweet craving, eat a sweet, nutrient rich date instead of other sugary, processed foods!
Dates can also be used in place of sugar in some sweet recipes. For example, dates can be added in pudding, sweet breads or other baked goods in place of other sweeteners. Be sure to follow recipe advice though because using dates will alter texture and water content. Dates can also be used as a quick energy source by themselves after exercise.
Conclusion
Dates are a rich source of fiber, antioxidants and provide a trace amount of many different minerals and amino acids. They can be part of a healthy weight loss diet, as research suggests a diet high in fruits, vegetables and fiber can be beneficial for weight loss.
Pair dates with a healthy fat and protein source for a balanced snack or meal and to promote sustained blood sugar levels. Try using dates in a variety of ways; savory cooking or sweet baking with dates in place of other sweeteners can be a healthy alternative.
References used in this article